Jaeger, John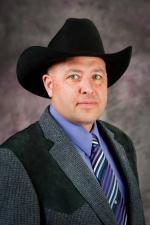 Professor/Beef Cattle Scientist
785-625-3425x211
785-623-4369 fax
jrjaeger@k-state.edu
Area of Specialization
Beef Cattle Scientist
Education
B.S. , Oregon State University, 1984
M.S. , Oregon State University, 1986
Ph.D. , Oregon State University, 2005
Bio Brief
John Jaeger began working at K-State Research and Extension's Agricultural Research Center in Hays on January 1, 2006. He had previously worked at the center from 1986-1994 as a research assistant and cow-calf herdsman.
Jaeger earned bachelor's, master's and doctoral degrees from Oregon State University. His expertise is in reproductive physiology.
From 1994 to 2000, he worked as a research assistant and ranch manager at OSU's Eastern Oregon Agricultural Research Center in Union, OR.
He is particularly interested in cow-calf production systems that will result in value-added beef carcasses. Early weaning of calves may be a low-cost sustainable system that will reduce cow maintenance costs as well as improving cow performance and carcass quality of offspring.