Equine in Kansas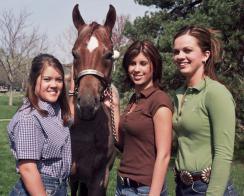 Horses are an important part of the agriculture industry in Kansas. According to a 1996 survey published by the Kansas Horse Council and the K-State Cooperative Extension Service, there were over 103,000 horses on 28,000 Equine "operations" in the state of Kansas, and over 944,000 acres in the state were used for horses. At the youth level, there is a great deal of interest in equine activities. Several thousand Kansas students are involved in 4-H horse projects every year. Several large equine events are held annually in the state, attracting people from all over the region.
The Kansas State University Equine Program has a strong commitment to student instruction, research, outreach and public service. A comprehensive science-based equine curriculum provides undergraduate students with the opportunity to acquire the knowledge and develop the skills required to be a productive member of the equine industry. Many of the equine courses put a strong emphasis on hands-on experience, which is crucial in teaching the skills needed in today's work place, and also gives students a real-world application for the information they learn in the classroom. This coursework is supported by a number of extracurricular opportunities, including several equine-focused clubs and teams. The K-State Equine Judging Team and NCAA Women's Equestrian Team compete annually at both the regional and national level, earning numerous championships. (K-State's 2007 AQHA World Champion Judging Team swept all categories and we followed that up with the 2008 AQHA Reserve World Champion Team. Pictured below: in 2010, K-State repeated again as the AQHA World Champion Judging Team, sweeping Halter, Performance and Reasons.) The graduate equine program emphasizes applied research in the areas of equine reproduction and nutrition, and increases the opportunities available at K-State for post-graduate education. Through K-State Research and Extension, current information on a variety of equine-related topics is provided to the general public in the form of shortcourses, seminars and clinics. A variety of youth horse programs also currently exist, providing the students of tomorrow with a strong foundation on which to build their academic future.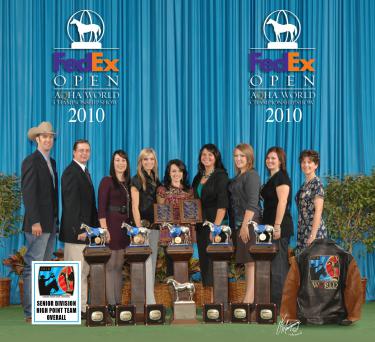 Lil Wrangler Day>Registration (pdf)
KSU Horse Unit
For information regarding facilities, horses for sale, donations, the training/leasing program, and breeding services available for horse owners.
Quick Links: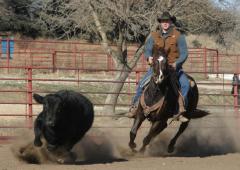 Quarter Horse Breeding Program
Stallions standing at KSU
KSU Broodmares
KSU Horses For Sale
Equine Science Certificate Program
The Equine Science Certificate program is designed to increase the number of potential job opportunities in the equine industry to the student whose curricula does not include equine related courses. The program also provides the opportunity for pre-vet students to increase their equine knowledge and horse handling skills. In addition, it will allow students with horse experience to further enhance their knowledge in equine science for personal enrichment.