Faris, Brian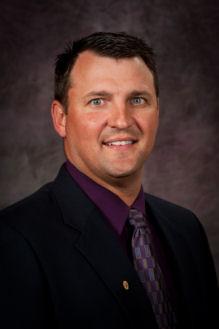 Assistant Professor
228 Weber Hall
Manhattan, KS 66506
(785) 532-1255
785-532-7059 fax
brfaris@k-state.edu
Area(s) of Specialization
Sheep and Meat Goat Specialist
Education
B.S. Animal Science, Texas A&M University, 1997
M.S. Animal Science, Angelo State University, 2001
Ph.D. Animal Science (Repro), New Mexico State University, 2004
Bio Brief
Dr. Brian Faris was born in 1975 and grew up raising registered and commercial Rambouillet sheep and Angora goats on the Edwards Plateau in Sonora, Texas. He showed market lambs for 12 years and was extremely active in numerous other 4-H projects throughout his career. He graduated with his B.S. in Animal Science from Texas A&M University in 1997. He received his M.S. in Animal Science from Angelo State University in 2001, and earned his Ph.D. in Animal Science (Repro) from New Mexico State University in 2004. Prior to coming to Kansas, Brian served as the Extension 4-H Youth Livestock Specialist at North Carolina State University. Dr. Faris now serves K-State as the Sheep & Meat Goat Specialist with a 70% Extension and 30% Teaching appointment.
Brian's extension appointment will involve conducting educational programs for purebred and commercial sheep and meat goat producers throughout Kansas. He will also work closely with county extension agents to bring the latest research information and production practices to the counties so it may be relayed to the producers.
Dr. Faris teaches ASI 385 (Fall) Wool Grading and Evaluation and ASI 524 (Fall) Sheep Science. Additional teaching responsibilities will include overseeing the Sheep & Meat Goat Teaching and Research Unit along with coaching the Intercollegiate Wool Judging Team.
Brian enjoys spending time with his wife, Reyna, and their three children, Raylee, Craddock, and Preslee. He also enjoys hunting, playing sports, and judging sheep and goat shows. The Faris family lives on a small farm near Fostoria, KS, where they raise meat goats and sheep.
Teaching
Sheep & Meat Goat Science [ASI 524]