Houser, Terry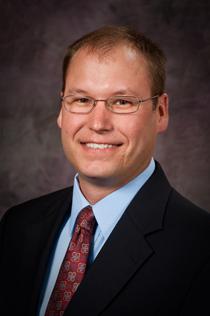 Associate Professor
224 Weber Hall
Manhattan, KS 66506
785-532-1253
785-532-7059 fax
houser@k-state.edu
Area(s) of Specialization
Irradiation
Meat Processing
Meat Selection and Grading
Education
B.S. Animal Science, University of Nebraska-Lincoln, 1998
M.S. Meat Science, Iowa State University, 2001
Ph.D. Meat Science, Iowa State University, 2004
Bio Brief
Dr. Terry A. Houser was born in Cambridge, Nebraska in 1975. He is the youngest of seven children born to Clifford Houser Sr. of Cambridge, Nebraska and Verna Raye Horton of McCook, Nebraska. He attended the University of Nebraska-Lincoln from 1994-1998 for his B.S. degree and competed on both the Meats Judging Team and Meat Animal Evaluation Team while being very active in Alpha Gamma Rho Fraternity. In addition to campus activities, Terry completed two internships including one at Usinger's Famous Sausage in Milwaukee, Wisconsin and the other at Wimmer's Meat Products in West Point, Nebraska.
In 1999 Terry started his graduate program at Iowa State University in the area of Meat Science under the guidance of Dr. Joseph G. Sebranek and graduated with a M.S. in 2001 and a Ph.D. in 2004. His graduate research focused on irradiation, non-meat ingredient functionality, and needleless injection technologies for delivering vaccines to livestock. Upon completion of his Ph.D. he started his career as an Assistant Professor and Extension Meat Specialist at the University of Florida in Gainesville. In January 2007 he joined the Animal Science Faculty at Kansas State University with a 50% Research and 50% Teaching appointment in the area of Meat Science.
Terry's hobbies include hunting (deer, pheasant, turkey, and elk), competing in BBQ contests, fishing, and raising livestock.
Teaching
Livestock and Meat Evaluation [ASI 315]
Principles of Meat Evaluation [ASI 370]
Advanced Meats Evaluation [ASI 495]
M.A.E.T. [ASI 661]
Processed Meat Operations [ASI 610]
Meat Technology [ASI 961]