Call Hall Dairy Bar
Location: Call Hall is located at the intersection of Mid Campus Dr. and Claflin Ave.
Additional information about the Dairy Bar
Dairy, Egg, and Meat Products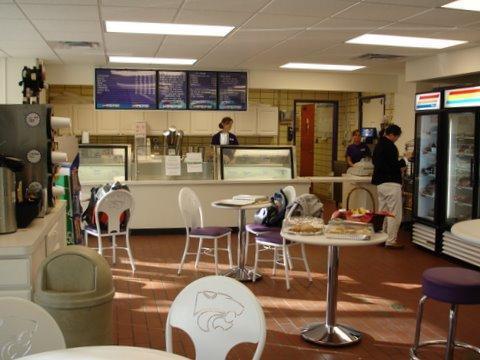 Additional information about the Dairy Processing Plant
Fluid Milk - whole milk, 2% milk, skim milk, and chocolate milk.
Ice Cream - over 48 flavors (1/2 gallon)
Cheese - Cheddar, Colby, Monterey Jack, Pepper Jack, and Processed cheese (plain, bacon, & jalapeno)
Select Meats - beef, pork, and lamb (smoked turkey, smoked hams, summer sausage, wildkat loaf, barbeque beef and pork). For additional information about the meat products, please click here.
Eggs
Soda
ICE CREAM FLAVOR LIST*
Lowfat Vanilla
16% Vanilla
Vanilla
Strawberry
Chocolate
After Dinner Mint
Apple Dapple (spiced apples & caramel fudge)
Black Cherry
Blueberry Cheesecake
Butter Brickle
Butter Pecan
Candy Crunch
Caramel Cash
Cherry Cheesecake
Cherry Nut
Chocolate Brownie Delight
Chocolate Chip
Chocolate Chip Cookie Dough
Chocolate Chip Mint
Chocolate Chocolate Chip
Chocolate Malt Chip
Chocolate Razz
Chunky Vanilla
Coconut Fudge
Cookies and Cream
Eggnog (seasonal)
Espresso Ecstacy
Irish Cream
Leaping Lemon
Mint Fudge Swirl
Peach (seasonal)
Peanut Butter and Chocolate Nut
Peanut Butter Cup
Peppermint
Praline Pecan
Pumpkin (seasonal)
Purple Pride (Blueberry)
Strawberry Cheesecake
Swiss Chocolate Almond
Wild Thing
* Daily, we offer 16 different flavors of ice cream in our dipping cabinets that are also available for custom hand-packed servings, including half pint, pint, quart or half gallon portions, in addition to a variety of pre-packaged half gallons. These flavors are available to us on a constantly changing basis, and are determined by our production plant facility.