Johnson, McCabe Receive Larry Corah Graduate Student Awards
Animal Sciences and Industry graduate students recognized for scholastic achievement, research and teaching.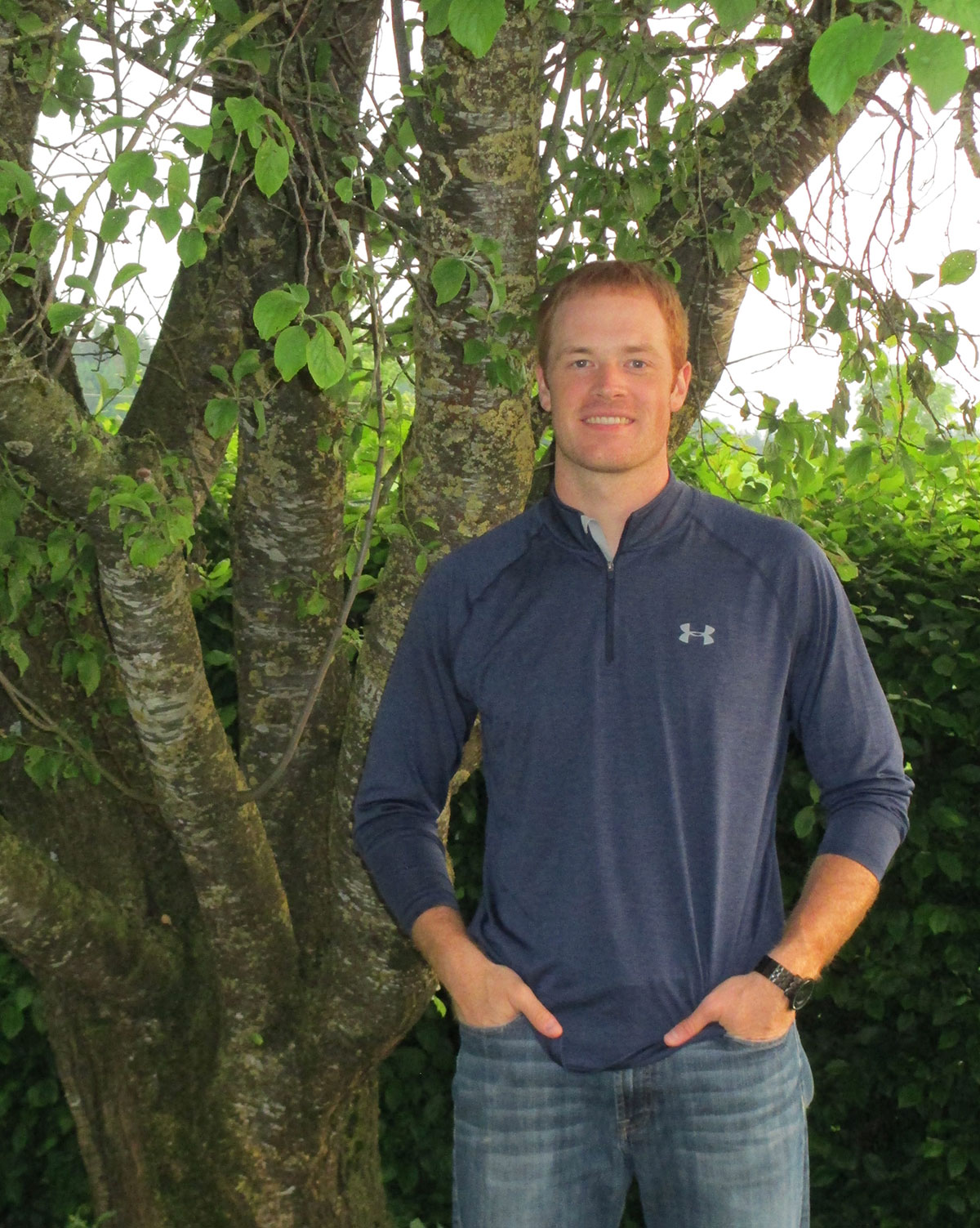 MANHATTAN, Kan. – Kansas State University Department of Animal Sciences and Industry Graduate Students Jared Johnson and Esther McCabe were recognized Tuesday, May 23 as recipients of Larry Corah Outstanding Graduate Student Awards.
Johnson received the Outstanding PhD Student Award which includes a $1,500 scholarship. He is a graduate research assistant pursuing a doctoral degree in ruminant nutrition. Johnson's research involves developing a sorghum berry processing score for sorghum silage to help the industry address a starch availability issue with unprocessed sorghum berries. He has worked with a commercial laboratory to develop a procedure to evaluate sorghum silages from commercial farms. The last step in the process will be to determine if the berry scoring procedure will accurately predict starch availability in those samples.
He has served as a teaching assistant (TA) in various courses including dairy cattle management and coaching the Dairy Challenge Team. The team represented K-State at Midwest and national contests placing second at the national contest.
Johnson, originally from Kerkhoven, Minn., was nominated by his advisor, Micheal Brouk. "Jared is the best student that I have had the opportunity to direct," he wrote. "He has done great with academics, time management, research, presentations and teaching. I could not have asked more of him, and he has always done an excellent and professional job at whatever has been asked."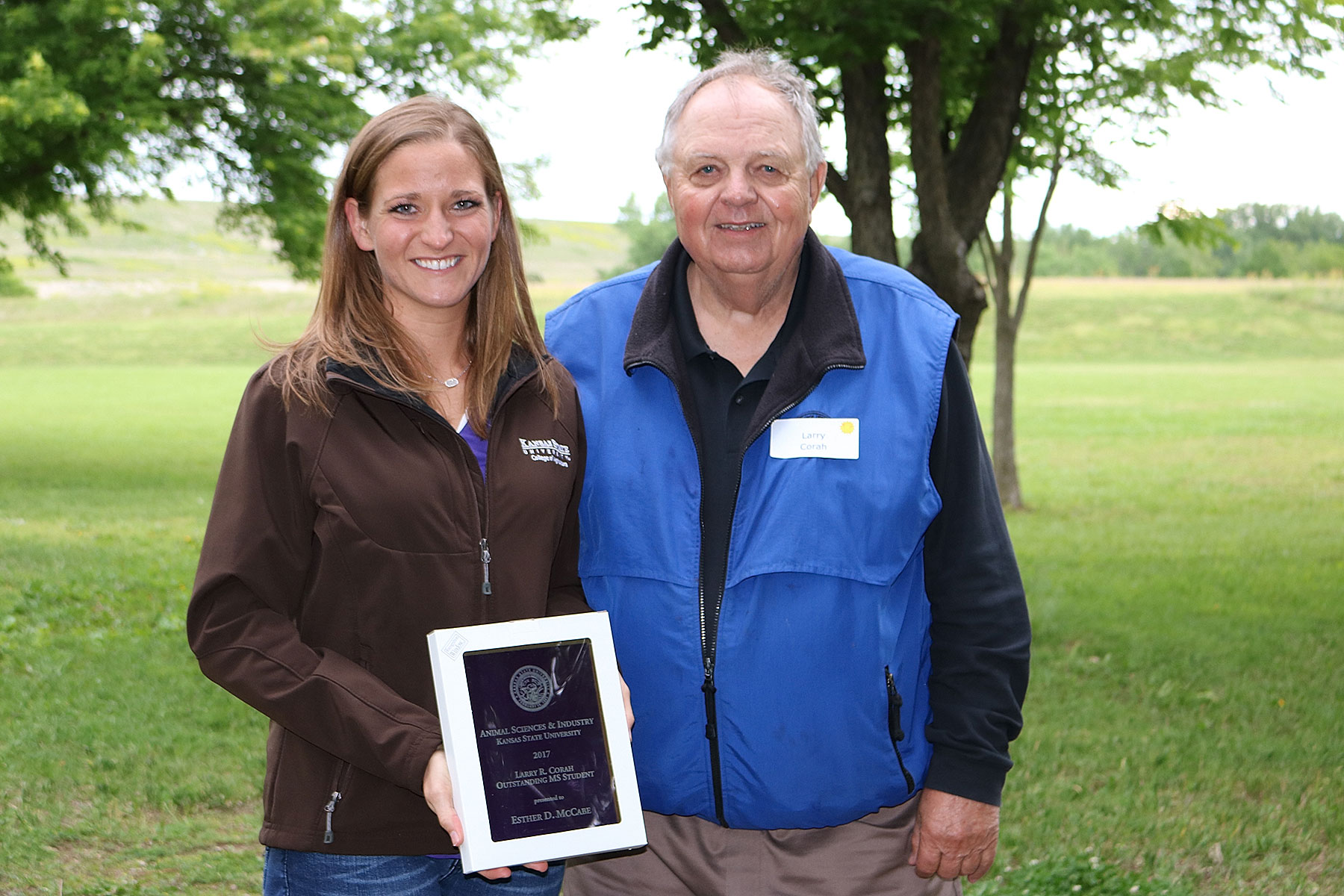 McCabe was awarded the Outstanding Masters Student Award, which includes a $1,000 scholarship. She is a graduate teaching assistant pursuing a master's degree in animal science. Esther's research efforts include investigating trends over time and factors influencing value of beef calves marketed through video auction.
She has actively pursued and taken opportunities to grow in her teaching skills during her graduate program. She has served as a teaching assistant for Animal Sciences Career Preparations, Farm Animal Reproduction, Bovine Reproductive Technologies, Embryo Techniques, Bovine Al, and Farm Animal Reproduction Laboratory. She is currently a TA for one section of Animal Sciences & Industry Lab while taking primary responsibility for teaching a separate section of the same class.
McCabe, originally from Elk City, Kansas, was nominated for the award by her advisor, Karol Fike. "She has also been highly instrumental the past two years in organization for the local Animal Sciences Academic Quadrathlon competition," Fike wrote in her nomination letter. "She has also taken sole responsibility for organization of the beef cattle station of the Midwestern Section Animal Sciences Academic Quadrathlon. Among the graduate students I've worked with over the years, I've found her to be one of the mostly highly organized students who takes significant initiative in regards to her teaching and research roles. She not only gets work done but also does so in a high-quality fashion the first time."
Both the PhD and Masters awards are presented in honor of Larry Corah, who served for 25 years as a K-State Animal Science and Industry Department beef extension and research specialist. After retiring from K-State, he went on to work for the National Cattlemen's Beef Association as director of production systems and then served 17 years as the Certified Angus Beef (CAB) LLC Vice President of Supply. The scholarships are supported from the Larry Corah Graduate Student Enhancement Fund.
The award winners are selected based on scholastic achievement, research activity and success, teaching activities, faculty evaluation, and overall contributions to the mission of the department.