Ahlberg, Hobson Receive Larry Corah Graduate Student Awards
Animal Sciences and Industry graduate students recognized for scholastic achievement, research and teaching.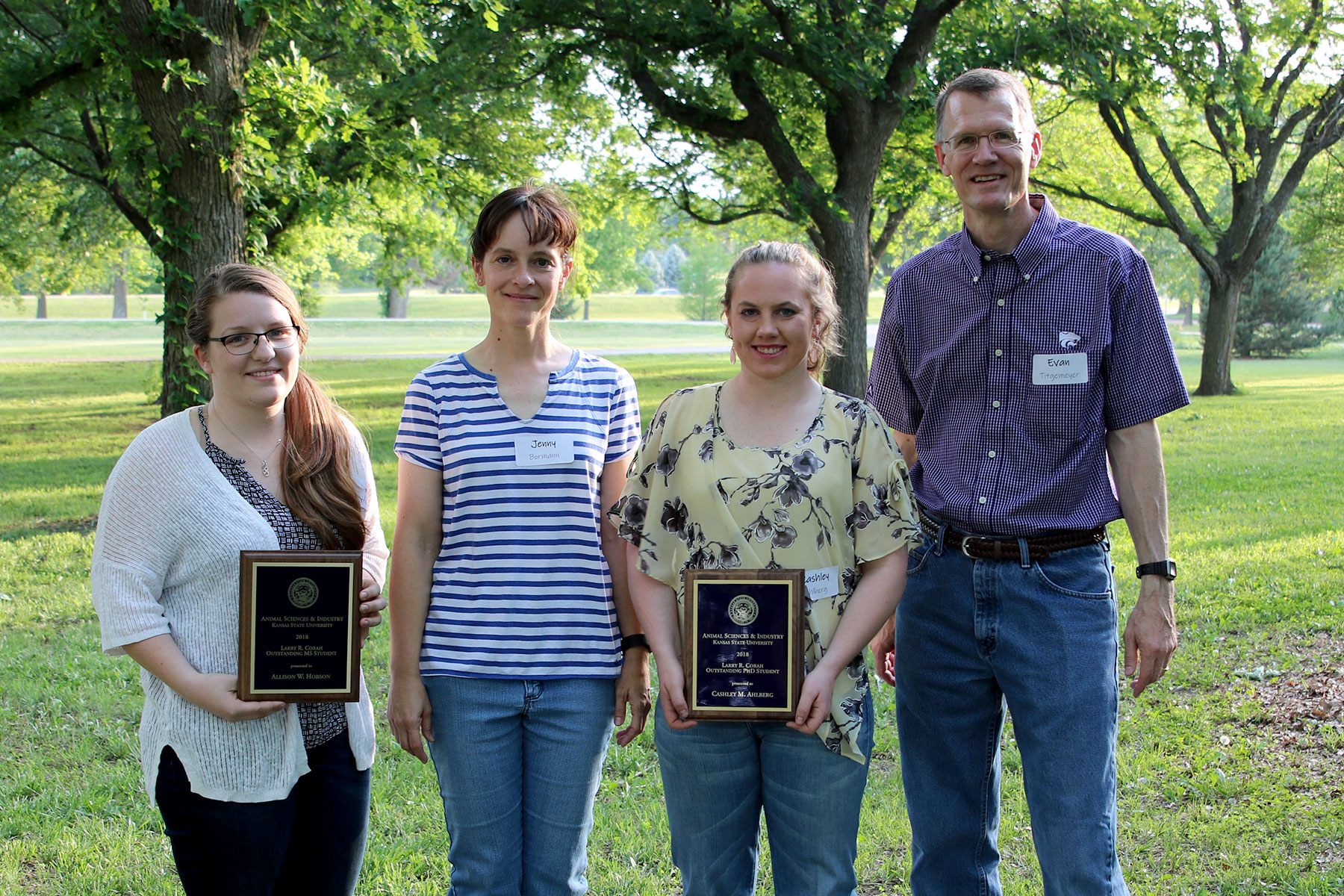 MANHATTAN, Kan. – Kansas State University Department of Animal Sciences and Industry Graduate Students Cashley Ahlberg and Allie Hobson were recognized Wednesday, May 23, as recipients of Larry Corah Outstanding Graduate Student Awards.
Ahlberg, originally from Longmont, Colorado, received the Outstanding PhD Student Award which includes a $1,500 scholarship. She is a graduate research assistant pursuing a doctoral degree in animal breeding and genetics. Ahlberg's research project is related to water intake and water efficiency in beef cattle.
She has served as a teaching assistant (TA) in both genetics and animal breeding. Her PhD advisor, Megan Rolf, says, "Cashley has exceptional data analysis skills and she has already been a coauthor or first author on three peer-reviewed journal articles and four abstracts."
Hobson was awarded the Outstanding Masters Student Award, which includes a $1,000 scholarship. She is a graduate teaching assistant pursuing a master's degree in meat science. Allie's research efforts have focused on bacon quality and she has three abstracts to her credit. She has taught more than 60 students in her role as graduate student coach for the KSU Meat Judging program.
Hobson, originally from Hermiston, Oregon, was nominated for the award by her advisor, Terry Houser. "I can think of no graduate student that I have had that has made such an impact on her pupils as well as peers," Houser wrote in his nomination letter. "She has been an extremely valuable asset to the Department of Animal Sciences and Industry through her involvement as a meat science graduate student and is
deserving of this great honor. In her role as coach, she has developed and motivated our young students to strive for and achieve success."
Both the PhD and Masters awards are presented in honor of Larry Corah, who served for 25 years as a K-State Animal Science and Industry Department beef extension and research specialist. After retiring from K-State, he went on to work for the National Cattlemen's Beef Association as director of production systems and then served 17 years as the Certified Angus Beef (CAB) LLC Vice President of Supply. The scholarships are supported from the Larry Corah Graduate Student Enhancement Fund.
The award winners are selected based on scholastic achievement, research activity and success, teaching activities, faculty evaluation, and overall contributions to the mission of the department.