Bohn Named 2019 Kansas Stockman of the Year
National Cattlemen's Beef Association Vice President and recently retired Pratt Feeders General Manager Jerry Bohn was recognized February 28 during Stockmen's Dinner.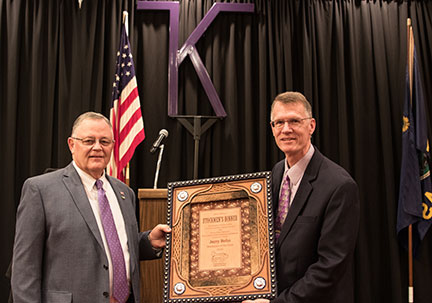 MANHATTAN, Kan. – Jerry Bohn, Wichita, Kansas, is the 2019 Kansas Stockman of the Year. He was recognized during the 49th Annual Stockmen's Dinner on February 28 in Manhattan.
Bohn has devoted his life to serving the beef industry. After graduating from Kansas State University with a degree in Animal Sciences and Industry (ASI), he found himself in many roles that supported his passion for the beef cattle industry.
"Jerry is a man of few words," said Mark Gardiner, Livestock and Meat Industry Council Inc. (LMIC) president. "But when he speaks, you have to listen."
Speaking on Bohn's dedication to the industry at the Stockmen's Dinner were Gardiner; Dee Likes, Kansas Livestock Association (KLA) CEO emeritus; Dan Bird, Pratt Feeders partner; and Kendal Frazier, National Cattlemen's Beef Association (NCBA) CEO. Though often described as soft-spoken, the collective opinion prevailed: his impact on the industry speaks louder than words.
Bohn served as the KLA president in 1997, is a past chairman of Cattle Feeders Council, a past member of Kansas Beef Council Executive Committee and past chairman and member of the Kansas Animal Health Board. On the national level, he has served as chairman of the NCBA Policy Division and on the NCBA executive committee, the Cattlemen's Beef Board and has served as chairman and vice chairman of several NCBA committees. He has served on the U.S. Premium Beef Board for nine years and been a member of the LMIC board since 2003.
"People like Jerry Bohn don't wait for things to happen, they make them happen," said Dan Bird, Pratt Feeders partner and longtime friend of Bohn.
Bohn's career path included working for Hormel, Blackjack Feedyard, CattleFax and finally Pratt Feeders. While serving 34 years as feedlot manager at Pratt Feeders, the company expanded and acquired several other feedlots. He now represents a part owner while simultaneously managing Pratt Feeder's farming business.
"What does Jerry Bohn do when he retires?" Mark Gardiner asked. "He serves even more." Bohn is currently moving up the NCBA officer ranks and is on track to serve as the 91st president in 130 years of the NCBA. He will be the sixth Kansan to serve as NCBA president.
Frazier added, "Jerry didn't achieve all of these leadership roles by chance. You have to have a certain set of character traits to be elected and appointed to these kinds of positions."
This is not the first occasion that Bohn has been recognized for his service to the beef industry. He has been awarded the K-State ASI Distinguished Alumnus Award and also named an Honorary Member and Outstanding Stockman by the K-State Block & Bridle Club. These awards are a testament to his commitment to K-State ASI.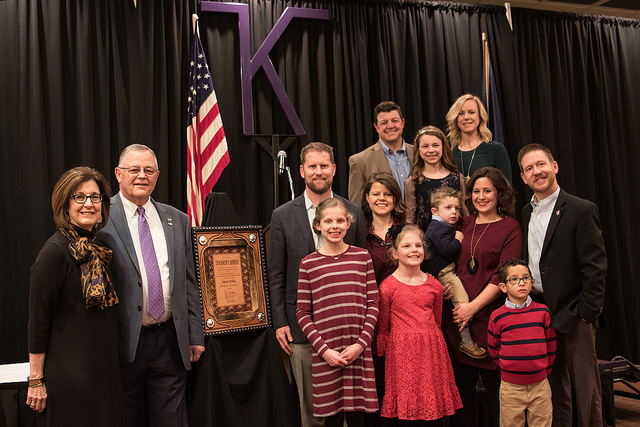 Bohn said, "People and Kansas State; a thread that just seems to go through my whole career…K-State just continues to show up in all of this."
Beyond his endless devotion to the beef industry, Bohn also served in the Kansas National Guard for 21 years, retiring as Lieutenant Colonel. He served the Pratt community as a Deacon at the First Southern Baptist Church, is a past president of the Pratt Area Chamber of Commerce, a chairman on the Horizon Mental Health Center Board of Directors and president of the Kansas Pony of the Americas Club.
Bohn's legacy in the beef industry will go on for years to come. As he concluded his acceptance remarks, Bohn said, "My goal for the rest of my life is that I have three ways I want to leave a legacy. I want to leave a legacy with my spiritual life and my relationship with God. I want to leave a legacy with my family, and finally I want to leave a log burning on the fire as a legacy to my business and my career."
Jerry and his wife, Julie, recently moved from Pratt to Wichita, Kansas. They have three children, all K-State graduates, as well as five grandchildren.
The Stockman of the Year Award is presented annually by LMIC. A video of the awards presentation is available here: https://youtu.be/swaoOhSbOls.