ASI Students Participate in Undergraduate Research Symposium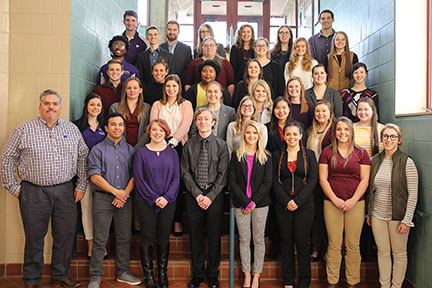 MANHATTAN, Kan. – A total of 36 undergraduate students presented posters during the Kansas State University Animal Sciences and Industry Undergraduate Research Symposium on Tuesday, December 17. The symposium, hosted in Weber Hall on the K-State campus, highlighted ASI undergraduate research for the fall 2019 semester.
This year's symposium and the Undergraduate Research Awards distributed following the event were sponsored by the Dr. Mark and Kim Young Undergraduate Research Fund in Animal Sciences and Industry.
Four students were awarded $1,000 scholarships based on a combination of their scientific abstract, poster and presentation of data. Winning the scholarships were Nicole Stafford, Sunnyvale, Texas; Jenna Kibler, Edinburg, Virginia; Macie Reeb, Lawrence, Kansas; and Kylie Perez, Norton, Kansas.
Undergraduate research is an opportunity to perform in-depth study, gain transferable skills, develop critical thinking and problem-solving abilities, define academic and professional interests, and form relationships with mentors, professors, and other students. The program gives students the opportunity to work with ASI faculty and graduate student mentors on a project that is rewarding and helps them prepare for their next goals.
Undergraduate research helps students understand the value and constraints of data. Whether they go on to graduate school, return to the ranch or venture into industry, these students will use data every day to make decisions. An undergraduate research experience helps them understand how to value that data during the decision-making process and will help make them more successful animal scientists.
Summary of the students' projects and mentors:
• Kendra Christman – Alpha-1-Acid Glycoprotein as a Biomarker of Feed Intake in Transition Dairy Cows – Dr. Barry Bradford
• Paige Cote – Study of Euglena Anti-Tumor Factor-Dependent Granulopoiesis – Dr. Masaaki Tamura
• Jay Henry – Effect of Fumonisin Contaminated Corn on Growth Performance and Sa:So Ratio in 20- to 60-lb Nursery Pigs – Applied Swine Nutrition Team
• Emily Hudson – Effect of Forage Type on Cecal and Fecal Microbiome in the Horse – Dr. James Lattimer
• Madelyn Mushrush – Effects of Production Systems on Pork Eating Quality – Dr. Travis O'Quinn
• Jaymi Peterson – Impact of Lesser Grain Borer (LGB) on Sorghum Phenolics, Bioactivity, and Other Grain Quality Aspects – Scott Bean
• Darian Springfield – Investigation of Serum Copeptin in Diabetic Dogs – Dr. Thomas Schermerhorn
• Sam Whitten – Artificial Intelligence Can Identify Beetles in Images Using Machine Learning – Dr. Brian McCornack
The undergraduate research meat science course focused on the effects of hide-on vs. hide-off fabrication of goat carcasses on collagen content of primal and Asian consumer acceptability. Students developed abstracts and posters as part of the course requirement. Researchers were Connor Callahan, Colin Chun, Joshua Dugan, Helen Giefer, Ana Lorett, Brooke McNickle, Scotney Reichenberger and Haelea Sharp.
The beef cattle undergraduate research class focused their research on time of rest after receiving and prior to processing on dry matter intake, growth and vaccine response in feedlot heifers during the receiving period. Researchers were Catherine Boudreaux, Zachary Buessing, Alexandra Crowl, Hayley DesCoteaux, Sarah DeVader, Kimmi Doran, Michael Dowd, Jessie Hobbs, Jenna Kibler, Halle Kloefkorn, Elaine LaRoche, Rowdy Murray, Kyndall Norris, Shelby Ohlde, Kylie Perez, Macie Reeb, Madelynne Roney, Makayla Russell, Taylor Siburt and Nicole Stafford.
In March, 10 K-State undergraduates will go on to present their research at the Midwest American Society of Animal Science Meeting in Omaha.
Undergraduates interested in learning more about the ASI research program, or those interested in sponsoring the program, can contact Dr. Cassie Jones, Coordinator of Undergraduate Research, at 785-532-5289 or jonesc@ksu.edu.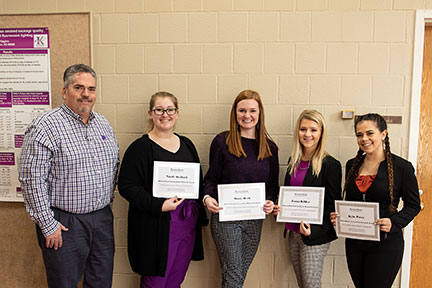 Winners of the K-State Department of Animal Sciences and Industry
Undergraduate Research Symposium (pictured, l to r) are: Dr. Mark Young,
sponsor, Agency, Mo.; Nicole Stafford, Sunnyvale, Texas; Macie Reeb, Lawrence,
Kansas; Jenna Kibler, Edinburg, Virginia; and Kylie Perez, Norton, Kansas.
-30-
The Kansas State University Animal Sciences and Industry department serves students, livestock producers and the animal and food industries through teaching, research and education.The K-State ASI department prepares students for careers in the animal and food industries. The curriculum includes the study of nutrition, reproduction, genetics, behavior, meat science, food science with production, management, and agribusiness skills.