Houghton Named 2020 Stockman of the Year
Founder of Heartland Cattle Co. and K-State ASI Family and Friends Reunion Chairman Patsy Houghton was recognized March 5 during the 2020 K-State Stockmen's Dinner.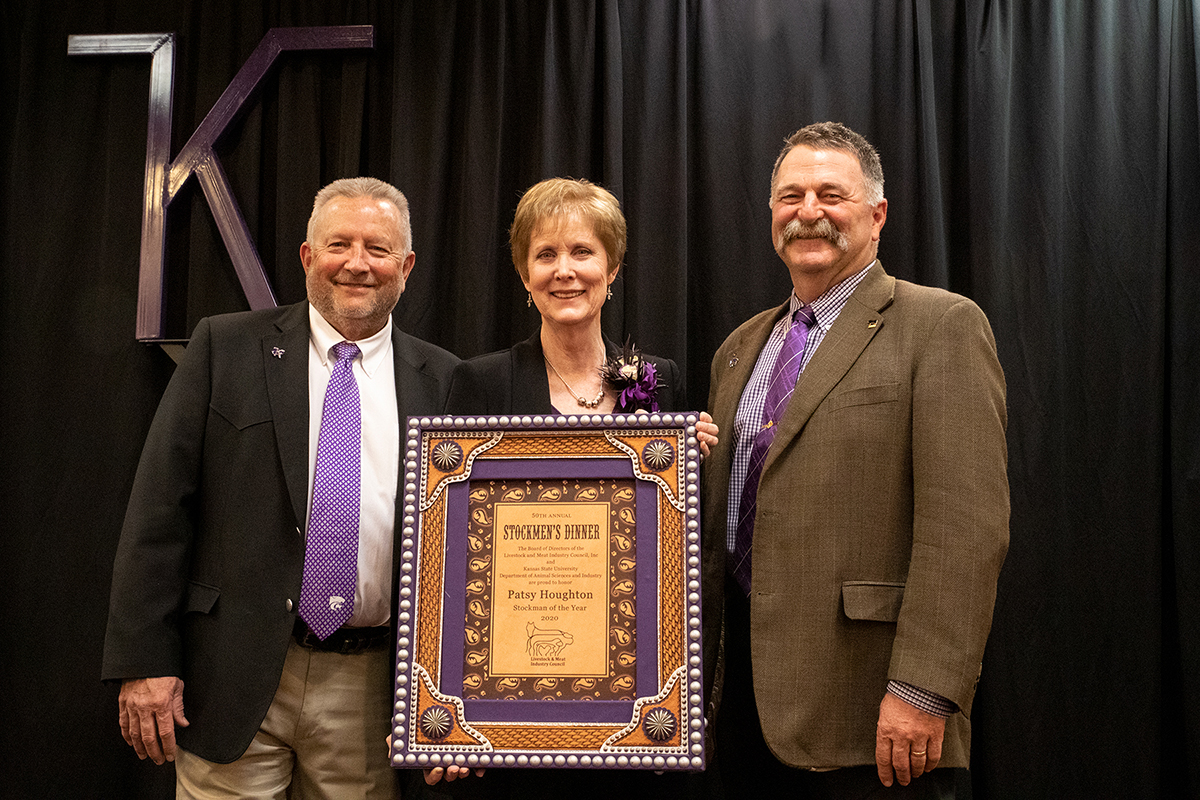 MANHATTAN, Kan. – Patsy Houghton, McCook, Nebraska, is the 2020 Kansas Stockman of the Year. She was recognized during the 50th Annual Stockmen's Dinner March 5 in Manhattan.
Houghton has devoted her life to serving the beef industry. After graduating from Kansas State University with a bachelor's degree in Animal Sciences and Industry (ASI) and a master's degree in Reproductive Physiology, she found herself in many roles that supported her passion for the beef cattle industry.
"She beats the odds," said Janet Rippe, a 25-year employee of Heartland Cattle Co. and current owner of Business Solutions. "She does things that should not be feasible, much less prosperous."
Speaking on Houghton's dedication to the industry during the dinner were Rippe and Larry Corah, Certified Angus Beef LLC retired vice president and K-State professor emeritus. Though often described as headstrong, the collective opinion prevailed: Patsy's tenacity to generate an idea, create a plan and make it a success is what makes her unique and why she was named this year's Stockman of the Year.
Houghton served as co-chair of the National Cattlemen's Beef Association Cattlemen's College for 11 years and has been a member of the K-State Livestock and Meat Industry Council (LMIC) since 2011. She has served as chairman of the K-State ASI Family and Friends Reunion since its inception in 2015. Because of Houghton's creativity and dedication the annual event has grown to more than 1,300 attendees who enjoy reuniting with K-State ASI alumni, faculty, staff, students and friends.
"One thing that Ron Lemenager taught Patsy while she was at Purdue University was that if you do research relevant to the beef cattle industry, it can be really fun and really impactful," said Corah. "I think that is one of the things that Patsy took with her as she carried out the rest of her career."
Houghton's early career included working for California State University-Fresno and the American Simmental Association before obtaining her doctorate degree from Purdue University. After working as the K-State Northwest Extension Beef Specialist for four years, Houghton started Heartland Cattle Co. near McCook, Nebraska, in 1990.
"Patsy and Heartland are really one and the same," Rippe said. "We can all agree that Heartland wouldn't exist if it wasn't for Patsy and likewise, Patsy wouldn't be the person she is today without her experiences at Heartland." With the establishment of Heartland, Houghton innovated the "professional heifer development" concept. From 1990 to 2018, Heartland Cattle Co. turned out more than 125,000 AI-bred heifers that were placed across America.
"It's so vintage Patsy," Corah added. "Her creativity, her generosity, and her taking an idea and just simply making it work."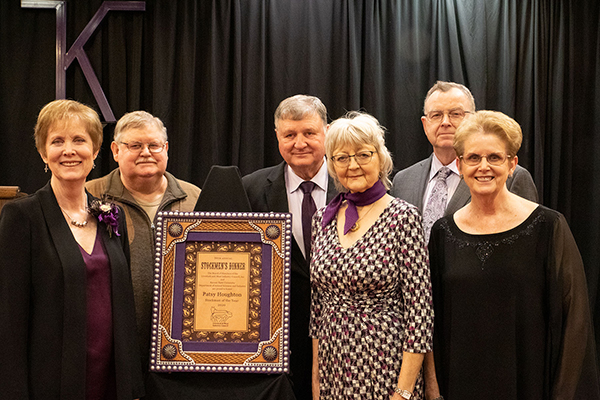 This is not the first time Houghton has been recognized for her service to the beef industry. She was awarded the K-State ASI Distinguished Alumnus Award in 2011. She was also named to Purdue University's College of Agriculture Distinguished Alumni Class of 2010 and selected for Purdue's Old Masters Mentoring Program, which is university-wide, in 2009. Additionally, she received Purdue's Outstanding Animal Sciences Alumni Award.
Houghton noted, "It's a noble thing to help feed a hungry world, and there are no better people to surround yourself with while you are heeding your life's calling than people involved in agriculture."
Houghton's creativity and tenacity to develop new ideas in the beef industry will continue for years to come. As she concluded her acceptance remarks, Houghton said, "In the next 10-15 years, I hope to pursue educational-based business ideas that I have held for a number of years, but have not had the opportunity to pursue."
The Stockman of the Year Award is presented annually by LMIC. A video of the awards presentation is available at https://youtu.be/e0ChLHcaW6k