Duncan, Ochonski Receive Larry Corah Graduate Student Awards
Animal Sciences and Industry graduate students recognized for scholastic achievement, research and teaching.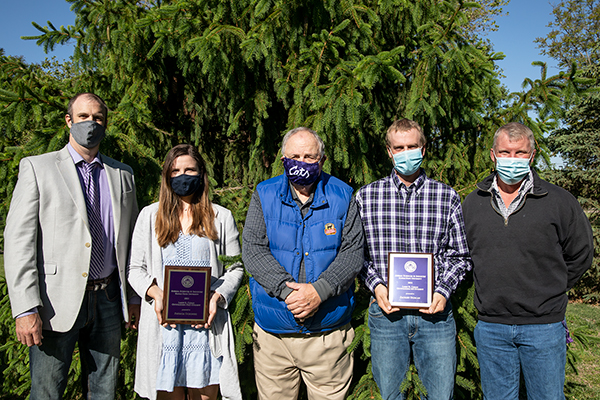 MANHATTAN, Kan. – Kansas State University Department of Animal Sciences and Industry graduate students Zach Duncan and Patricia Ochonski were recognized as 2021 recipients of the Larry Corah Graduate Student Award.
Duncan completed his undergraduate career at the University of Missouri before coming to Kansas State University (K-State) to pursue a master's degree in Ruminant Nutrition. He was awarded the Outstanding Master Student Award, which includes a $1,000 scholarship. He is a graduate research assistant who has been involved with not only his own research projects, but also understanding and implementing other research techniques.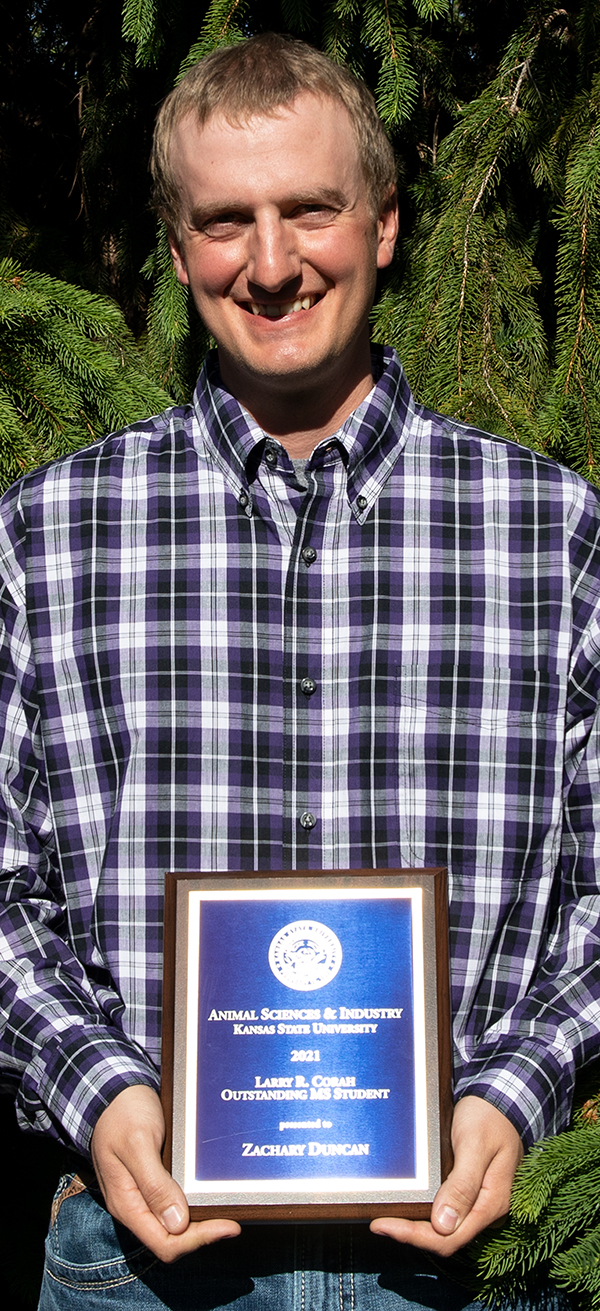 Duncan researched the effects of prescribed-fire timing on grazing cattle performance, forage biomass accumulation, native plant composition and root carbohydrate concentration. He is now working on his Ph.D. evaluating bunk space requirements for growing beef cattle.
Dr. KC Olson, K-State ASI professor and Duncan's master's professor, says, "Zachary is a highly-regarded part of our academic family at Kansas State University. I believe he has the skills and experience to be counted as one of the best young scientists on our campus."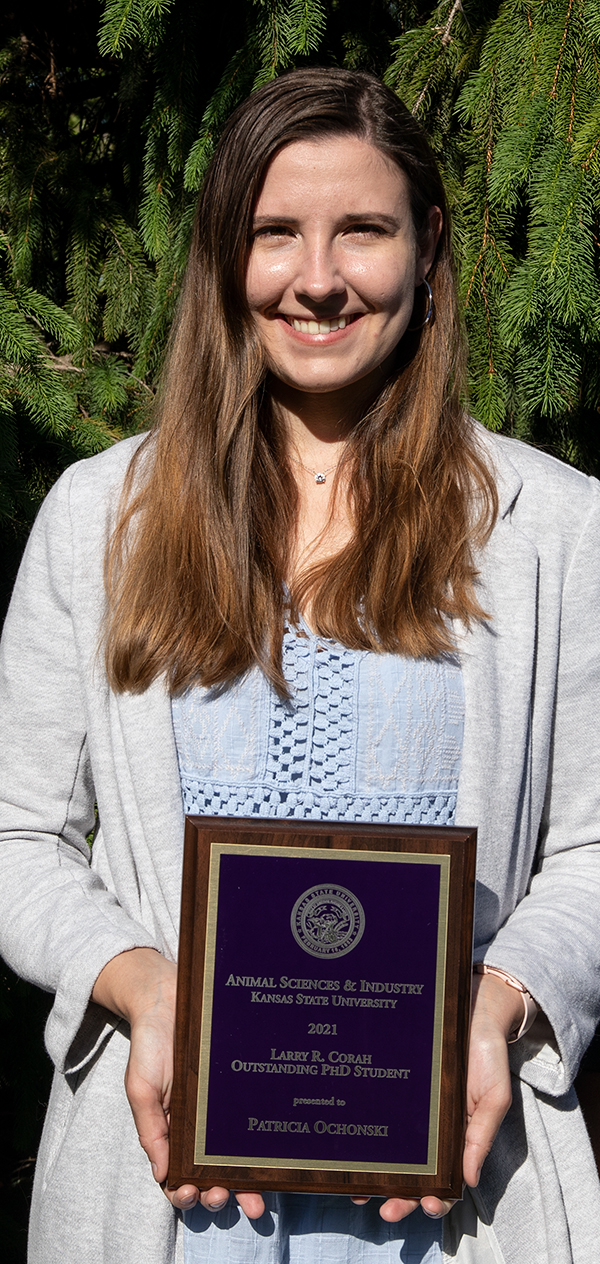 Ochonski was awarded the Outstanding Ph.D. Student Award, which includes a $1,500 scholarship. She will complete her doctorate in May 2021. During her time at K-State, she has published two original research manuscripts with one more in preparation and has served as a graduate teaching associate for ASI 320 for seven semesters. She has conducted research in horses, pigs and poultry with some of her research being published in the Equine Journal of Veterinary Science and Journal of Animal Science.
Dr. James Lattimer, K-State ASI professor and Ochonski's advisor says, "Patricia's work ethic and dedication are undeniable and can be observed in all that she does including research, academic performance and undergraduate teaching."
Her extensive research led her to share her findings as a representative for K-State at national meetings including the Equine Science Society Symposium and Midwest Animal Science Meeting. "Patricia has accepted a position as a Technical Nutritionist with Nestle Purina. There is no doubt she will be one of their greatest assets. Perhaps one day KSU will be fortunate enough to hire Patricia as a full-time faculty member. Regardless of her career choice, whether that be industry or academia, she will go on to do great things! Patricia is truly a special student; one of a kind," Lattimer adds.
Both the Ph.D. and master's awards are presented in honor of Dr. Larry Corah, who served for 25 years as a K-State Animal Science and Industry Department beef extension and research specialist. After retiring from K-State, he went on to work for the National Cattlemen's Beef Association as director of production systems and then served 17 years as the Certified Angus Beef (CAB) LLC Vice President of Supply. The scholarships are supported from the Larry Corah Graduate Student Enhancement Fund.
The award winners are selected based on scholastic achievement, research activity and success, teaching activities, faculty evaluation and overall contributions to the mission of the department.