Fike Awarded 2021 Mark and Eva Gardiner Innovation and Excellence Faculty Award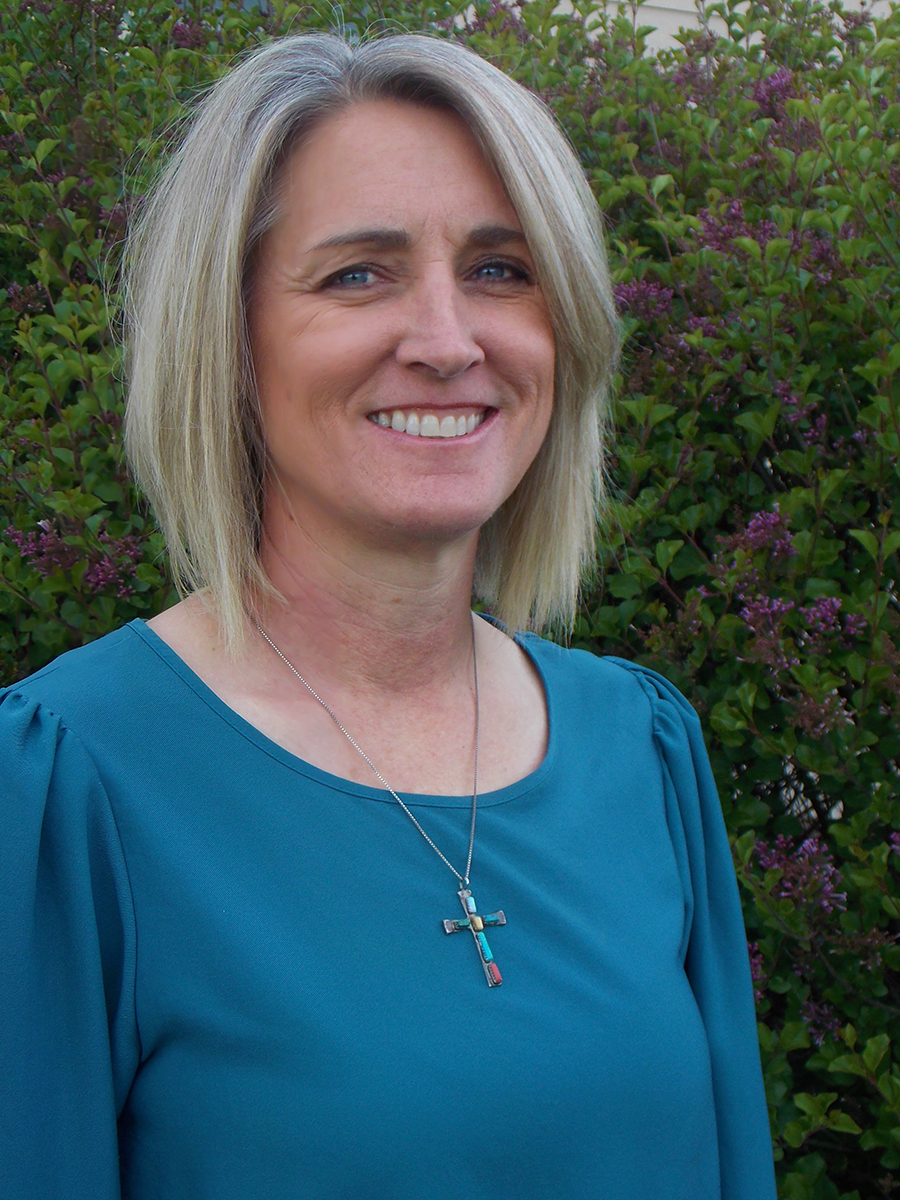 Dr. Karol Fike, Kansas State University teaching associate professor, has been awarded the prestigious 2021 Mark and Eva Gardiner Innovation and Excellence Faculty Award.
Fike completed her bachelor's degree in animal sciences at Iowa State University in 1991. She continued her education at the University of Nebraska-Lincoln, earning her master's and doctorate, studying reproductive physiology in beef cattle.
With a passion for teaching and working with students, Fike first taught courses in Anatomy and Physiology, Human Nutrition, and Biology at Western Iowa Tech Community College. She spent four years on the faculty at Ohio State University teaching Introductory Animal Sciences, Animal Products, advising students and coordinating the undergraduate internship program.
Joining the K-State ASI department in 2006, now Fike advises students, teaches Farm Animal Reproduction (ASI 400), Animal Sciences Career Preparations (ASI 580), Physiology of Reproduction in Farm Animals (ASI 710) and she coordinates the departmental internship program (ASI 599). She also provides leadership to the K-State undergraduate Feedlot Boot Camp and Teaching Program and Animal Sciences Academic Quadrathlon competition. Her research interests include beef cattle reproductive physiology and management, and evaluation of factors affecting sale price of beef calves marketed via video auction. Fike has authored or coauthored 21 publications and 744 citations relative to her research interests.
"We are grateful to Mark and Eva for recognizing Karol with this award," said Ernie Minton, dean of K-State's College of Agriculture and director of the Kansas State Research and Extension. "She is a truly gifted teacher and advocate for students. The feedlot bootcamp she was instrumental in developing is just one example of her commitment to creative teaching and giving students a comprehensive learning experience."
The K-State Feedlot Management Collegiate Boot Camp provides students the chance to learn more about animal nutrition and the business of cattle feeding from professionals in the industry.
As academic quadrathlon advisor, Fike and her students accepted the added challenge of competing in a virtual environment against six other universities. The 2021 K-State team placed second in lab practicum, written exam and quiz bowl in a highly competitive field.
Mark and Eva Gardiner, and their family, own and operate Gardiner Angus Ranch near Ashland, Kansas. They established the award in 2019 to recognize faculty in the K-State College of Agriculture who are excelling through innovative teaching, research or extension that positively impacts the global food system. Mark said the family's interest is to recognize faculty who not only educate, but who are innovative and motivate students to careers in agriculture.
When asked about the 2021 recipient, Mark said, "The past year has tested the resolve of every teacher at every level of education. K-State is fortunate to have professional educators, like Karol Fike, with the spirit and passion to creatively find ways to help her students succeed. Karol was resolute in her commitment to be present. Eva and I are grateful for Karol's indomitable commitment to research, her students and the challenge of preparing the next generation of beef producers."
Fike's students, through positive teaching evaluations have said, "Fike is one of the best teachers and advisors. She makes sure her students fully understand the material and is willing to go above and beyond to help outside of class."
Two former students, Cole and Ransom Gardiner, 2016 K-State graduates, commented, "Karol Fike was very willing to invest her time, energy and talent to help students learn. Whatever a student was willing to give, she was adamant in investing twice as much."
Karol and her husband, Gary, have three children — Jackson, Marshall and Grace — and make their home near Westmoreland, Kansas.
"For decades the Gardiner family has continually used science to improve their cattle performance and has reached out a hand to help other producers and future producers by supporting educational opportunities," Minton said. In addition to this teaching award, the Gardiner family has supported student scholarships and the annual Henry C. Gardiner Global Food Systems Lecture Series, which brings innovative thought leaders to speak about world food issues at K-State.
###
The Kansas State University Department of Animal Sciences and Industry serves students, livestock producers and the animal and food industries through teaching, research and education. The K-State ASI department prepares students for careers in the animal and food industries. The curriculum includes the study of nutrition, reproduction, genetics, behavior, meat science and food science with production, management, and agribusiness skills.