Kouba Awarded Dr. Susan Ariola Bosco Putting Students First Faculty Award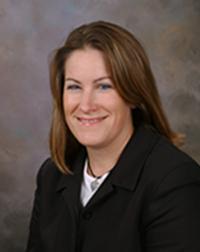 Dr. Joann Kouba, Kansas State University associate professor, has been awarded the 2021 Dr. Susan Ariola Bosco Putting Students First Award.
"Dr. Kouba is committed to student success in both on-and-off campus service. A prime example of this is the time she spends providing excellent advising to many ASI students. Her advising skills and commitment is reflected each year in the exceptional ratings and comments she receives on her advising survey," says Dr. Mike Day, KSU ASI department head.
With a passion for teaching and working with students, Kouba first taught undergraduate courses in horse training, horsemanship, reproduction and management, as well as the introductory animal science labs during her time at Texas A&M University.
Kouba joined the K-State ASI department in 2001, she has taught 10 on-campus equine courses as well as two distance courses, advises 50 to 60 students annually, and mentors a number of graduate students pursuing advanced degrees with an equine physiology emphasis.
She also believes in enhancing educational opportunities through international experiences. She has led three equine study tours, visiting England, Scotland, Ireland, Spain, Portugal and Morocco. Kouba's research program focuses on understanding how reproduction is controlled in the horse as well as the interaction between nutrition and reproductive function.
The Dr. Susan Ariola Bosco Putting Students First Award is presented to one full-time teaching faculty member and one full-time staff member by the Division of Student Life.
###
The Kansas State University Department of Animal Sciences and Industry serves students, livestock producers and the animal and food industries through teaching, research and education. The K-State ASI department prepares students for careers in the animal and food industries. The curriculum includes the study of nutrition, reproduction, genetics, behavior, meat science and food science with production, management, and agribusiness skills.