Grieger Presented 2022 David Mugler Teaching Award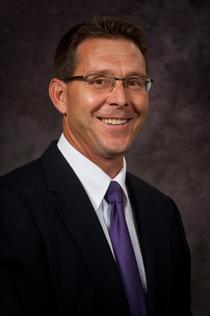 Dr. David Grieger, K-State ASI professor, was recently recognized with the David Mugler Teaching Award. Grieger joined the K-State faculty in 1992 after earning degrees at Purdue University and completing a doctorate at Washington State University.
In 1999, the K-State University College of Agriculture Alumni Board established an annual award, the David Mugler Teaching Award, to recognize Dr. Mugler's many years of dedicated service to students in the K-State College of Agriculture.
Grieger is committed to his students, spending 16.5 hours a week teaching courses focused on farm animal reproduction and biotechnology. In the 2021-2022 academic year, he led eight classes with 15 sections, including three online courses and three laboratories for a total of 26 credit hours.
Dr. Cassandra Jones, ASI professor, captures Grieger's dedication to his students, saying, "When I think of Dr. Mugler's famous statement, 'they don't care what you know until they know that you care,' I immediately think of Grieger as one who completely embodies this philosophy. As a former student, Grieger brought the world of farm animal reproduction alive for me in ASI 400. He was one of the first truly impactful instructors that I had, and my teaching largely attempts to simulate his instructional style."
Dr. Grieger's primary teaching and research interests focus on estrous synchronization and timed artificial insemination protocols for beef cattle. The objective is to fine-tune different systems that result in acceptable artificial insemination conception rates and are practical for producers to implement.
As a prolific researcher, throughout his 28-year career at K-State, Dr. David Grieger is credited with 71 publications and 671 citations.
###
The Kansas State University Department of Animal Sciences and Industry serves students, livestock producers and the animal and food industries through teaching, research and education. The K-State ASI department prepares students for careers in the animal and food industries. The curriculum includes the study of nutrition, reproduction, genetics, behavior, meat science and food science with production, management, and agribusiness skills.