2018 Erle E. Bartley Ruminant Nutrition Lectureship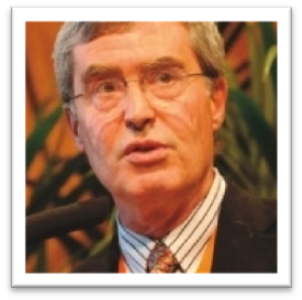 Dr. John Wallace, Emeritus Professor, Rowett Institute of Nutrition and Health
University of Aberdeen

Prof John Wallace held a personal chair in the Gut Health group at the Rowett Institute of Nutrition and Health at the University of Aberdeen until 2016, and is now Emeritus Professor at the University. He specializes in the microbiology of animal and human digestive tracts, most recently focussing on how the ruminal microbiome and metagenome determine the amounts of methane emitted by beef and dairy cattle. Prof Wallace was coordinator of three major research consortia funded by the European Commission, named 'Rumen-up', 'REPLACE' and 'RuminOmics', the last of which aimed to understand the relations between the ruminal microbiome, the host genome, and emissions of methane and nitrogen from dairy cows. Prof Wallace was awarded the DSM Nutrition Award in 2007 'in recognition of his pioneering research in animal nutrition.' He has published >200 peer-reviewed papers in international journals. He was a member of the FEEDAP (feed additives) panel of the European Food Safety Authority (EFSA) 2012-2018.
Seminars:
The rumen microbiome and metagenome as targets for improving livestock production and health
Informational Flyer
Monday, October 1, 2018
4:30 pm
Call Hall 205
We now understand the rumen microbiome in ways that were never possible in the past, largely due to advances in DNA sequencing and associated bioinformatics. The current status of our knowledge of the rumen microbiome will be described, particularly in the context of ruminant nutrition and methane emissions. The metagenome – sequences and abundance of all genes present - brings information that tells us different things about the microbiome. Both microbiome and metagenome research indicate that certain members and functions of the microbiome are heritable and linked to feed efficiency and methane emissions.
The rumen – a microbiome important for nutrition, environment and health
Informational Flyer
Tuesday, October 2, 2018
5:00 pm
105 Umberger
The rumen is the first compartment of the digestive tract of cattle, sheep and goats. All the digestive activity that goes on in the rumen is carried out by huge numbers of diverse microorganisms. This talk will explain what the microorganisms are, what they do, and why they are important not only to enable ruminants to digest plant fibre but in terms of the environment and human and animal health. Recent research shows that the microbiome consists of heritable core species that dictate feed efficiency and nitrogen and methane emissions. They could therefore be used as a target for manipulation strategies or breeding programs with the microbiome being the selection trait.
Please contact Caroline Ylioja (ylioja@ksu.edu) if you are interested in scheduling a time to meet with Dr. Wallace while he is on campus!
Select publications
The impact of divergent breed types and diets on methane emissions, rumen characteristics and performance of finishing beef cattle. doi:10.1017/S1751731117000301
Rumen microbial community composition varies with diet and host, but a core microbiome is found across a wide geographical range. doi:10.1038/srep14567
A review of bioinformatics tools for bio-prospecting from metagenomic sequence data. doi:10.3389/fgene.2017.00023
The ruminal microbiome associated with methane emissions from ruminant livestock. doi:10.1186/s40104-017-0141-0
Nitrate and inhibition of ruminal methanogenesis: Microbial ecology, obstacles, and opportunities for lowering methane emissions from ruminant livestock. doi:10.3389/fmicb.2016.00132