KSU ASI Hosts Leadership Opportunities for High School Students
Students from across the country participated in an immersive livestock and leadership learning experience at Kansas State University and immersive dairy learning experience in southwest Kansas.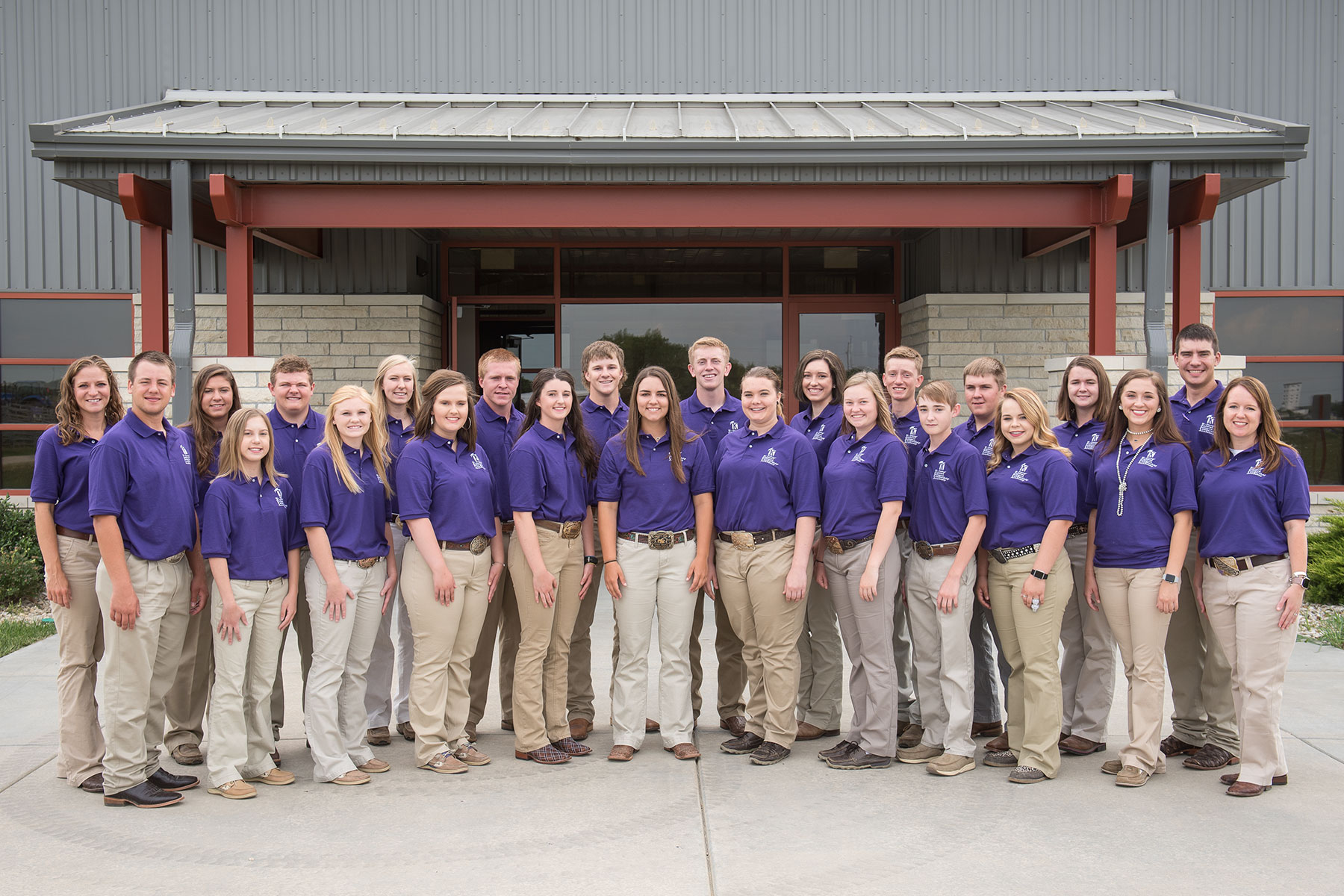 Students gathered on the Kansas State University campus June 6-9 to gain livestock industry knowledge and develop leadership skills. These participants comprised the tenth class of the annual K-State Animal Sciences Leadership Academy (KASLA) in Manhattan, Kansas.
Hosted by the K-State Department of Animal Sciences and Industry and sponsored by the Livestock and Meat Industry Council, the academy's goal is to develop young leaders within the livestock industry and prepare them for a successful future in this field.
This year's class included: Rachelle Anderson, Jamestown; Lindsey Ascher, Milford; Tessa Beeman, Hamilton; Clay Brillhart, Fort Scott; Walker Clawson, Mead; Wesley Denton, Blue Rapids; Danika Gordon, Whitewood, S.D.; Norman Highfill, Atchison; Ben Jensen, Courtland; Kenzie McAtee, LaCygne; Kami McComb, Pratt; Anaya McCune, Benton; Becca Paine, Hutchinson; Abbie Schwab, Goddard; Sarah Sergeant, Lebo; Wyatt Slade, Haviland; Lauren Terry, Nortonville; Shelby Varner, Towanda; and Tray Zabokrtsky, Morrowville.
During their time at the KASLA, students participated in interactive leadership development and educational sessions led by faculty members from across the K-State campus. Participants completed the college experience by dining at the K-State Student Union, completing the K-State Challenge Course and staying in Ford Hall.
The KASLA also included a half day of livestock industry tours throughout northeast Kansas, with stops including: Hildebrand Farms Dairy, Junction City; Seaboard Foods, Shawnee; Bichelmeyer Meats, Kansas City; and The American Royal, Kansas City. They also enjoyed tours of university farms and the College of Veterinary Medicine.
For their final project, the students were divided into groups during the week to focus on current issues affecting the livestock industry. Faculty mentors from the K-State Department of Animal Sciences and Industry assisted each group. Using the information they learned throughout the academy, the groups were asked to present their subject as part of the closing reception on the final day. About 75 family, friends and members of the K-State community gathered for the closing reception to honor the graduates and hear their thoughts on these important livestock issues.
You can find out more information about the academy by visiting www.youthlivestock.ksu.edu. For questions, contact Academy Director Sharon Breiner at sbreiner@ksu.edu or 785-532-6533.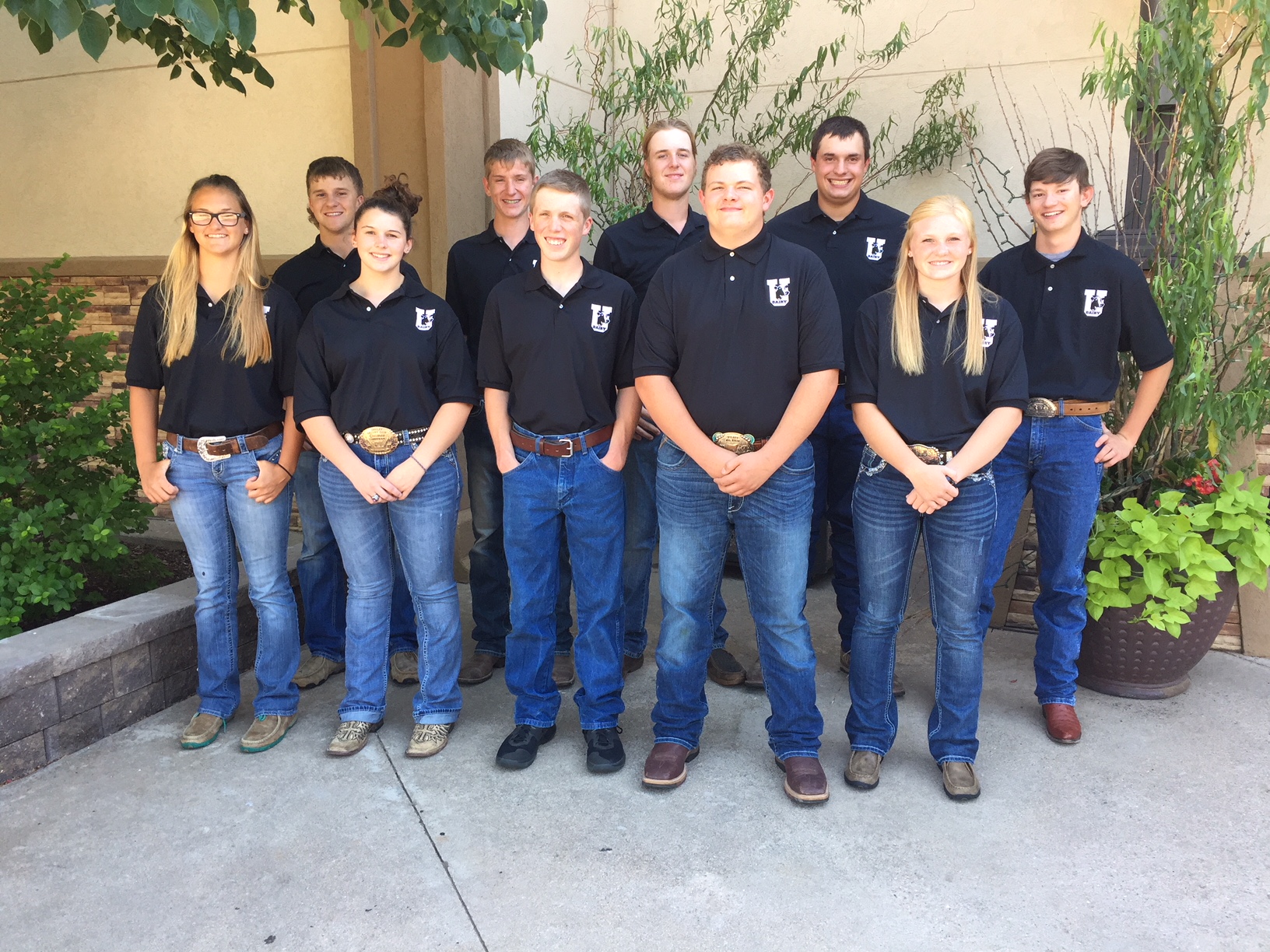 Ten students from three states comprised the first cohort of the Dairy U program, June 19-22 in southwest Kansas. This four-day immersive educational opportunity allowed high school students to get up-close and hands-on with the dairy industry.
The inaugural class included: Walker Clawson, Meade; Malorie Depenbusch, Udall; Jessica Kirkpatrick, Valley Center; Kenzie McAtee, LaCygne; Reese Meng, Garden City; Caleb Peckham, Woodstock, Connecticut; Lane Potts, Colorado Springs, Colorado; Simon Schmitz, Axtell; Ben Schrag, Galva; and Wyatt Slade, Haviland.
The program was inspired by dairy operators in southwest Kansas who wanted to reach out and involve younger generations. Kansas State University Department of Animal Sciences and Industry partnered with leading dairy producers to provide this learning opportunity. Partnering dairies included: Ag Oasis, Noble Dairy, and Royal Farms Dairy. Lead donors for the program included: Kansas Dairy Council, Arm and Hammer Animal Health, Zoetis, American AgCredit, and Southeast Select Sires. Additional sponsors included Diamond V, Dairy MAX, Merck Animal Health, Alta Genetics, Kansas Dairy Ingredients and Milk River.
"One of the most important aspects that I gained from Dairy U was meeting so many people interested and involved in the dairy industry and being able to have those connections for my future interests," said participant Malorie Depenbusch. "I will definitely tell people who are interested in the dairy industry about this camp."
Walker Clawson explained, "This program is important because there isn't another program like it. Dairy U gives youth the opportunity to become informed about the rapidly growing dairy industry in Kansas."
Students also appreciated touring businesses important to the dairy industry. "I was also allowed to tour a milk ingredients plant which helped me understand the vast number of products that can be made with milk," Clawson added.
Students traveled throughout southwest Kansas to visit dairies and businesses. They met with leaders and industry stakeholders from Dairy Max, Merck Animal Health, Royal Farms Dairy, Dairy Nutrition and Management Consulting, High-Plains Feed, Kansas Dairy Ingredients, Ag Oasis, Rocking Heifer, and Noble Dairy. Hands-on seminars included topics of nutrition, animal health, reproduction, milking systems and breeding. Students also received financial education from American AgCredit and communications training from Nebraska farmer and broadcaster, Trent Loos of Loos Tales.
The group continues plans to offer more opportunities for youth in the future. For information about the event, contact coordinator Mandy Fox at mandy@agoasis.com or 785-410-2633; or Sharon Breiner at sbreiner@ksu.edu or 785-532-6533.