CattleFax Awarded Don L. Good Impact Award
K-State ASI alumni and friends re-connect during fourth annual Family & Friends Reunion.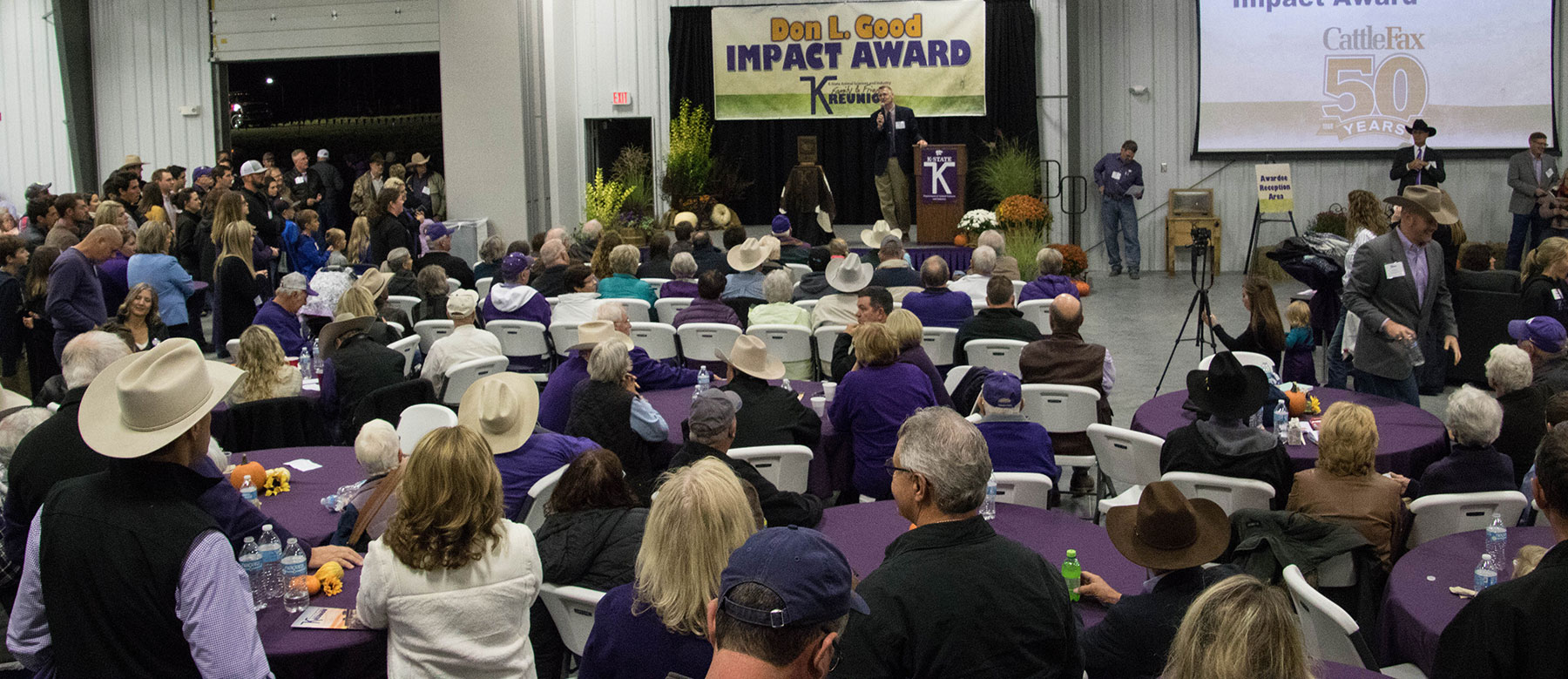 Laughter and music filled the chilly evening as Kansas State University Animal Sciences and Industry alumni and supporters gathered on Friday, October 12, at the Stanley Stout Center in Manhattan, Kansas. This evening marked the fourth annual K-State ASI Family & Friends Reunion.
More than 1,100 attendees took the opportunity to re-connect with each other and interact with current students, faculty and staff. The annual event is hosted by the Livestock and Meat Industry Council (LMIC) in cooperation with the ASI department.
The highlight of the evening each year is the awarding of the Don L. Good Impact Award, which recognizes a person or business that has had an impact on the livestock and agricultural industry.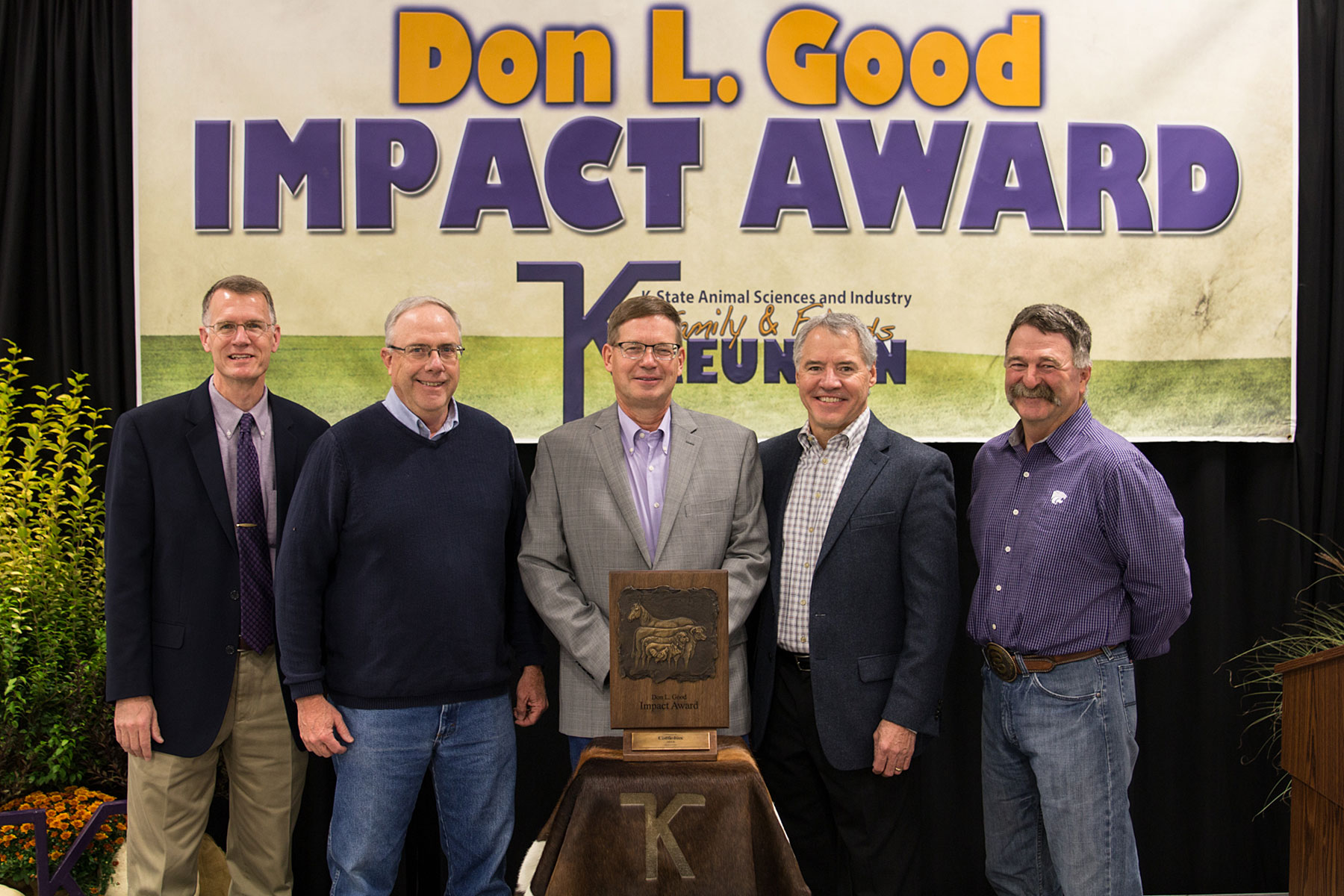 CattleFax, an organization created by cattle producers, was presented with the 2018 Don L. Good Impact Award. Started in 1968, CattleFax is a member-owned organization that serves producers in all segments of the cattle and beef business. For half a century, it has been a global leader in beef industry research, analysis and information. Its exclusive industry database has set the standard for market information and analysis.
CattleFax has assembled a team of research analysts and experienced professionals who provide expert advice to customers when developing a marketing plan and a sound risk management program, including an assessment of their break-evens, as well as evaluating different marketing alternatives. The CattleFax staff monitors more than just cattle markets. Grain, weather, beef demand and competing proteins – not just domestically but globally – are carefully monitored. Keeping up with the times to make sure producers have quality information on a timely basis, which allows them to make informed marketing decisions, is a daily challenge for the staff.
Through the years, Kansans have played an integral role in CattleFax's success. "The Kansas connection has been a key to success for CattleFax," explains Randy Blach, CattleFax CEO. "CattleFax has been blessed to have a great working relationship with Kansas State University's faculty and staff and the Kansas Livestock Association's leadership and staff."
Blach credits many current and former board and staff members with Kansas roots who have contributed greatly to the organization's vision.
The award, presented by the Livestock and Meat Industry Council Inc. (LMIC), is named in honor of Good, who is a former ASI department head, and recognizes positive impact on the livestock and meat industry or agriculture.
"It's humbling for our company to be recognized, because we weren't formed to go out and try to get accolades or awards," says Kevin Good, CattleFax VP of Industry Relations and Don Good's nephew. "We were formed to serve, just as Don L. Good did."
Event coordinators strive to create a family atmosphere through entertainment, food and activities that is enjoyed by K-Staters of all ages. Live performances by the KSU Marching Band and Rusty Rierson, K-State ASI alumnus and Nashville recording artist, entertained the crowd. A meal including a variety of meat choices was topped off with legendary Call Hall Ice Cream.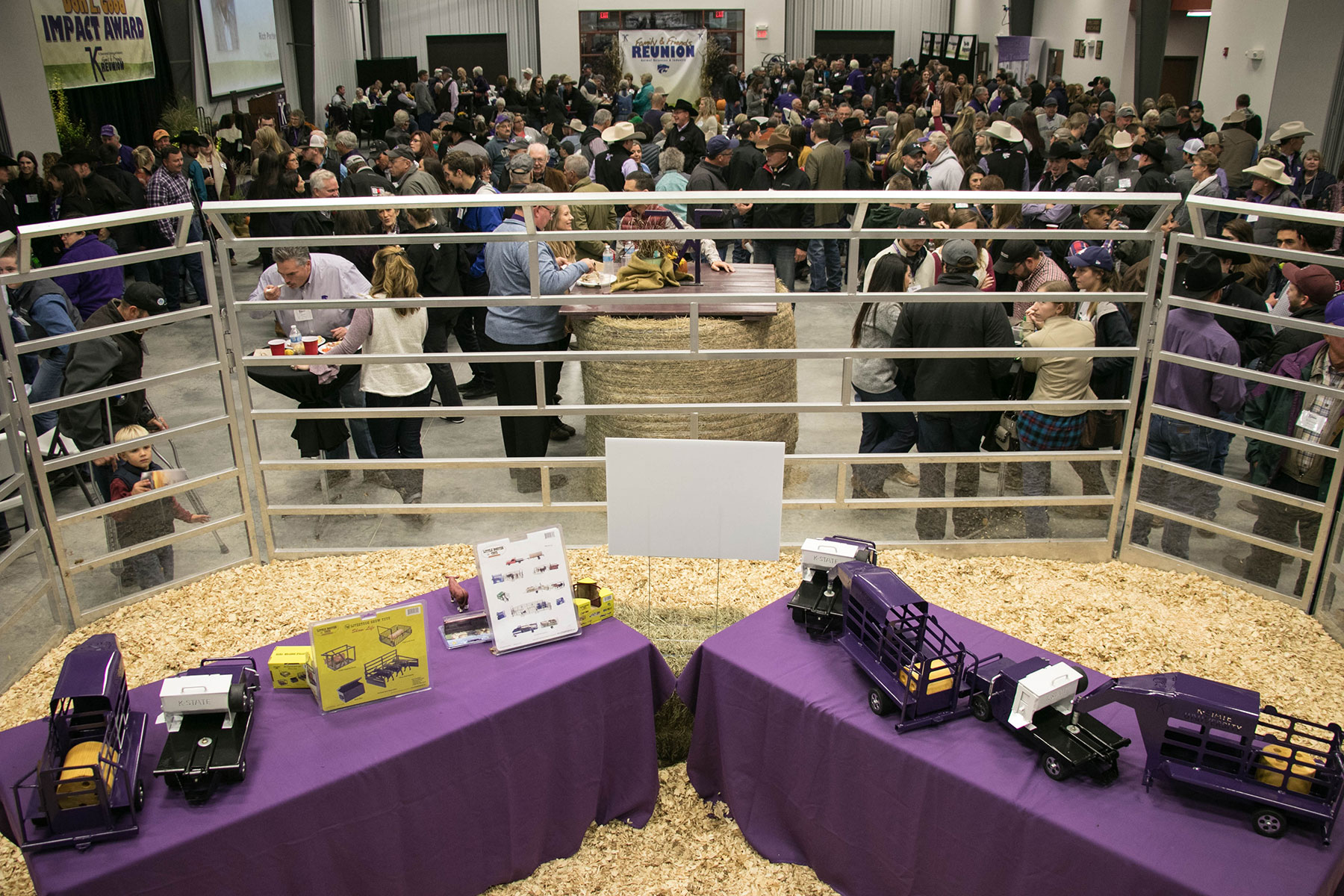 "An event like this is really a celebration of agriculture," Blach says. "It's one of the few industries in the world where we all compete against one another during the course of the day and are best friends as we finish our days and celebrate our families."
While adults were re-connecting, the Junior Wildcat Barnyard provided entertainment for future K-Staters. Kids enjoyed life-size rocking horses, rope making, playing in the dirt with farm toys, practicing their roping skills and competing in the Kansas State Fair qualifying tractor pull.
The ASI department encourages the next generation of K-Staters to show their Wildcat pride by signing a Letter of Intent. This puts their name in a drawing for the chance win prizes, including custom-painted Happy Toymaker truck and trailer sets and various farm toys and ropes.
"Within the first five minutes of my visit, I knew that K-State was 'home.' The positive impact of my decision to come here is only magnified by events such as the ASI Family and Friends Reunion," says Hadley Schotte, ASI junior from Marysville, Kansas. "I, too, plan to support such activities as an alumnus to continue our great ASI legacy."
ASI Family & Friends Reunion provides countless opportunities for current, past and future generations of K-Staters. For photo and video highlights visit the event Facebook page, www.facebook.com/KStateFamilyAndFriends.
Photo backdrop images and other candids from the night are posted to the ASI Family & Friends Flickr album.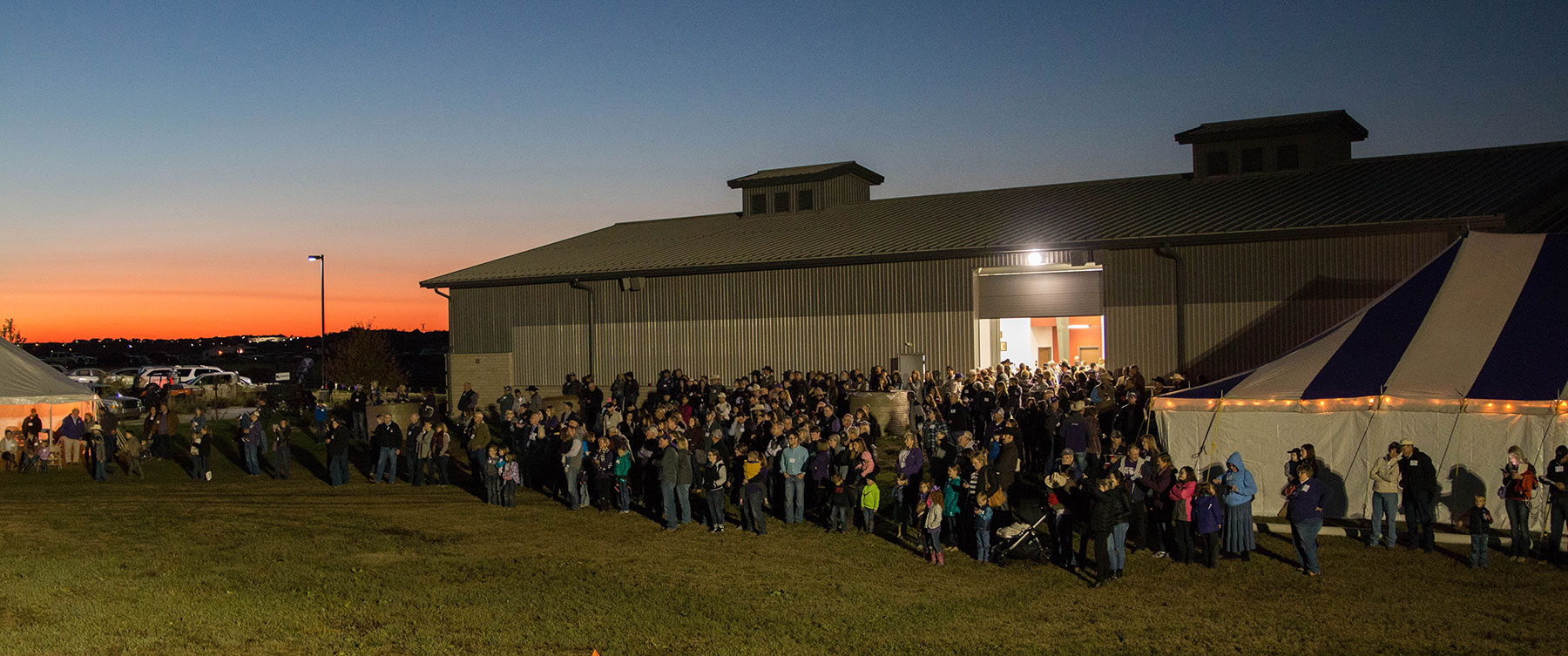 ###
The Kansas State University Department of Animal Sciences and Industry serves students, livestock producers and the animal and food industries through teaching, research and education. The K-State ASI department prepares students for careers in the animal and food industries. The curriculum includes the study of nutrition, reproduction, genetics, behavior, meat science and food science with production, management, and agribusiness skills. For more about the K-State's ASI department visit asi.ksu.edu.
The Livestock and Meat Industry Council is dedicated to facilitating interdisciplinary research that identifies and addresses issues/opportunities facing animal agriculture and the efficient production of food. The Council solicits volunteer contributions including money, land, livestock, equipment and other bequests in support of approved priorities and initiatives within the Department of Animal Sciences and Industry, in cooperation with the College of Agriculture at K-State.