K-State ASI Hosts BIF Annual Meeting and Research Symposium
MANHATTAN, Kan. — More than 600 beef industry producers, leading geneticists and allied industry professionals were in Manhattan last week for the 2016 Beef Improvement Federation (BIF) Annual Meeting and Research Symposium. Themed "Progress on the Prairie," the event was hosted by the Kansas State University Department of Animal Sciences and Industry June 14-17.
The annual forum brings together members of the industry and research community to discuss issues related to the genetic improvement of beef cattle. Convention attendees learn about technologies and management practices that can enhance the profitability of beef cattle production.
Attendees included 615 seedstock and commercial beef producers, academic and extension professionals and allied industry participants from 38 states, including 34 attendees from four foreign countries, including Australia, Argentina, South Africa and Canada.
This year's BIF symposium featured two and a half days of educational programming and a full day of tours that visited previous BIF Seestock and Commercial Producer of the Year winners.
"Speakers at this year's BIF conference did a great job outlining the international and domestic opportunities for participants in the beef value chain moving forward through genetic improvement in end-product attributes," said Bob Weaber, K-State associate professor and extension cow-calf specialist. "They also highlighted the strengths and challenges of our cow-calf sector and pointed to areas where genetic improvement offers the opportunity to protect and enhance producer profits."
The first morning's general session — "Opportunities for the Beef Value Chain: Can we become more coordinated and more profitable?" — featured K-State's Ted Schroeder and Glynn Tonsor; John Stika, Certified Angus Beef (CAB) LLC; Brad Morgan, Performance Food Group; and Keith Belk, Colorado State University (CSU). Speakers during Thursday's general session, "Protecting producer profit for the future," were David Lalman, Oklahoma State University; Chip Ramsay, Rex Ranch; Mark Enns, CSU; and Clay Mathis, King Ranch Institute for Ranch Management.
During his conference wrap-up, Kent Andersen, Zoetis director of genetics technical services, U.S. cattle-equine, summarized the need for a stronger beef chain. "The beef chain is no stronger than the weakest link. We have to move from divided and fragmented to united and integrated systems. We have to focus on the complete supply chain with the consumer in mind."
Other take-home messages he shared related to end-product included the need to build trust through transparency; brand and story does matter; and the need for signals for pull-through because of industry fragmentation.
Summarizing the Thursday general session he explained the need for whole-system optimization from the cow-calf producer to the feeder to the packer and the consumer. He also stressed it is dangerous for the cow-calf producer today to ignore post-weaning traits and he highlighted the need to put more pressure on "cost" traits. "Indexes do work," he said.
He challenged attendees to remember the three Cs — consumers, costs and communication. He encouraged producers to keep tabs on "consumers" and focus on meeting their needs, to keep an eye on "costs," and strive to efficiently "communicate" between all segments of the beef-supply chain.
Conference proceedings are posted to the K-State ASI app and the K-State ASI website. For more information about this year's symposium, including award winners and coverage of meeting and tours, visit BIFconference.com. For more information about BIF, visit Beefimprovement.org.
BIF Press Releases
K-State animal sciences and industry department hosts BIF annual meeting and research symposium
Shaw Cattle Co. named BIF Seedstock Producer of Year
Plum Thicket Farms named BIF Commercial Producer of Year
Green Presented BIF Pioneer Award
Hixon presented BIF Pioneer Award
Rishel Presented BIF Pioneer Award
Kachman presented BIF Continuing Service Award
Pollak presented BIF Continuing Service Award
Sunstrum presented BIF Continuing Service Award
Van Eenennaam presented BIF Continuing Service Award
Hough presented BIF Ambassador Award
Shaffer, Boldt awarded BIF's Roy Wallace Scholarship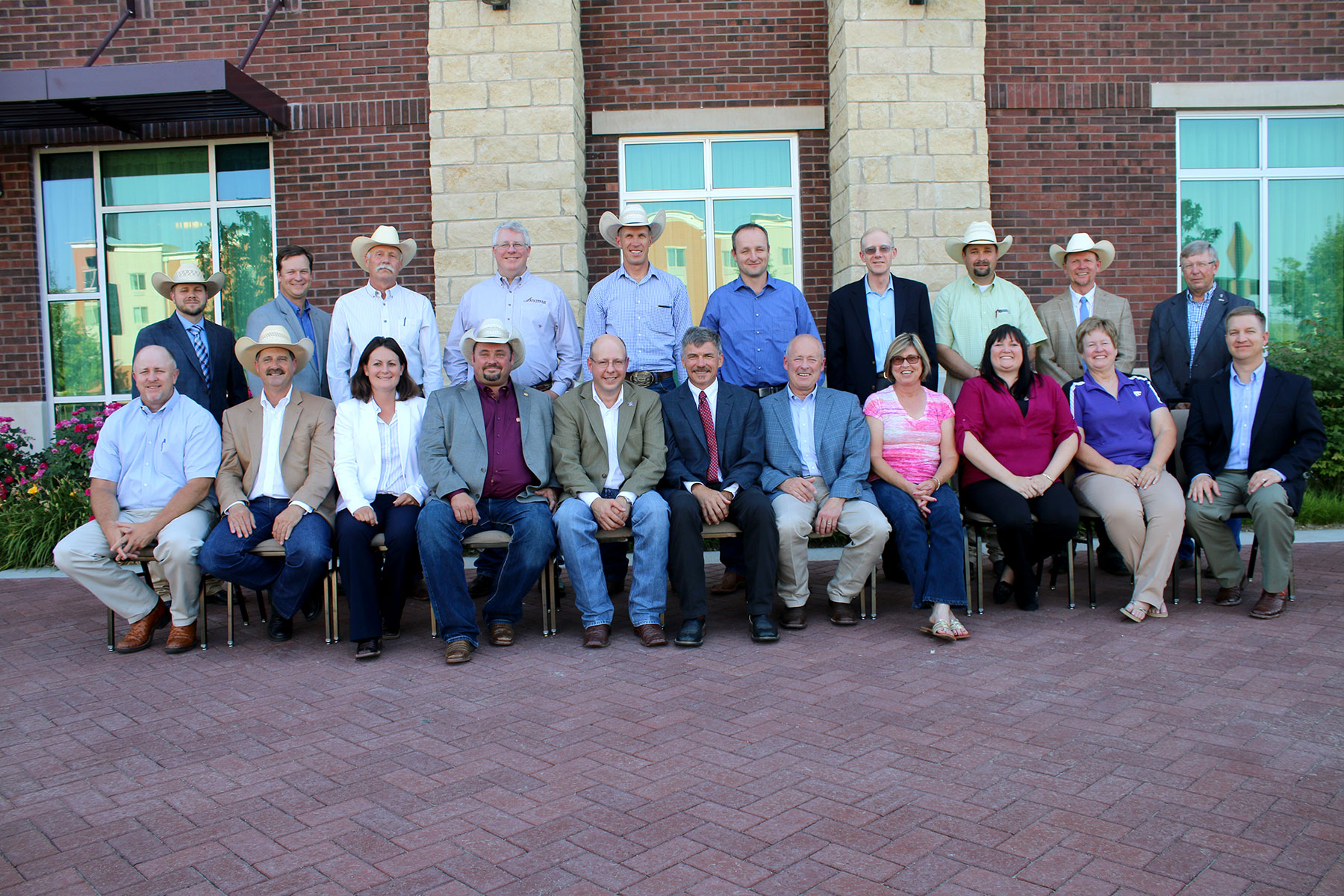 Elected to the 2016-2017 Beef Improvement Federation Board of Directors are (seated, l to r): Marty Ropp, Allied Genetics Resources, Normal, IL, president; Donnell Brown, R.A. Brown Ranch, Throckmorton, TX, vice president; Jane Parish, Prairie, MS, BIF executive director; Craig Beiber, Bieber Red Angus, Leola, SD, past president; Bob Weaber, Kansas State University, BIF central region secretary; Darrh Bullock, University of Kentucky, BIF western region secretary; Mark Enns, Colorado State University, BIF eastern region secretary; Lauren Hyde, American Simmental Association; Megan Rolf, Kansas State University; Lois Schrieiner, Kansas State University, assistant to the executive director; and Josh White, National Cattlemen's Beef Association. Back row (l to r) are: Joe Epperly, North American Limousin Foundation; Dan Moser, Angus Genetics Inc.; Joe Mushrush, Mushrush Red Angus; Lee Leachman, Leachman Cattle of Colorado, Ft. Collins, CO; Matt Perrier, Dalebanks Angus, Eureka, KS; John Genho, Eldon Farms, Woodville, VA; Mark Thallman, U.S. Meat Animal Research Center; Jared Murnin, ORIgen Beef; Tommy Perkins, International Brangus Breeders Association; and David Bolduc, Canadian Beef Breeds Council.