Horse Judging Team First in History to Win Both APHA, AQHA
KSU ASI Horse Judging Team captures two world titles.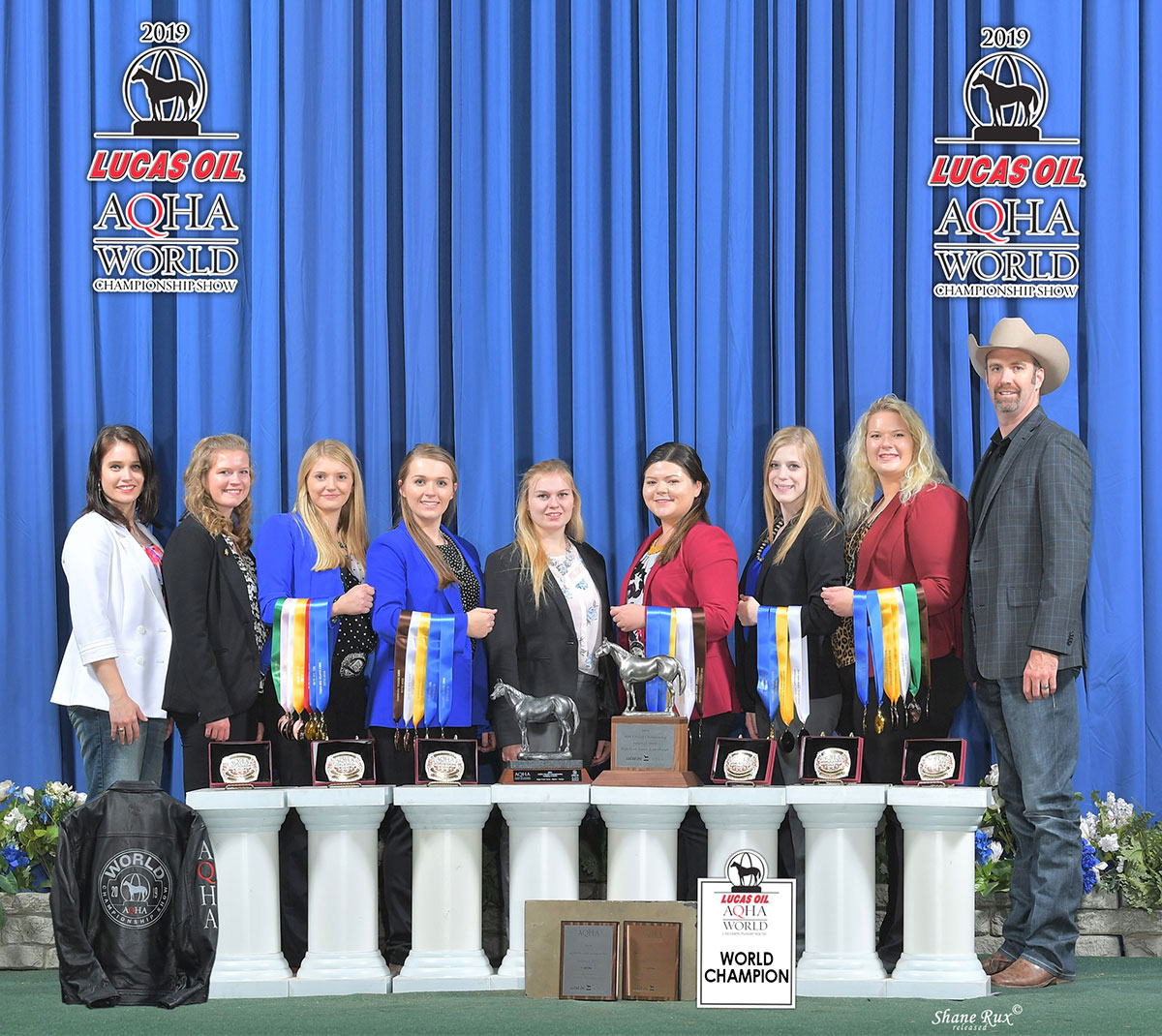 MANHATTAN, Kan. – The Kansas State University horse judging team captured a bit of history this fall when the squad won two of the most prestigious contests offered for collegiate competitors.
K-State won the American Paint Horse Association title in September and followed that up with a victory at the American Quarter Horse Association contest in mid-November. It's the first time that any four-year school has pulled off the judging double, according to head coach James Lattimer.
"It's always great to see young people succeed," said Lattimer, an assistant professor of animal science. "I attended K-State and judged here just as they did and had some success on the judging floor, but it pales in comparison to the pride you have as the coach and seeing a young person succeed."
Like other livestock judging contests, horse judging requires team members to evaluate any of a dozen classes of horses, place them according to pre-determined criteria, and provide oral reasons for those placements to judges.
"At a collegiate level, it's very difficult," said team member Emily Prugh, a senior from Elkhart, Indiana. "You really have to step up your game and you have to be creative in the reasons room. But we practice intensely so that we are ready for the contest and we really know our stuff when we walk into that contest. You're no longer scared of what might happen, but excited to show your abilities."
In addition to Prugh, team members included Taylor Bachtel of Leavenworth, Kansas; Lauren Greiner of Papillion, Nebraska; Krissy Isle of Coffeyville, Kansas; Erin LeKamp of New Berlin, Illinois; Ally Leslie of Inman, Kansas; and Emily Meier of Goddard, Kansas.
K-State graduate students Clarissa Conrad and Rachel Sorensen were assistant coaches.
"I think what makes these two wins even more special is just knowing that we were a group of young people coming from different states and different backgrounds and we all came together and grew a tight-knit bond," Meier said. "It really was ordinary people doing extra-ordinary things."
Added Leslie: "We all got into this last spring and we were hoping to come back with wins. But I don't think any of us truly thought we could pull it off. Being able to do that...I'm really proud of that."
The AQHA contest has been held for 40 years. K-State has won that contest four times in the past 11 years, most recently in 2017. The APHA contest is just in its fourth year.
K-State's prep for the national contests is a lot like what sports teams go through. The team was practicing 10-12 hours a week outside of class time, sometimes between classes or early in the morning.
"We all had to work together outside of the contest, during practice, sharing reasons terms and talking about classes (of horses)," Prugh said. "By working together, we were able to give ourselves a competitive edge and I think that makes our win even more special."
"You have great years and world championship years and then you have years that are quite opposite of that," Lattimer said. "And the difference between those is work ethic, dedication and a competitor's spirit."
###
The Kansas State University Animal Sciences and Industry department serves students, livestock producers and the animal and food industries through teaching, research and education. The K-State ASI department prepares students for careers in the animal and food industries. The curriculum includes the study of nutrition, reproduction, genetics, behavior, meat science, food science with production, management, and agribusiness skills. For more about the K-State's ASI department visit asi.ksu.edu.
K-State Research and Extension is a short name for the Kansas State University Agricultural Experiment Station and Cooperative Extension Service, a program designed to generate and distribute useful knowledge for the well-being of Kansans. Supported by county, state, federal and private funds, the program has county Extension offices, experiment fields, area Extension offices and regional research centers statewide. Its headquarters is on the K-State campus, Manhattan.