Gonzalez, John
Associate Professor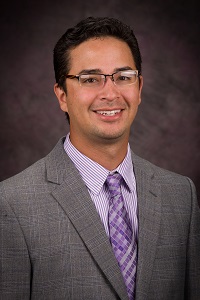 226 Weber Hall
(785) 532-3448
johngonz@k-state.edu
Education
B.S. Agricultural Economics / Poultry Science, Texas A&M University, 2002
M.S. Animal Science, Sul Ross State University, 2005
Ph.D. Animal Science, University of Florida, 2008
Bio Brief
Dr. John Michael Gonzalez grew up in the vast urban setting of San Antonio, TX. He was first introduced to agriculture during his high school years when he visited numerous classmates' ranches located throughout the state of Texas. This led Dr. Gonzalez to pursue and earn his Bachelor of Science degree in Agricultural Economics and Poultry Science from Texas A&M University. He then obtained his Master of Science degree in Animal Science from Sul Ross State University. In 2008, Dr. Gonzalez achieved his Ph.D. in Animal Sciences from the University of Florida. After earning his degree, Dr. Gonzalez spent a 9-month tenure serving as the Technical Services Manager of XL Four Star Beef, Inc. of Omaha, Nebraska. Following this experience, he returned to the University of Florida as a Postdoctoral Associate.
Dr. Gonzalez joined the Kansas State University staff in June of 2011 with a 30% teaching and 70% research appointment. Within his teaching responsibilities, Dr. Gonzalez coordinates and participates in the instruction of the department's graduate Advanced Meat Science course. Dr. Gonzalez also re-established and instructs the yearly offering of the department's Growth and Development course and assisted in establishing a molecular techniques/biotechnology course for first and second year undergraduate students.
Dr. Gonzalez's research interests span two broad areas that include classical Meat Science research and utilizing livestock as models for human physiology. Within the Meat Science discipline, his interests primarily center around exploring the effects of management strategies, feeding regimens, and growth technologies on meat color and quality characteristics of red meat species. Specifically, Dr. Gonzalez utilizes molecular techniques to study the effects of muscle fiber morphometrics and the collagen compartment on meat tenderness and color characteristics. Overall, Dr. Gonzalez contributes to the Meat Science group by explaining global changes in meat quality or color by exploring muscle biology mechanisms with basic science techniques.
Dr. Gonzalez resides in Manhattan with his wife, Sara, his daughter Penelope, and two dogs, Bexar and Astro. In his free time, Dr. Gonzalez spends a good portion of his time following the United States space program. He and his wife can be found around town working on their golf game.