KSU Equine Breeding Program
Mare Power
The KSU Horse Teaching and Research Unit maintains a Quarter Horse broodmare herd of 20-25 mares. The primary focus of the breeding program is to produce quality performance-bred horses that could be used for cutting, reining, roping, or general ranch work. We also maintain a small number of pleasure mares so that our students are exposed to more than one facet of the equine industry. The broodmares at KSU include daughters or granddaughters of:
Peppy San Badger
Nu Chex to Cash
Rugged Lark
Haidas Little Pep
Zan Parr Bar
Principle Investment
Meradas Money Talks
Doc O'Lena
Hotrodders Jet Set
Beuno Chex
Shining Spark
Zips Chocolate Chip
Sixes Pick
Royal Chic Olena
A Sudden Impulse
Smart Chic Olena
Peppys Lil Wil
Blazing Hot
Night Deposit Chex
Great Pine
Iota Invest
Smart Aristocrat
Seven From Heaven
One Gun
Bob Acre Doc
Doc Tom Tucker
CD Olena
Please see our Broodmare page for a list of the mares currently in our broodmare herd.
Stallions
The stallions standing at KSU also represent some of the finest bloodlines in the Quarter Horse industry, including sons of Zips Chocolate Chip, Smart Spook, Topsail Whiz, and Nu Bar and are available to the general public for breeding purposes. The majority of these stallions have either built an impressive show record already or are currently in training and showing. Please see our Stallion page for a list of the stallions standing at KSU.
We are always accepting contracts for standing private stallions in upcoming seasons - we can offer breeding expertise, a well-equipped lab, low chute fees, along with good customer service in order to attract and keep potential customers. Contact the KSU Horse unit at 785-313-3323 for more information.
Foals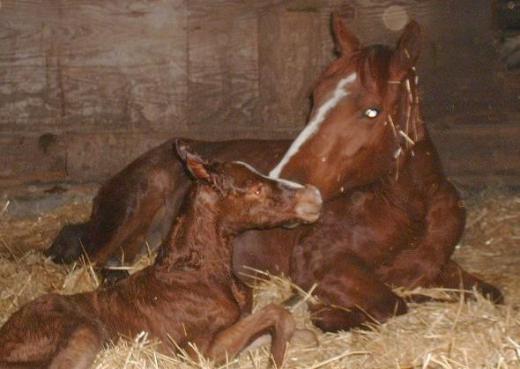 Most of the horses produced at KSU are sold or consigned to a performance horse sale as yearlings or 2-yr olds. However, each year we keep several fillies that may serve as broodmare replacements as well as a few colts that we will start under saddle and then consign to a major regional sale or sell as a 3 or 4 yr-old. Deposits can be made anytime on horses that are enrolled in one of our four training courses. Please visit our For Sale page to see which KSU horses are currently available.
Donations
The Equine Program welcomes donations of quality mares, young stock or stallions that will fit in with our Quarter Horse breeding and training programs. The type of horse we can most effectively utilize are stock-type horses with an emphasis on cutting, reining or roping lines. High quality western pleasure mares will also be considered. Donated stallion breedings are also appreciated - we can cover shipping costs and will link your website to ours to help promote your stallion. Although we are not able to purchase horses or breedings, the donated value of the animal or service (breeding and chute fees) is considered tax deductible. Please contact Dr. Joann Kouba (785-532-1240) for more information on donations.
Our sincere THANKS to the following for supporting our breeding program with stallion breeding donations over the last few years!
Wagonhound Land and Livestock Co. - Douglas, WY (Genuine Masterpiece)
Crescent View Ranch - Arcadia, FL (Playboy Boonsmal, Kit Dual, Atta Cat)
Mike McEntire Reining Horses - Selma, NC (Lil Ruf Rider)
Hilldale Farm- Brashears, TX (Night Deposit Chex, Bueno Cash Quixote, ML Great Badger, Chex Is My Daddy)
Brightstone Ranch - Gainesville, TX (Sophisticated Catt, Palo Duro Cat)
Solum Brothers, LLC - Lamar, MO (Chic Please, Hollywood Vintage, Roosters Wrangler, Presidente Shiner)
Dorminy Plantation - Fitzgerald, GA (Commanders Nic, Shinin Joe)
EE Ranches - Whitesboro, TX (Kodo, Laker Doc)
The Four Sixes - Guthrie, TX (Seven From Heaven, Sixes Pick, First Fletch, Sixes Country)
Pitchfork Ranch - Guthrie, TX (Cat Silver)
Cabin Oaks Quarter Horses - Medford, OR (Buckaroo Bueno Chex)
Lynn and Hank Rohwedder - Waterloo, IL (Just Like Starlight)
Stuart Ranch - Waurika, OK (Real Gun)
Jim and MIchele Holland, and Brad Lund - Bucyrus, KS (With All Probability)
Gardiner Quarter Horses - Ashland, KS (Hes Wright On)
Overlook Farm Quarter Horses- Van Meter, IA (ER Hot Chex)
Tien Quarter Horses - Prairie View, KS (Two ID Sweet Jack)
Meyer Quarter Horses/ Lopin Slow Partnership - Topeka, KS (Lopin Slow)
Darol and Karen Rodrock - Bucyrus, KS (Certain Potential)
Mr. and Mrs. Alcini - Ada, OK (Ovations Only)
Dan and Carol McWhirter - Doniphan, NE (Absolute Asset, Absolutely No Doubt)