KSU Horse Unit
Contact Information: James Lattimer, Assistant Professor, jlattimer@k-state.edu, 785-532-2840
Horses: KSU maintains a quality herd of about 70-80 Quarter horses. This includes a breeding herd consisting of several stallions and about 20-25 broodmares. In addition, a variable number of weanlings, yearlings, 2- and 3-yr olds are kept at the facility and enrolled in our training classes. The breeding program focuses primarily on cow-bred Quarter horses including cutting, roping, and reining-bred mares and stallions. A small number of western pleasure-bred mares are also maintained at the horse unit. Significant improvements have been made in the last several years in terms of the quality of our broodmares, with the goal of building a first-class breeding program with a national reputation. A number of high-quality mares and stallion breedings have been donated recently to the program (see below), helping to move our Breeding Program forward. View the current KSU broodmare herd.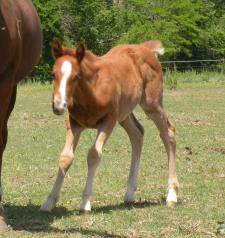 Breeding Services: The KSU Horse Unit also offers reproductive services for horse owners. Some of these services include standing stallions at stud (dependent on space availability), phantom training, breeding mares to outside stallions, and shipping or receiving cooled semen. We offer very competitive pricing on these services. Please contact the Horse Unit at 785-313-3323 for more information regarding these services.
Leasing Program: Outside horses are occasionally needed for our training classes. If you don't have time to halter-break your weanling or start it with groundwork, check on the availability of any openings in our fall semester Beginning training class. Some of the topics taught to weanlings include: walk, trot, stop, and back, holding up feet, longeing, clipping, trailer loading, sacking, and some showmanship. Or, if you own a 2 or 3-yr old and need someone to start it under saddle, consider enrolling it in the Advanced training class. The Advanced course has filled to capacity with leased horses for the last five years - please contact us by early summer if you would like to enroll a horse in the fall. There is a fee (covers board and training for 4 months) associated with enrollment in a class that averages between $800-900 for the semester.
Donations: Quality tax-deductible donations are sometimes needed for the equine program. Due to our location, the type of horses that the KSU Horse Unit can utilize most effectively are stock-type, either ranch or western performance-bred horses (young horses and broodmare prospects primarily). Cutting, reining, roping, and western pleasure lines are included in our broodmare herd. The equine program will also accept tack and equipment. We are currently looking for a truck, 2-horse trailer, and manure spreader. If you have one in good condition that you haven't been able to sell, give us a call!
A big THANKS to Gallagher Fencing for their donation of the EquiFence at the Horse Unit!
Donated stallion breedings are also very important to our program. Breedings benefit our students by providing them with the opportunity to work with high-quality young horses. Please contact us regarding donating a breeding to your stallion for an upcoming breeding season. KSU has a number of well-bred broodmares that may cross nicely with your stallion. We cover semen shipping costs, and stud fees/collection costs are considered tax-deductible. In addition, we will link your web page to ours to help promote your stallion(s).
A big THANK-YOU to the following for donating stallion breedings in the past few years!
Wagonhound Land and Livestock Co. - Genuine Masterpiece
Crescent View Ranch - Playboy Boonsmal, Kit Dual, Atta Cat
David and Philip Solum - Chic Please, Hollywood Vintage, Roosters Wrangler, Presidente Shiner
Mike and Nathalie McEntire - Lil Ruf Rider
Mr. and Mrs. Hutton - Bueno Cash Quixote, Night Deposit Chex, Chex is My Daddy, and ML Great Badger.
Brightstone Ranch - Sophisticated Catt, Palo Duro Cat
Dorminy Plantation - Commanders Nic, Shinin Joe
EE Ranches - Kodo and Laker Doc
6666 Ranch - Seven From Heaven, Sixes Pick, First Fletch
Jim and Michele Holland, Brad Lund- With All Probability
Gardiner Quarter Horses - Hes Wright On
Pitchfork Ranch - Cat Silver
Mr. and Mrs. Hawkins - Buckaroo Bueno Chex
Mrs. Lynn Rohwedder -Just Like Starlight
Stuart Ranch -Real Gun
Overlook Farm Quarter Horses - ER Hot Chex
Tien Quarter Horses - Two ID Sweet Jack
Lopin Slow Partnership / Meyer Quarter Horses - Lopin Slow
Karen and Darol Rodrock - Certain Potential
Mr. and Mrs. Alcini - Ovations Only
Dan and Carol McWhirter - Absolute Asset and Absolutely No Doubt
Attention Employers!
Each year, KSU has a number of highly qualified students who are looking for full or part-time employment in an equine-related area. Information on summer work and internship opportunities is also frequently requested by students. If you are hiring someone for an equine-related permanent or temporary position, or just need someone to "horse-sit" while you are out of town, please contact Dr. James Lattimer or Dr. Teresa Douthit so that your information can be posted on our Job Board and passed along to the students. A description of the position, as well as contact information, can also be faxed to 785-532-2461 or mailed to: 132 Weber Hall, KSU, Manhattan, KS 66506.