TAMU Nu Bar Rey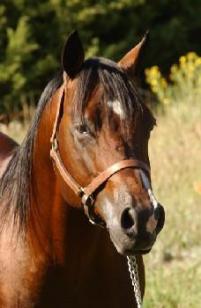 TAMU Nu Bar Rey
AQHA #3431311
Breeding Fee: $500
1995 Bay Stallion
Owned by: Dr. Joann Kouba, Manhattan, KS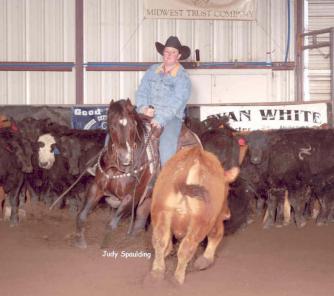 TAMU Nu Bar Rey is by Nu Bar, 1974 Reserve World Champion Jr. Cutting (NCHA LTE $16,500, and offspring earnings of over $800,000). He is out of TAMU Rey Etta, a producing daughter of Rey Jay - a King Ranch stallion, AQHA Champion and winner of the NCHA finals Non-Pro in 1966. TAMU Rey Etta's offspring have over $168,000 in NCHA earnings to date.
Although unshown prior to coming to KSU (bred, raised, and fully owned by Texas A&M University until the summer of 2003), Nu Bar Rey was in cutting training with Dean Smith of Council Grove, KS for over 18 months and was showing tremendous potential prior to injuring his hock in an accident in the spring of 2006. Although he has now been retired from riding, he is extremely athletic and intelligent, very "cowy", has a tremendous amount of heart and loves to work. This stallion has some of the best foundation cow-horse blood you'll ever find in the first two generations with Rey Jay, Doc Bar and Teresa Tivio as grandparents!
He has low-set hocks, an attractive head and neck with good overall balance and muscling. He is full of personality and works great around other horses. He would be an excellent cross for cutting, foundation, reining or ranch mares. He is stamping his traits on his offspring, and we are very happy with his first three KSU foal crops and are looking forward to his fourth crop this spring. Several of his 2 and 3-yr olds have been started under saddle and are at the KSU Horse Unit.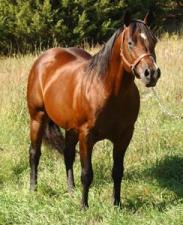 Doc Bar
Nu Bar
Teresa Tivio (by Poco Tivio)
TAMU Nu Bar Rey
Rey Jay
TAMU Rey Etta
TAMU Joette (King granddaughter)
Full Pedigree Link
Nu Bar Rey - Picture taken Dec. 06'