McKee, R. Miles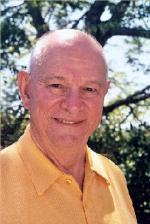 Professor Emeritus
212 Weber Hall
Manhattan KS 66506
785-532-1237
785-532-7059 fax
mmckee@k-state.edu
Area(s) of Specialization
Beef Cattle Management
Education
B.S. , Kansas State University, 1951
M.S. , Kansas State University, 1953
Ph.D. , University of Kentucky, 1968
Bio Brief
Dr. Miles McKee was born October 8, 1929, in Cottonwood Falls, Kansas. He earned his B.S. Degree in Agriculture in 1951 and his M.S. Degree in Animal Husbandry in 1963 at Kansas State University. He was awarded his Ph.D. in Animal Sicence from the University of Kentucky in 1968.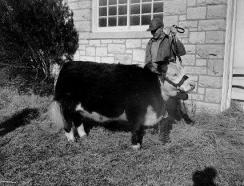 He gained livestock experience on the family livestock operation, with Titus and Stout Hereford Ranch, Moxley Hall Hereford Ranch, Luckhardt Farms and L&J Crusoe Ranch. He was appointed assistant instructor and beef cattle herdsman at Kansas State in 1959. Except for a 15 month sabbatical to complete the Ph.D. degree he remained on the faculty until his retirement January 1, 2005.
Dr. McKee has received many awards for outstanding teaching. He was recognized by Gamma Sigma Delta with an "Outstanding Professor Award" in 1968. That same year, he was honored as the "College of Agriculture Distinguished Professor Award". In 1973, he was presented the "Oustanding Faculty Award" by the Ag Student Council. He has been nomicated by the College of Agriculture for the "University Distinguised Professor" in 1978. The College of Agriculture awarded his "Outstanding Professor of the Semester" in 1977 and 1979.
In 1979, he recieved the Distinguised Teacher Award from the American Society of Animal Sicence and in 1981 he was made a NACTA Teacher Fellow. In 1985, the National Association of Colleges and Teachers of Agricluture Delta Tau Alpha awarded him the "Teacher-Advisor Award". Four years later he was the Kansas State University Nominee to the National Council for the Advancement and Support of Education for "Professor of the Year". Then in 1990 he was awarded by that same committee "Kansas Professor of the Year". The following year, the National Association of Colleges and Teachers of Agriculture Ensminger-Insterstae awarded him with the "Distinguished teacher Award". In 1992, he was awarded by Gamma Sigma Delta the "Outstanding Advising Award". In recent years he has gone on to win multiple advising awards at both the college and university levels.
He has served as advisor for the Block and Bridle Club, Alpha Zeta, Ag Student Council, Little American Royal, and Farm House Fraternity. In addition, he has served as judge for numerous livestock shows and conducted over 55 livestock judging and showmanship schools at the county level. Also, he has served as judge and/or program participant at a number of national shows and association meetings.
Dr. McKee has proveded many services to the livestock industry and written a number of articles. He has been listed in Who's Who in Kansas, Who's Who in the Midwest and Who's Who in America. He is a Honoray State Farmer and has had several student events dedicated to him. The Miles McKee Student Enrichment Fund at Kansas State was established to honor Dr. McKee's teaching and advising contribution to youth. In January, 2005 Dr. McKee retired from the university, but continues on to help with student advising and chronicalling the history of the deptartment. In April of 2005 the large lecture hall in Weber was renamed McKee Auditorium.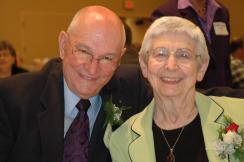 Dr. McKee and his wife Marjorie reside here in Manhattan. They have four children and seven grandchildren.