Kouba, Joann M.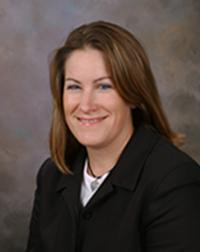 Associate Professor
128 Weber Hall
Manhattan KS 66506
785-532-1240
785-532-7059 fax
jkouba@k-state.edu
Area(s) of Specialization
Equine Physiology
Education
B.S. , Truman State University, 1993
M.S. , Clemson University, 1995
Ph.D. , Texas A&M University, 2001
Bio Brief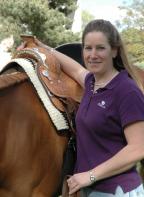 Dr. Kouba was born and raised in Bellevue, Nebraska (south of Omaha). She entered Northeast Missouri State University (now formally named truman State University) in 1989, majoring in Animal Science with an Equine emphasis. Following graduation, she began her graduate career in animal physiology at Clemson University in Clemson, South Carolina in the fall of 1993. While at Clemson, she was actively involved in their undergraduate teaching program, and had responsibility for teaching two popular equine courses. Her thesis focused on the use of Domperidone to treat pregnant mares grazing endophyte-infected tall fescue. After completing her M.S. in 1995, she moved to Texas and started on her Ph.D. in equine reproductive physiology at Texas A&M University in the spring of 1996. While at A&M, Dr. Kouba was also heavily involved in their undergraduate program, teaching courses in horse training, horsemanship, reproduction and management, as well as the introductory animal science labs. Her dissertation dealt with the control of prolactin secretion in the pregnant mare, and the interaction between various reproductive hormones and endogenous opioids.
In the fall of 2001, Dr. Kouba joined the KSU faculty as the horse teaching and research specialist with a 80% teaching and 20% research appointment. She currently teaches 7 on-campus equine courses as well as 3 distance courses, advises ~60 students, serves as the faculty coordinator for the KSU Horse Teaching and Research Unit, is the advisor for the KSU Horseman's Association, and mentors a number of graduate students pursuing advanced degrees with an equine emphasis.
Beyond her on-campus classes, Dr. Kouba also believes in enhancing educational opportunities for students through international experiences. In May of 2008, she led a study tour with Dr. Guy Kiracofe that focused on the diverse equine industries in Ireland, Scotland and England.
Dr. Kouba's research program currently focuses on the role of omega-3 fatty acids in equine reproduction and foal growth and immunity. The overall goal of this research is to make better recommendations to consumers about incorporating omega-3 fatty acids into the diets of their mares and foals.
Her personal horse interests are currently focused on the cutting horse industry. And if you are driving around town, watch out for Dr. Kouba - she can be seen walking her two dogs, Ripley and Tobi.
Teaching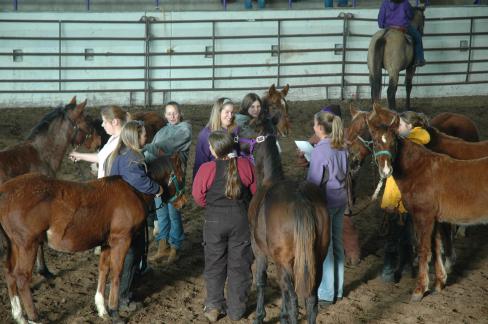 Beginning Horse training and Management [ASI 345]
Equine Reproduction Management [ASI 504]
Horse Science [ASI 521D]
Equine Enterprise Management [ASI 333]
Advanced Groundwork [ASI 661]
Foaling [ASI 403]
Equine Health [ASI 444]
Principles of Equine Reproductive Management [ASI 502D]