Schaake, Scott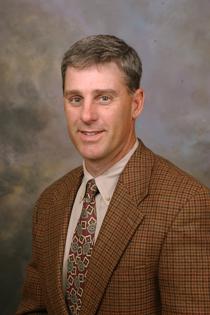 Associate Professor
127 Weber Hall
Manhattan KS 66506
785-532-1242
785-532-7059 fax
simmi@k-state.edu
Area(s) of Specialization
Beef Cattle Production & Management
Education
B.S. , Kansas State University, 1984
M.S. , Clemson University, 1986
Ph.D. , University of Kentucky, 1991
Bio Brief
Dr. Scott Schaake was raised on a cow-calf ranch/row crop operation near Lawrence Kansas. He graduated from Kansas State University in 1984 with a B.S. in Animal Sciences and Industry. He earned his M.S. at Clemson University and Ph.D. at the University of Kentucky, specializing in the area of Meat Science.

He served as the coach of the Livestock Judging Team from 1992 to 2013. His teams won five National Championships during his tenure as a coach at Kansas State University. He is also involved with teaching Foundations in Animal Science, Introductory Animal Science Lab, and Livestock and Meat Evaluation. In addition to his teaching responsibilities he advises around 40 undergraduate students each year.
Dr. Schaake has judged livestock shows in 32 states, Canada, South America and Mexico. His personal interest includes all types of sports, hunting, fishing and attending his sons' sporting events. His family includes wife, Kandi, and sons Shane and Shilo.
Teaching
Foundations in Animal Sciences & Industry [ASI 101]
Animal Sciences and Industry Lab [ASI 105]
Livestock and Meat Evaluation [ASI 315]