Trinetta, Valentina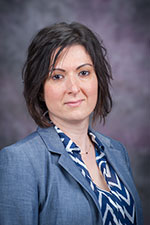 Assistant Professor
222 Call Hall
785-532-1667
vtrinetta@ksu.edu
Area(s) of Specialization
Food Safety and Food Microbiology of Produce and Meat products
Active and Green Packaging for food systems
Non-Thermal Technologies for long-term sustainability of foods
Persistency and Mechanism of action of pathogens in the Food supply chain
Education
B.S. Food Biotechnology, University of Pisa, Italy, 2005
M.S. Genetics Biotechnology for Food Quality and Safety, University of Naples, Italy, 2006
Ph.D. Food Science and Technology, University of Milan, Italy, 2009
Bio Brief
Dr. Valentina Trinetta obtained her BS in Food Biotechnology (2005) from the University of Pisa, Italy, her MS in Genetics Biotechnology for Food Quality and Safety (2006) from the University of Naples, Italy, and she received her PhD degree in Food Science and Technology (2009) from the University of Milan, Italy, for her work in active packaging and food safety. Since then she continued to work in the field of food safety prolonging the shelf-life of food products using non-thermal technologies, antimicrobial packaging and studying the mechanism of action of foodborne pathogens in the food supply chain. Her interests spaced from the microbiology of fresh produce to muscle food and ready to eat meat products.
Dr. Trinetta is coming back to Academia after a four-year experience as Principal Microbiologist-Scientist at Ecolab Research and Development Center (2011-2015). She is currently an Assistant Professor in the Department of Animal Sciences and Industry and the Food Science Institute at Kansas State University. Utilizing her background and experience in food science, microbiology and packaging, her research interests focus on the development of treatment technologies to improve the long-term sustainability of food products, minimizing the risk of foodborne illnesses associated with them. She is also interested in investigating the persistence and survival of pathogens along the food supply chain, with a particular emphasis on the mechanism of actions.
Dr. Trinetta has authored and co-authored a variety of publications, including 16 peer-reviews articles and 3 book chapters. Her teaching responsibilities include food microbiology lectures and laboratory at undergraduate and graduate level.