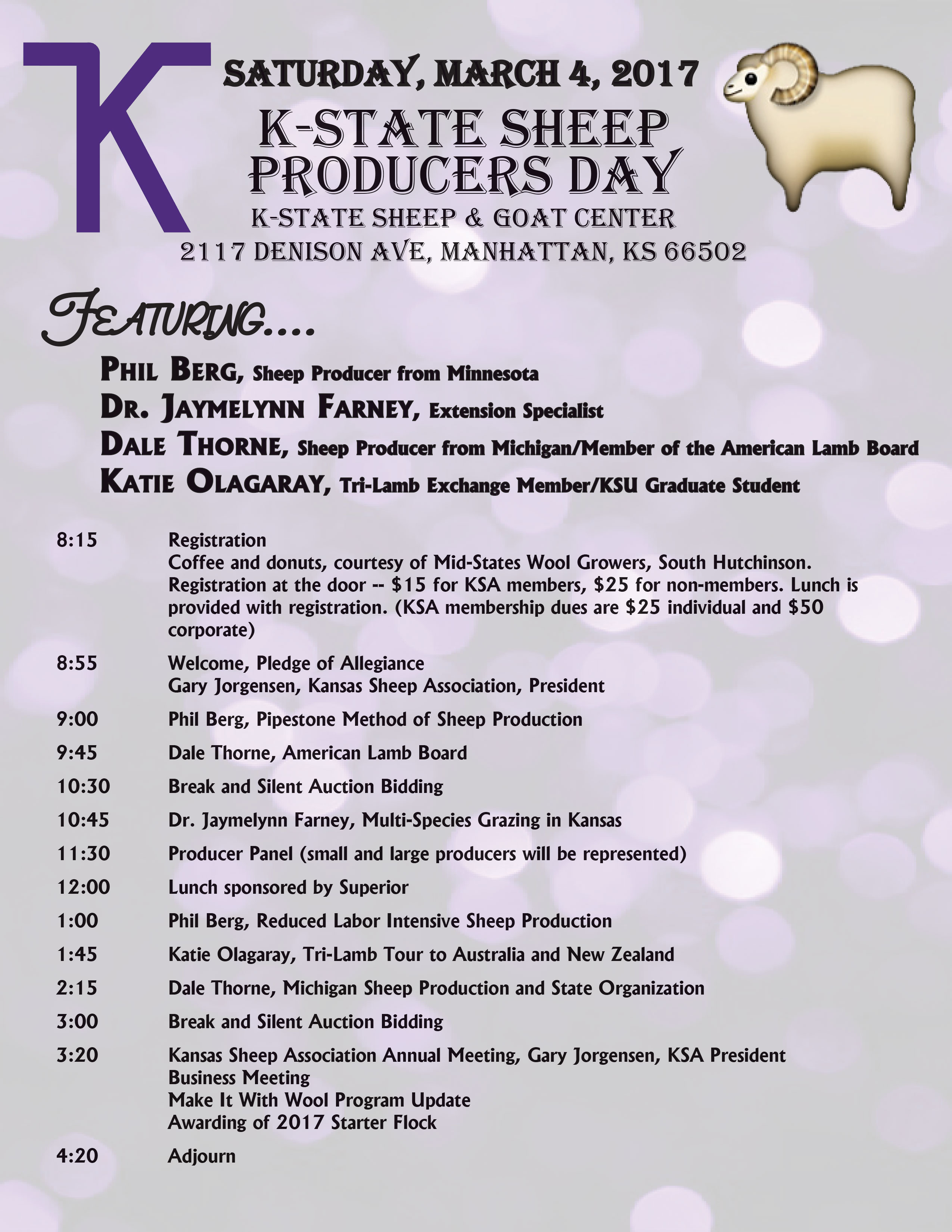 Saturday March 4, 2017
K-State Sheep & Goat Center
2117 Denison Ave. Manhattan, KS 66502

Registration at the door -- $15 for KSA members, $25 for non-members. Lunch is provided with registration.
(KSA membership dues are $25 individual and $50 corporate)
8:15 a.m. Registration
Coffee and donuts, courtesy of Mid-States Wool Growers, South Hutchinson.
8:55 a.m. Welcome, Pledge of Allegiance
Gary Jorgensen, Kansas Sheep Association, President
9 a.m. Phil Berg, Pipestone Method of Sheep Production
9:45 a.m. Dale Thorne, American Lamb Board
10:30 a.m. Break and Silent Auction Bidding
10:45 a.m. Dr. Jaymelynn Farney, Multi-Species Grazing in Kansas
11:30 a.m. Producer Panel (small and large producers will be represented)
noon Lunch sponsored by Superior
1 p.m. Phil Berg, Reduced Labor Intensive Sheep Production
1:45 p.m. Katie Olagaray, Tri-Lamb Tour to Australia and New Zealand
2:15 p.m. Dale Thorne, Michigan Sheep Production and State Organization
3 p.m. Break and Silent Auction Bidding
3:20 p.m. Kansas Sheep Association Annual Meeting, Gary Jorgensen, KSA President
Business Meeting
Make It With Wool Program Update
Awarding of 2017 Starter Flock
4:20p.m. Adjourn
The K-State Sheep Producer Day is sponsored by the Kansas Sheep Association and the KSU Department of Animal Sciences and Industry. No pre-registration is necessary.
For more information, contact Deb Simon, Kansas Sheep Association (kssheep@ruraltel.net).