Brouk, Mike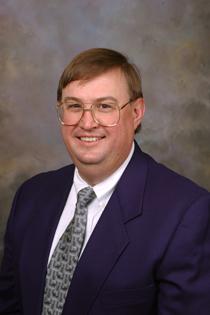 Associate Professor/Extension Specialist
134 Call Hall
Manhattan KS 66506-1600
785-532-1207
785-532-5681 fax
mbrouk@k-state.edu
Area(s) of Specialization
Cow comfort
Dairy management
Dairy nutrition
Forage quality and preservation
Heat stress abatement
Education
B.S. , University of Missouri - Columbia, 1985
M.S. , University of Missouri - Columbia, 1989
Ph.D. , South Dakota State University, 1994
Bio Brief
Micheal J. Brouk was born November 15, 1962, in Franklin County, Missouri. He attended Linn R-2 Schools graduating in May 1981. Following high school graduation, he attended the University of Missouri-Columbia majoring in agronomy and dairy science and received the Bachelor of Science degree in Agriculture in May 1985. From 1976 to 1984, he was also an active partner in the family grain farm located in Osage County, Missouri. The University of Missouri-Columbia employed Mike as a Research Specialist for two years after he completed his undergraduate program. The research projects involved the utilization of dairy processing plant waste as a fertilizer for forage crops and as a protein and mineral supplement for livestock. He then began a Master of Science degree program under Dr. Ron Belyea at the University of Missouri-Columbia. The title of his thesis was "Chewing Behavior and Digestion of Alfalfa Forage." Following completion of his M.S. degree, Mike accepted a position with Cenex/Land O'Lakes in southwestern Minnesota. He worked as a Livestock Production Specialist developing nutrition and management programs for dairy and beef producers. After two years with LOL, he entered a doctoral program under the direction of Dr. David Schingoethe at South Dakota State University. His dissertation topic was "Net Energy of Lactation and Ruminal Degradability of Wet Corn Distillers Grains." Following completion of the Ph.D. in Animal Sciences he joined the teaching and research staff of South Dakota State University in January 1994. Mike was responsible for teaching undergraduate dairy management, nutrition, breeding and cattle evaluation courses as well as developing a dairy cattle nutrition research project.
Mike returned to the University of Missouri-Columbia in August of 1996 as an Extension Specialist with Commercial Agriculture Program. He was responsible for developing state wide extension programs in the areas of dairy cattle nutrition, forage systems, replacement heifer development and dairy cattle management. He joined the faculty of Kansas State University in December of 1998 as a State Dairy Extension Specialist where he holds a 30% teaching and 70% extension appointment. His current responsibilities include development of programs in dairy cattle nutrition, management, cow comfort, replacement heifer development, dairy expansion and heat stress abatement. He is currently involved in several research projects evaluating various heat stress abatement methods in commercial dairy herds.
Mike and his wife Michelle together with their five children, Megan, Morgan, Miranda, Matthias, and Marissa reside near Manhattan, KS.
Teaching
Dairy Cattle Management [ASI 621]
Silage Technology [ASI 685]