Goodband, Robert D.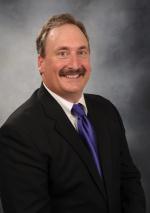 Professor/Extension Specialist
242 Weber Hall
Manhattan KS 66506
785-532-1228
785-532-7059 fax
goodband@k-state.edu
Area(s) of Specialization
Swine Nutrition and Management
Education
B.S. , Pennsylvania State University, 1984
M.S. , Kansas State University, 1986
Ph.D. , Kansas State University, 1989
Bio Brief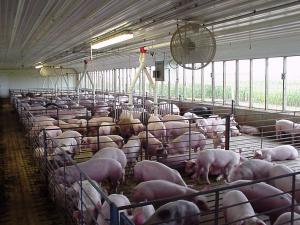 Dr. Bob Goodband was born in 1961 in Walpole, Massachusetts. He graduated from The Pennsylvania State University in 1984. He obtained his M.S. (1986) and Ph.D. (1989) in Swine Nutrition at Kansas State University, and then joined the Department of Animal Sciences and Industry as an Assistant Professor with a 60% extension and 40% teaching appointment. In 1995, Bob was promoted to associate professor and in 2001 full professor with a 40% extension, 40% teaching, and 20% research appointment.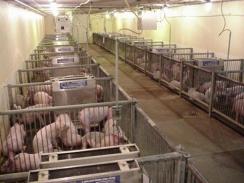 Bob's current teaching assignment includes ASI 535, Swine Science which is taught both fall and spring semesters. This class covers the basics of modern, sustainable swine production and includes a laboratory session where students are exposed to hands-on training at the Swine Teaching and Research Farm. Other classes include ASI 320 (Fall) Principles of Feeding taught with Dr Mike Brouk and ASI 679, Swine Nutrition also taught in the fall semester. In addition Dr. Goodband has two classes, ASI 318, Fundamentals of Nutrition and ASI 535 Swine Science that are offered through the Department of Continuing Education and can be taken by students off campus. Bob also advises approximately 25 undergraduate students each year and has been the major professor for 9 M.S. and 5 Ph.D. students. Bob has excelled in his teaching appointment by his enthusiastic and practical approach to classes. As a result of his accomplishments, in 1995 and 1998 Bob was selected by the students as the College of Agriculture Faculty of the Semester. Bob, his wife Dani, and son Brady enjoy K-State football games, and spending time on their small farm outside of Riley, KS.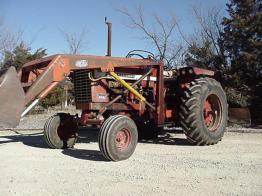 Research
Our swine team routinely meets with pork producers and industry leaders from the various segments within the swine industry as well as related agri-businesses to determine the best direction for K-State Research and Extension. The answer from our constituents continues to be that they want us to help them be low cost producers while finding new opportunities to increase productivity. Thus, the overall goal of our swine program is developing, evaluating, implementing, and disseminating the latest technology to improve the economic competitiveness of swine producers. To impact economic competitiveness, we concentrate on the main drivers, cost of production and productivity. A major portion of our time involves answering questions from individual producers.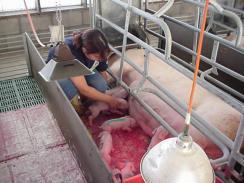 Most of these calls revolve around leasing, pricing pigs or ingredients, diet formulation, and contract negotiation. However, they can also include conflict resolution, employee management, environmental regulations, or a host of other topics. We think we have positioned K-State Research and Extension well as "the place to turn with swine nutrition questions".
Teaching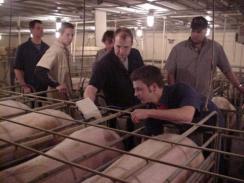 Traditional efforts involve classroom instruction for undergraduate and graduate students. These include: ASI 320, Principles of Feeding, (fall; taught with Dr. Mike Brouk), ASI 535 Swine Science (fall and spring), ASI 679, Swine Nutrition (fall), and the monogastric lectures in ASI 921 Protein and Amino Acid Utilization by Domestic Livestock (fall, every other year with Dr. Evan Titgemeyer). In addition, I offer ASI 318D, Fundamentals of Nutrition and ASI 535D, Swine Science via Continuing Education fall, spring and summer semesters.
As always, my goal in undergraduate teaching is to make students aware of the latest technology implemented in the field of nutrition, especially that pertaining to swine. My goal is to generate excitement towards the field of nutrition and swine production in undergraduate students and increase their knowledge and awareness of career opportunities.
Where many Universities are experiencing diminishing enrollment in traditional swine production and management classes, enrollment at K-state remains steady at approximately 45 to 50 students per year. To the best of our knowledge this would be the fourth largest enrollment in swine production classes in the country.
Swine Science [ASI 535]
Swine Nutrition [ASI 679]
Protein and Amino Acid Utilization in Domestic Livestock [ASI 921]
Fundamentals of Nutrition [ASI 318D]
Swine Science [ASI 535D]