Kansas State Fair Poultry
Exhibiting Poultry at the Kansas State Fair
One of the most popular barns or exhibits at the Kansas State Fair is the Poultry Barn. Each year, competitors enter hundreds of waterfowl, chickens, turkeys and pigeons in 4-H and Open Class competition. You can see just about every size and shape of poultry that you can imagine. Come by and check it out. If you would like to volunteer to help at the barn, contact your local county extension office.
Market Broiler Competition
There will not be a Market Broiler division at the 2008 Kansas State Fair. We were unable to secure a prize sponsor for the event this year. We are hopeful that the event may find a sponsor and return in 2009.
For more information, email sbeyer@ksu.edu.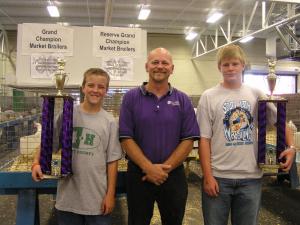 Dr. Beyer with Grand Champion Market Broiler winner Miles Pearson (L) and Reserve Champion Market Broiler winner Cole Pearson (R).