K-State Animal Science Students Compete in Academic Quadrathlon
KSU Quadrathlon Team was Reserve Champions at Midwest ASAS competition.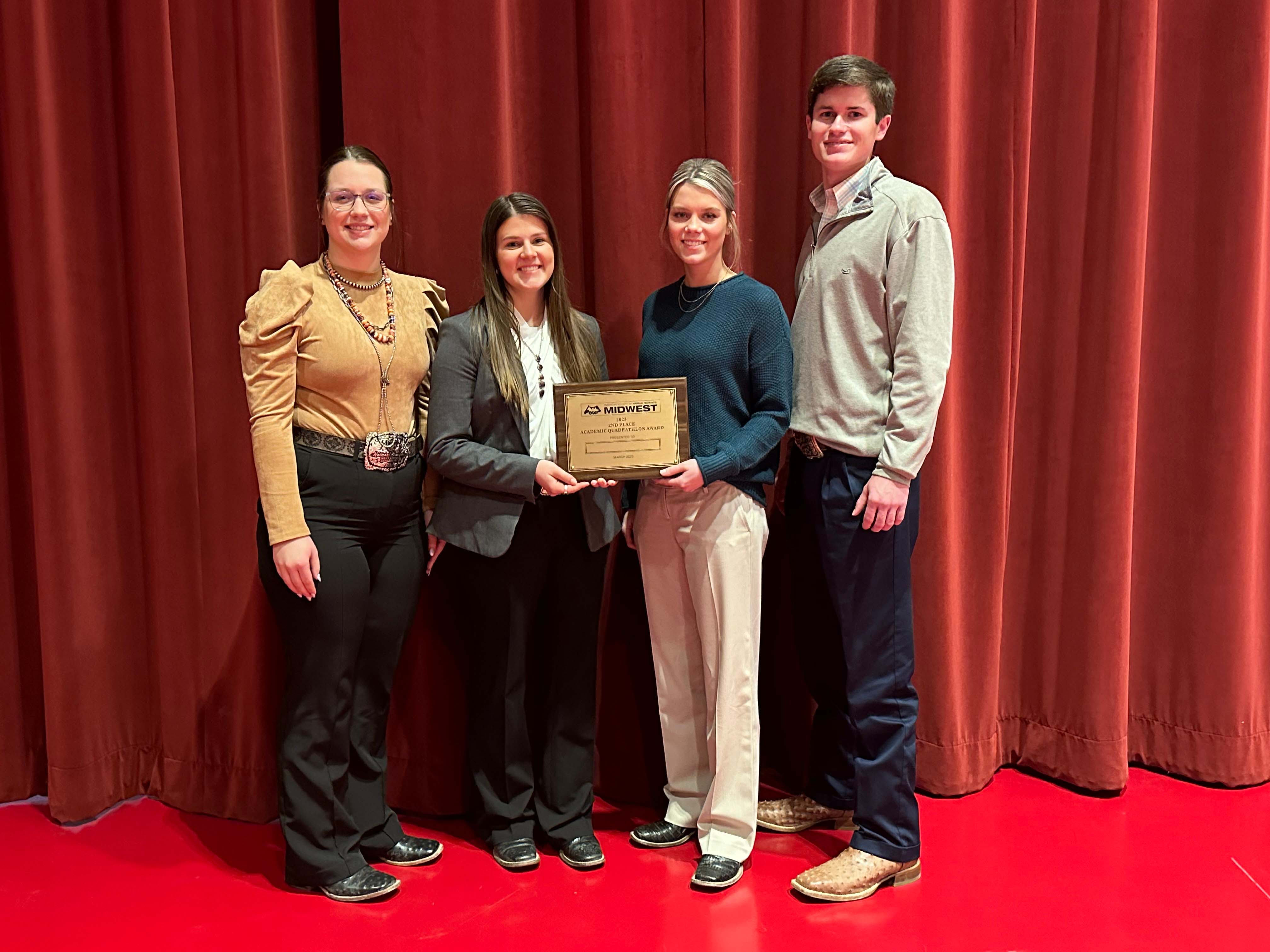 Members of the 2023 K-State ASI Academic Quadrathlon Team (pictured, l to r) are: Macie Weigand, Ellie Kidwell, Tara Hummel and Jacob Johnson.
MANHATTAN, Kan. – The Kansas State University (K-State) Animal Sciences Academic Quadrathlon Team won the Reserve Champion title at the American Society of Animal Science Midwest meeting. The event was hosted in Madison, Wisconsin, March 12-13.
Members of the K-State team were Tara Hummel, Cabery, Illinois; Jacob Johnson, Ruth, Mississippi; Ellie Kidwell, Walhonding, Ohio; and Macie Weigand, Monona, Iowa. The team placed first in quiz bowl and oral presentation. Twelve midwestern universities competed.
In the local competition Feb. 20-23, 16 teams including 64 students participated in four events: laboratory practicum, written exam, oral presentation and quiz bowl.
In the laboratory practicum, the teams solve hands on problems involving animal science knowledge such as animal management and care. The work at each station usually involves a species such as beef or swine or a disciplinary area such as physiology or meats.
The written exam questions involve any area related to animal science concepts and principles. Each team worked on one exam, dividing the questions as they choose.
In the oral presentation, students choose from a list of current, animal science related topics such as "cultured meat," sustainability in animal agriculture, or use of gene editing and in the quiz bowl, questions may be asked on any topic that relates to animal agriculture and can be answered quickly.
Thank you to Joe Ebert, retired vice president and general manager of Fourth & Pomeroy Associates of Clay Center and a 1971 K-State ASI graduate, for sponsoring the K-State Animal Sciences Academic Quadrathlon this year.