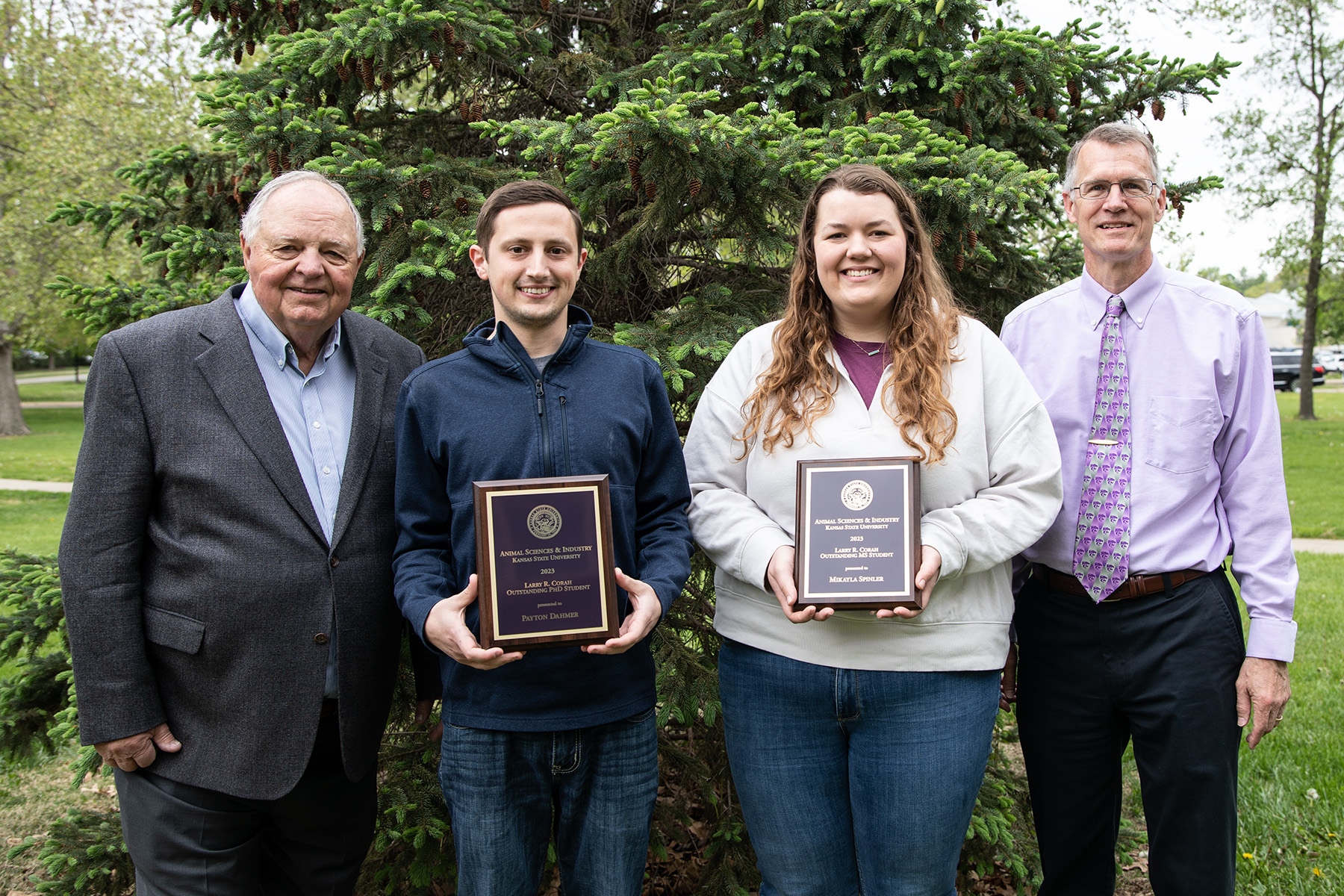 MANHATTAN, Kan. –Kansas State University Department of Animal Sciences and Industry graduate students Mikayla Spinler and Payton Dahmer were recognized as 2023 recipients of the Larry Corah Graduate Student Award.
Spinler completed her undergraduate career at Iowa State University before coming to Kansas State University (K-State) to pursue a master's degree in applied swine nutrition. She was awarded the Outstanding Master Student Award, which includes a $1,000 scholarship. She is an active member of the ASI Graduate Student Association, and she shares her knowledge with undergraduate students as a teaching assistant for Principles of Feeding, Animal Sciences Career Preparations class and ASI internship class. In addition, she has proven to be an excellent representative of K-State and our ASI department as she has volunteered at numerous department events.
Spinler is passionate about the swine industry and has conducted research on sows despite it being one of the hardest phases of research to accomplish. Her core master's trial measured the impact of feed flavor on sow feed intake and litter weight gain. She then followed off-spring into the nursery to measure post-wean performance. Spinler spent many nights at the swine farm assisting with the farrowing process to complete this research. Her master's research program is unique in the fact that she has conducted sow, nursery and finisher researching, which has provided her with a wide base of swine nutrition and management knowledge.
Jason Woodworth, K-State ASI research professor and one of Spinler's advisors, says, "We sincerely feel Mikayla's scholastic achievement, research success, teaching involvement and contributions to the mission of the department make her a tremendous individual deserving of this award." Woodworth describes her as a quiet, but influential leader within the grad offices who is always available to fellow students, faculty or others in need.
Dahmer was awarded the Outstanding Ph.D. Student Award, which includes a $1,500 scholarship. His doctorate program has been unique as he has had the responsibilities of serving as a Graduate Teaching Assistant for the ASI Undergraduate Research Program, supervising the Sheep & Meat Goat Center and assisting with the livestock judging team.
Cassie Jones, K-State ASI professor and teaching coordinator, says, "Payton is the embodiment of an outstanding graduate student. He excels in the classroom and has published meaningful research - but Payton has gone above and beyond. He has revitalized our sheep and meat goat unit, has successfully coached and mentored students in competition teams and undergraduate research, and steps up to help in countless recruitment and youth livestock activities.
"Most importantly, Payton is just a good person who strives for and achieves excellence in everything he does. He is deserving of the Corah Award because, like its namesake, Payton has improved the Department and its people."
Dahmer served as an assistant coach of the 2020 Livestock Judging Team. With his guidance, the team finished the year as the 2020 National Champion Livestock Judging Team. The team was also named champions at the 2020 American Royal and numerous other competitions throughout the year. Alongside the team's success', he also served as a facilitator for K-State 'Champions' Livestock Judging Camp and, hosted prospective students for recruitment visits. Dahmer will join the ASI faculty this summer as an instructor and coach of the Livestock Judging Team.
Both the Ph.D. and master's awards are presented in honor of Dr. Larry Corah, who served for 25 years as a K-State ASI beef extension and research specialist. After retiring from K-State, he went on to work for the National Cattlemen's Beef Association as director of production systems and then served 17 years as the Certified Angus Beef (CAB) LLC vice president of supply. The scholarships are supported from the Larry Corah Graduate Student Enhancement Fund.
The award winners are selected based on scholastic achievement, research activity and success, teaching activities, faculty evaluation and overall contributions to the mission of the department.