Certified Angus Beef LLC Presented Don L. Good Impact Award
K-State ASI alumni and friends re-connect during second annual Family & Friends Reunion.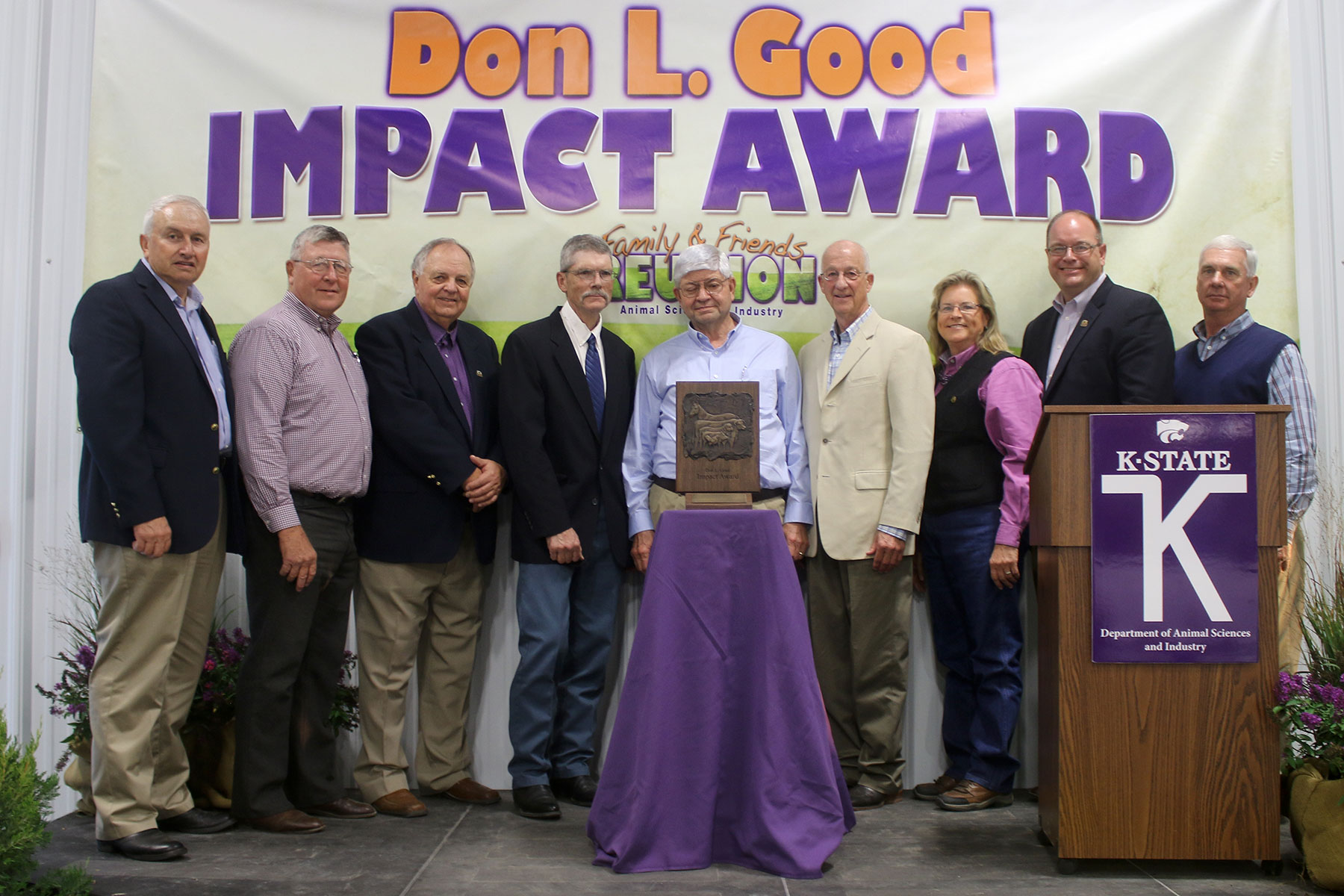 MANHATTAN, Kan. – Certified Angus Beef LLC (CAB), the world's largest and most successful branded beef program, was presented the 2016 Don L. Good Impact Award Oct. 7 during the Kansas State University Animal Sciences and Industry (ASI) Family & Friends Reunion in Manhattan.
For the 10th year in a row, CAB LLC reported record sales of its Certified Angus Beef ® brand, marketing 1.015 billion lb. of product in fiscal 2016 (ending Sept. 30). Founded in 1978, the CAB ® brand is world renowned for its quality, flavor, tenderness and juiciness and is offered by the finest restaurants and retailers around the globe.
The award, presented by the Livestock and Meat Industry Council Inc. (LMIC), is named in honor of Good, who is a former ASI department head, and recognizes positive impact on the livestock and meat industry or agriculture.
"The Livestock and Meat Industry Council was excited to provide an opportunity for animal science alumni and friends to re-connect as well as celebrate the presentation of the Don L. Good Impact Award to Certified Angus Beef," says Craig Good, LMIC president. "The reunion was well attended and was a big success in giving folks a chance to visit the university that they love and support. The LMIC was proud to recognize Certified Angus Beef and the Kansas State alumni who have had a significant part in the development and success of the program."
Through the years, many K-State ASI alumni have contributed to the brand's success. Individuals recognized during the presentation included: Dr. Jerry Lipsey, Dr. Mike May, Mary Ferguson, Dr. Jim Riemann, Dr. Larry Corah, Steve Suther, John Stika and Bryce Schumann.
The K-State connections
Just two weeks after selling the first pound of CAB product on October 18, 1978, USDA confiscated the carcass roll it had approved earlier that year. A week later, Lipsey, who earned his PhD in meat science at K-State and was serving as a divisional director at the American Angus Association, called on May, fellow K-State meat science PhD graduate, who was serving as USDA standardizations branch chief. They in turn, contacted attorney, Lee Badger. Lipsey and Badger went with CAB LLC Executive Director Mick Colvin and American Angus Association Executive Secretary C.K. Allen to meetings in Washington D.C., where they argued that USDA rules stipulated the agency had a legal obligation to help producers monitor this science-based branded beef program. The argument was successful and CAB LLC was back in business.
Another K-State graduate was among the first members of the CAB executive team — Mary Ferguson. After graduation, she returned to her home state of Ohio, where she rose to second in command as associate executive director before leaving in the late 1990s to raise registered Angus cattle with her husband, Mike Colvin, near Luray, Kansas.
CAB was reinvigorated in 1998-99 by an infusion of K-State connections. Dr. Jim Riemann, meat scientist and Cargill executive, was hired to lead the brand after founding director Mick Colvin retired. Dr. Larry Corah, 25-year K-State Beef Extension veteran, was hired as vice president for supply development. Corah worked from an office in Manhattan, Kansas, with staff closely associated with K-State. Current Industry Information Director Steve Suther, and former feeder-packer relations assistant directors, John Stika and Bryce Schumann, all have degrees from K-State. Stika went on to serve in three director positions before being named vice president; and since 2006, president of the Certified Angus Beef brand. Dozens more K-State graduates have contributed across the company as employees and interns.
Another highlight of the Family & Friends reunion was the performance by the "best band in the land," the reigning Sudler Trophy Award winner, the K-State Marching Band. Following the performance, attendees participated in the Wildcat Walk as the band formed an aisle and played while attendees entered the Stout Center led by Willie and the kids. It was a family event with something for everyone, including the famous Junior Wildcat Barnyard, state fair qualifying pedal tractor pull and toy giveaway. For more highlights of the event, visit the event's Facebook page @KStateFamilyandFriends.
>> Photos are available: https://www.flickr.com/photos/75988497@N05/albums/72157671860519224
###
The Kansas State University Department of Animal Sciences and Industry serves students, livestock producers and the animal and food industries through teaching, research and education. The K-State ASI department prepares students for careers in the animal and food industries. The curriculum includes the study of nutrition, reproduction, genetics, behavior, meat science and food science with production, management, and agribusiness skills. For more about the K-State's ASI department visit asi.ksu.edu.
The Livestock and Meat Industry Council is dedicated to facilitating interdisciplinary research that identifies and addresses issues/opportunities facing animal agriculture and the efficient production of food. The Council solicits volunteer contributions including money, land, livestock, equipment and other bequests in support of approved priorities and initiatives within the Department of Animal Sciences and Industry, in cooperation with the College of Agriculture at K-State.