Dikeman, Michael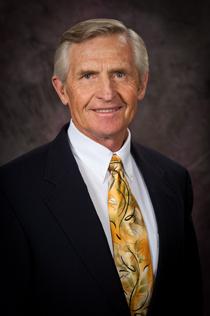 Professor Emeritus
226 Weber Hall
Manhattan KS 66506
785-532-1225
785-532-7059 fax
mdikeman@ksu.edu
Area(s) of Specialization
Bovine Growth, Genetics, Composition, Meat Quality, Tenderness, Cookery
Education
B.S. , Kansas State University, 1966
M.S. , Michigan State University, 1968
Ph.D. , Kansas State University, 1970
Bio Brief
Michael E. Dikeman was born September 28, 1943 at Fort Scott, Kansas. He and his wife Earline have a married son Mark, and a married daughter Becca. Both received B.S. degrees in Animal Sciences & Industry at K-State.
He is a Professor of Meat Science at K-State where he began his research career in 1971. He currently holds a 40% teaching and 60% research appointment in the department. He has taught thirteen different courses at K-State ranging from Introductory Animal Science to graduate courses in Meat Science. He also coached the Meat Judging Team for eight years. He has won two K-State research scholar awards and nine college, regional or national teaching awards, including an USDA-NASULGC award.
He cooperated on the cattle Germ Plasm Evaluation and Utilization research programs at the U.S. Meat Animal Research Center for 15 years. Nearly 7,000 cattle of 38 breed combinations were evaluated under his direction for carcass and(or) meat traits. His research program has included production/management systems for bulls, single-calf-heifers, and different biological types of steers; muscle protease differences in Bos indicus and Bos taurus cattle; ultrasound cooking and computer modeled cooking of beef; animal stress affects on meat quality; vascular infusion of cattle at slaughter; and genetics of beef tenderness. The latter research was an extensive, inter-disciplinary, inter-university x industry research project. Michael has presented invited papers at several international conferences. He is author or coauthor of 123 refereed journal articles, 108 abstracts, 100 bulletin articles, 45 conference proceedings, one book chapter, 5 videos, and Meat Science Encyclopedia.
Michael is past Chair of the Reciprocal Meat Conference, past president of the American Meat Science Association and the Federation of American Societies of Food Animal Sciences (now FASS), and Executive Committee of the American Society of Animal Science. He has been active in church, 4-H and other community activities. He and his wife have a herd of 45 registered Simmentals, and he serves on the executive committee of the American Simmental Association.