Fung, Daniel Y. C.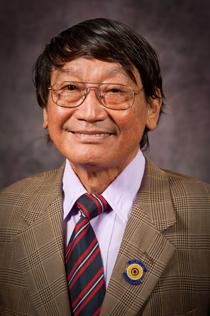 Professor Emeritus
dfung@k-state.edu
Dr. Daniel Fung passed away on Sunday, December 1. Funeral services will be held on Thursday, December 5, at 2:00 p.m. at the Blue Valley Memorial United Methodist Church in Manhattan, KS. For Dr. Fung's obituary, go to http://ymlfuneralhome.com/obituary/6386.
Area(s) of Specialization
Microbiology of food processing
Rapid methods and automation in microbiology
Education
B.S. , International Christian University, Japan, 1965
M.S. , University of North Carolina, 1967
Ph.D. , Iowa State University, 1969
Bio Brief
Dr. Daniel Y. C. Fung is an internationally known microbiologist in the field of Rapid Methods and Automation in Microbiology. He has published extensively in Food Microbiology, Applied Microbiology and Rapid Methods with more than 700 Journal articles, meeting abstracts, proceeding papers, book chapters and books in his career.
He has taught more than 17,000 students in classroom teaching and has completed more than 90 M.S. and Ph.D. graduate students as the major professor.
The Kansas State University Rapid Methods and Automation in Microbiology Workshop, directed by Dr. Fung, has attracted more than 3,500 participants from 60 countries and 46 states to the program in the past 25 years (1980 to 2005).
Dr. Fung taught Food Microbiology, Food Fermentation, Food Toxicology, and the Rapid Methods courses regularly since 1978. He truly enjoyed working with students and professionals to advance food safety and security for the benefit of citizens of the world.
Dr. Fung is a Fellow of the American Academy of Microbiology, Institute of Food Technologists (IFT), International Academy of Food Science and Technology and Institute for Food Science and Technology (UK). He has won more than 30 professional awards which included the International Award from IFT (1997), Waksman Outstanding Educator Award from The Society or Industrial Microbiology (2001), KSU College of Agriculture Excellence in Graduate Teaching Award (2005), and the Exceptional Achievement and Founder of the KSU International Workshop on Rapid Methods and Automation in Microbiology (1980-2005) Award given by the Director of the Center for Food Safety and Applied Nutrition, U.S. Food and Drug Administration, 2005.
Dr. Fung received the B.A. degree from International Christian University, Tokyo, Japan in 1965, M. S. P. H. at University of North Carolina-Chapel Hill in 1967 and the Ph.D. in Food Technology from Iowa State University in 1969.
He was the chair of the KSU Food Science Graduate Program from 1979-1987 and was Professor of Food Science, Professor of Animal Sciences and Industry and Ancillary Professor of Biology at KSU until 2014.