Curtis Kastner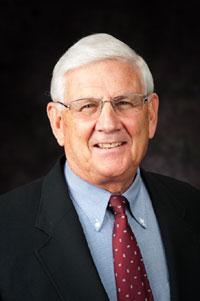 Professor Emeritus
ckastner@ksu.edu


Brief Bio
Curtis L. Kastner retired in July 2016 after serving as the director of the Food Science Institute at Kansas State University since 2001. He served as a principal investigator on the U.S. Department of Agriculture and Department of Homeland Security initiatives focused on food safety and defense. He has also studied the feasibility of developing value-enhanced meat products.
Kastner received his bachelor's, master's and doctorate in food science from Oklahoma State University. He has been with K-State since 1975 and has served as research coordinator and associate head of the department of animal sciences and industry.
His numerous honors include the Outstanding Faculty Award, 1982; Phi Kappa Phi Scholar Award, 1986; Phi Tau Sigma Outstanding Food Scientist Award, 1993; Gamma Sigma Delta Research Award of Merit, 1996; and Distinguished Faculty Award, 2000. He also was named a National Association of Colleges and Teacher of Agriculture fellow in 1985; received the Advanced Degree Graduate of Distinction Award at Oklahoma State University in 2000; the Faculty Service Award from the University of Continuing Education Association in 2006; Gamma Sigma Delta National Award, Distinguished Achievement in Agriculture for 2008-2009; and K-State chapter of Gamma Sigma Delta, Distinguished Achievement in Agriculture Award in 2009.
Kastner is a member of the American Society of Animal Science, the American Registry of Professional Animal Scientists, the Institute of Food Technologists, Society of the Sigma Xi, Gamma Sigma Delta, Phi Kappa Phi, Phi Tau Sigma, Council for Agricultural Science and Technology and the American Meat Science Association.