Schmidt, Karen A.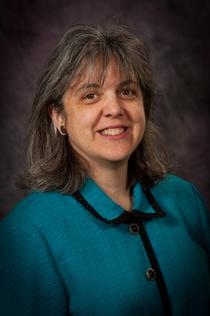 Professor Emeritus
kschmidt@ksu.edu
Area(s) of Specialization
Dairy Foods Chemistry
Dairy Foods Quality
Dairy Foods Technology
Dairy Protein Chemistry
Education
B.S. , Penn State University, 1979
M.S. , University of Minnesota, 1986
Ph.D. , University of Minnesota, 1989
Bio Brief
Dr. Karen Schmidt earned a bachelor's degree in Food Science from the Pennsylvania State University. After graduating from Penn State, Karen joined Tony's Pizza Service in Salina, Kansas, as a quality assurance supervisor. After working in quality assurance and research and development with Schwan Sales Enterprises, Karen entered graduate school at the University of Minnesota and completed her master's and PhD degrees in Food Science.

In January of 1990, Karen joined the University of Georgia in the Departments of Food Science and Technology and Animal Science as an Assistant Professor with research and teaching responsibilities. In 1994, she joined the Department of Animal Sciences and Industry at Kansas State University as an Associate Professor with responsibilities in teaching and research, where she currently holds a 50% teaching and 50% research appointment. In addition, she is a member of Kansas State University's Food Science Institute. Her teaching responsibilities include Fundamentals of Milk Processing, Food Product Evaluation, Dairy Foods Processing and Technology, and Quality Assurance of Food Products and her research program focuses on the processing and quality of dairy and non-dairy foods. Since fall 2016, she is the coordinator of the undergraduate food science program.
Teaching
Fundamentals of Milk Processing [ASI 405]
Dairy Foods Processing and Technology [ASI 608]
Food Products Evaluation [FDSCI 430]
Quality Assurance of Food Products [FDSCI 695]