Spaeth, Clifford W.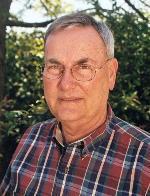 Professor Emeritus
212 Weber Hall
Manhattan KS 66506
785-532-1235
785-532-7059 fax
cspaeth@ksu.edu
Area(s) of Specialization
Sheep Production
Education
B.S. , Texas A&M, 1965
M.S. , Texas A&M, 1967
Ph.D. , Kansas State University, 1974
Bio Brief
Clifford W. Spaeth was born and reared on his family's stock farm at Doss, a small community near Fredericksburg in the Texas Hill country. He received his B.S. in Agricultural Education at Texas A&M University in 1965 and his M.S. in Animal Science (Meats) in January, 1967, also from Texas A&M. He accepted a position as Sheep Project Leader at the Colby Branch Experiment Station, K-State, Colby, Kansas, and was responsible for conducting applied sheep research from February, 1967, through June, 1969. He moved to Manhattan, Kansas, in July, 1969, to pursue a Ph.D. in Animal Nutrition at K-State. He served as a Research Assistant (Shepherd) at the K-State Sheep Teaching and Research Unit while a graduate student. He completed his Ph.D. work in August, 1974.
After earning his Ph.D. degree in 1974, he accepted an appointment as the State Extension Livestock Specialist (Sheep) at Kansas State University, Manhattan. He has focused on sheep educational programs with Extension Agents and sheep producers.
In 1982, his appointment was split – Extension, 70% and Teaching, 30%. Teaching responsibilities include overseeing the Sheep Teaching Unit, and teaching Sheep Science and Wool Judging classes.
Teaching
Wool Grading and Evaluation [ASI 385]
Lambing [ASI 404]