Stevenson, Jeffrey S.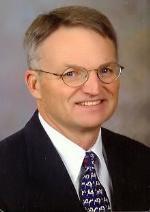 Professor Emeritus
jss@ksu.edu
Area(s) of Specialization
Reproduction physiology of the bovine
Education
B.S. , Utah State University, 1975
M.S. , Michigan State University, 1977
Ph.D. , North Carolina State University, 1980
Bio Brief
Jeff was born June 15, 1951, in Salt Lake City, Utah, and attended elementary and secondary schools in Salt Lake City before relocating to Gresham, Oregon, in 1967 and graduating from Gresham Union High School in 1969. He attended Utah State University (USU) from 1969-1970 and from 1972-1975, graduating with a B.S. in Dairy Science in 1975. During summers, Jeff worked on his uncle's dairy farm in southeastern Idaho and spent two school years milking cows on a private dairy in Smithfield, Utah, and feeding experimental cows for Dr. Melvin C. Anderson, USDA-ARS in Logan, Utah. While a student at USU, he was active in Alpha Zeta (officer) and Dairy Club for two and three years, respectively. He was honored as Utah's Dairy Shrine Student Recognition Awardee in 1975. While a student at USU, he married Barta Morrill in 1974.
He entered graduate school in Dairy Science at Michigan State University in 1975 and served as a graduate research and teaching assistant until completing the requirements for a M.S. in Dairy Science in 1977. That same year, he relocated to Raleigh, North Carolina, and enrolled in a Ph.D. program in Animal Physiology at North Carolina State University under the continued direction of Dr. Jack H. Britt. While fulfilling the requirements of the Ph.D. during 1977-1980, Jeff served as a graduate and teaching assistant in the Department of Animal Science.
In August 1980, Jeff was appointed Assistant Professor (70% research/20% teaching) in the Department of Animal Sciences and Industry at Kansas State University. He was promoted to Associate Professor in 1986 and Professor in 1992. His current responsibilities include teaching one undergraduate course, entitled "Dairy-Poultry Science" and one graduate course, entitled "Ovarian Physiology," and serving as faculty coordinator for the Dairy Teaching and Research Center (DTRC) and the Kansas Artificial Breeding Service Unit (KABSU). Research interests include synchronization of estrus and ovulation in dairy and beef cattle. Jeff has served on the editorial boards of the Journal of Dairy Science, Journal of Animal Science, Animal Reproductive Science, and served as senior section editor for the Physiology and Management Section of the Journal of Dairy Science.
Jeff received the 1990 American Dairy Science Association Agway Inc. Young Scientist Award, 1998 National Association of Animal Breeders Research Award, 2002 American Dairy Science Association Pharmacia Animal Health Physiology Award, 2002 Kansas State University Research and Extension Team Award, 2006 Kansas Dairy Leader, 2009 American Society of Animal Science Animal Management Award, 2012 American Society of Animal Science Physiology and Endocrinology Award, and named 2012 American Society of Animal Science Fellow. He is the author or coauthor of 187 peer-reviewed journal articles, 18 invited papers, 11 book chapters, 292 popular press articles, and 143 paper presentations at professional meetings.
Research
Synchronization of estrus and ovulation in dairy and beef cattle to accommodate timed artificial insemination.
Early embryo survival in cattle.
Teaching
Dairy and Poultry Science [ASI 106]
Ovarian Physiology [ASI 832]
Physiology-Animal Breeding Seminar [ASI 890 and 990]