Poultry Teaching Program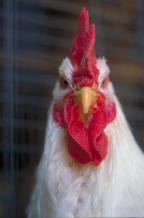 Poultry courses related to industry information, management products and nutrition are available within the Department of Animal Sciences and Industry. As much of the animal industry continues to diversify their product lines, students with a diverse background will be required for these new ventures. Excellent opportunities exist in poultry management and business. Poultry Management introduces students to all the fields of study within the industry: broiler, egg and turkey breeder management, game bird production and management, and enterprise management. Poultry Product Development covers all aspects of poultry processing, carcass quality, and egg products.
Kansas State is also a participant in the Midwest Poultry Consortium's Summer Program. Students interested in advanced courses in poultry related courses may take additional courses through the program and transfer them to Kansas State University. This may also be helpful to students from other states who wish to enroll in a strong animal science program, but still have freedom to diversify with an avian focus.