Nutsch, Abbey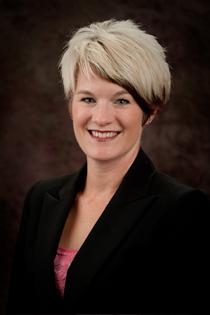 Assistant Professor
310 Coles Hall
Manhattan, KS 66506
785-532-4549
anutsch@k-state.edu
Area(s) of Specialization
Food Microbiology
Education
B.S. , Kansas State University, 1994
Ph.D. , Kansas State University, 1998
Bio Brief
Dr. Abbey Nutsch is an Assistant Professor of food safety and security. A food microbiologist by training, she received B.S. (1994) and Ph.D. (1998) degrees in Food Science from Kansas State University. Her area of expertise is the microbiological safety of meat products, with particular emphasis on the application of antimicrobial interventions for both fresh and processed meat products. After spending five years as the Director of Technical Services for a commercial food testing and research laboratory, Dr. Nutsch returned to K-State in 2002 to serve within the Food Science Institute as a coordinator for a multi-institutional carcass disposal working group. In 2004 she joined the Department of Animal Sciences & Industry as an Assistant Professor of food safety and security, a 100% research appointment. Her current roles and responsibilities include working with the K-State Food Safety and Security program to coordinate and facilitate interdisciplinary initiatives. Originally from WaKeeney, Kansas, she and her husband, Todd, currently live in Wamego, KS with their two young children, Gracyn and Hayden.
Research
Dr. Nutsch's activities relate to implementation of the Food Safety and Security Targeted Excellence program, specifically as it pertains to Pre- and Post-Harvest Food Safety and Security. Her responsibilities and priorities include working in conjunction with food safety program faculty and staff to foster improved coordination and communication among KSU Food Safety and Security team members with the intent of integrating research, data, and program development across disciplines to enhance the effectiveness of collaborative efforts.
Along with Dr. Justin Kastner (Assistant Professor, food safety and security; Dept. of Diagnostic Medicine & Pathobiology, CVM), Dr. Nutsch maintains the interdisciplinary Food Safety and Security at Kansas State University website which is designed to feature the many aspects of the K-State Food Safety & Security program.
Dr. Nutsch also serves as co-coordinator of the K-State National Agricultural Biosecurity Center Forum meetings - these ongoing events foster interdisciplinary biosecurity initiatives by providing opportunities for K-State faculty, administrators, and research associates from across campus to learn more about the activities and expertise of colleagues.