Horse Unit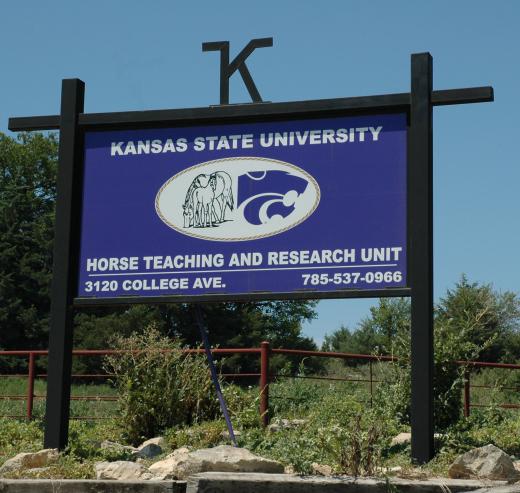 Description
The KSU Horse Teaching and Research Unit is located within two miles of campus, providing easy access for students. The Unit currently maintains a Quarter Horse breeding herd consisting of several stallions, and 20-25 broodmares. An additional 5-10 mares are available for research or teaching purposes. Between 15-25 weanlings, yearlings, and 2-yr olds are also located at the unit. These young horses are utilized in the training classes and then sold following completion of the class. During the spring and fall semesters, an additional 10-15 outside horses that are being trained in the Advanced or Specialized training Class are also at the unit. The breeding program primarily focuses on performance Quarter horses, with cutting, roping and reining-bred mares making up the majority of the broodmare herd. A small group of western pleasure-bred mares are also maintained for breeding purposes.
Facilities at the KSU unit include several barns, paddocks, and round-pens, an outdoor arena, and over 300 acres of fenced pasture. The younger horses in our Advanced training class are ridden frequently in the pastures to simulate range or trail conditions. Horse boarding facilities for students are not available at the unit, but there are several public boarding facilities in the Manhattan area.
Course lectures and other classroom activities are held on campus in Weber Hall, the primary building for the Department of Animal Sciences and Industry. Weber is located across the street from several dorms and is adjacent to the College of Veterinary Medicine, providing easy access for students.