Carson, Tim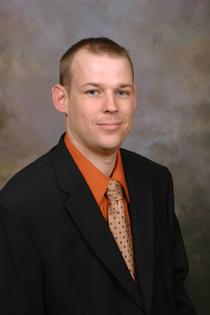 Computer Systems Specialist
134B Weber Hall
Manhattan, KS 66506
785-532-1191
785-532-7059 fax
tcarson@ksu.edu
Education
B.S. , Kansas State University, 1999
M.S. in Academic Advising, Kansas State University 2019
Bio Brief
Tim Carson was born in Bartlesville, Oklahoma in 1976. He grew up in rural Coffeyville on his parent's small farm. He graduated from Caney Valley High School in 1994. He attended Coffeyville Community College on a journalism scholarship and served as the Sports Editor of the CCC Collegian before moving on and earning his B.S. in Agriculture with a major in Animal Sciences and Industry from Kansas State University in 1999. In 2019, Tim completed his Masters in Academic Advising from Kansas State University.
Tim worked at Sprint in Kansas City after graduation before coming back to Manhattan and joining the ASI department as a Computer Information Specialist in August of 1999. Tim started teaching ASI 490 (now ASI 290), Microcomputer Applications, in August, 2002 and is also responsible for maintenance of the computers and wireless system at the farm units North of campus.
Tim and his wife Melissa have three children, Brett, Cade, and Callie.
Teaching
Microcomputer Applications in Animal Sciences and Industry [ASI 290]