Crane, Alison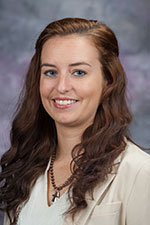 Assistant Professor/Extension Specialist
126 Call Hall
Manhattan, KS 66506
785-532-1672
785-532-5681 fax
arcrane@ksu.edu
Area(s) of Specialization
Sheep Nutrition and Reproduction
Sheep Management
Education
B.S. , Berry College, 2012
M.S. , North Dakota State University, 2014
Ph.D. , North Dakota State University, 2017
Bio Brief
Dr. Alison Crane was raised in Warrior, Alabama, on a small horse farm, assisting her father in shoeing horses as well as barrel racing and team roping. Alison's interest in agriculture grew through her father's business, and also working for a Brangus ranch and large animal veterinarian in North Alabama. Alison attended high school at the Alabama School of Fine Arts where she was dance major. She graduated with her bachelor's in Animal Science (minor: chemistry and religion) from Berry College in 2012 and her M.S. (2014) and Ph.D. (2017) in Ruminant Nutrition and Reproductive Physiology from North Dakota State University. She was hired in 2017 as the State Sheep and Meat Goat Extension Specialist for Kansas State University with a 70% Extension and 30% Teaching appointment. She teaches ASI 524, Sheep and Goat Science, and ASI 385, Wool Evaluation in the Fall, while she co‐teaches ASI 404, Lambing with Dr. Rozell in the Spring.
A brief listing of Alison's Extension and Research interests involve:
Mentor and train graduate students with a sheep and meat goat interest.
Conduct applied sheep and meat goat nutrition, reproduction, and management research.
Provide information and education to sheep and meat goat producers for increased efficiency and streamlined production.
Coordinate youth and college sheep and meat goat activities to increase industry knowledge and awareness of career opportunities in sheep and meat goat production.
Publications
Crane, A.R., R.R. Redden, P.B. Berg, and C.S. Schauer. 2014. Effects of diet particle size and lasalocid on feedlot performance, carcass traits, and N balance in feedlot lambs. Sheep & Goat Res. J. 29:17-23.
Bairagi, S., R.R. Redden, K.E. Quinn, A.R. Crane, R.L. Ashley, P.P. Borowicz, J.S. Caton, A.T. Grazul-Bilska, L.P. Reynolds. 2016. Maternal environment and placental vascularization in small ruminants. J. Therio. PII: S0093-691X (16)30081-4. DOI: 10.1016/j.theriogenology.2016.04.042. Reference: THE 13622.
Crane, A.R., R.R. Redden, M.L. Van Emon, T.L. Neville, L.P. Reynolds, J.S. Caton, and C.S. Schauer. 2016. Impacts of supplemental arginine on ewe reproductive performance. J. Anim. Sci. 94:1-10.
Crane, A.R., R.R. Redden, K.E. Swanson, C.S. Schauer. 2017. Effects of dried distiller's grains and lasalocid on feedlot lamb growth, carcass traits, nutrient digestibility, and ruminal fermentation. J. Anim. Sci. 95: 1-8. DOI: 10.2527/jas2017.1369
Crane, A.R., R.R. Redden, M.S. Crouse, J.D. Kirsch, J.E. Held, and C.S. Schauer. 2015. Influence of dried distiller's grains with solubles on ram lamb growth and reproductive traits. J. Anim. Sci. 96: 1484-1494. DOI: 10.1093/jas/sky031