Grieger, David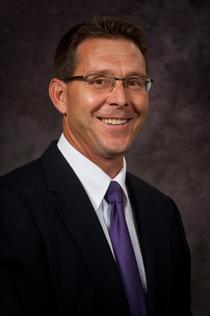 Professor
248 Weber Hall
Manhattan KS 66506
785-532-1229
785-532-7059 fax
dgrieger@ksu.edu
View My Curriculum Vitae (pdf)
Area(s) of Specialization
Beef Cattle Reproduction
Reproductive Molecular Biology
Education
B.S. , Purdue University, 1981
M.S. , Purdue University, 1984
Ph.D. , Washington State University, 1989
Post Doctoral Associate , Hospital for Sick Children, Toronto, Ontario, 1989 - 1992
Bio Brief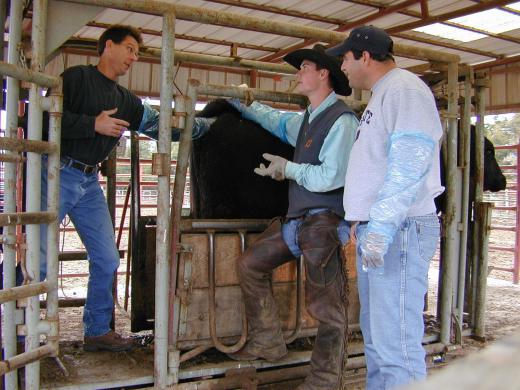 Dr. Grieger is from a small town in Indiana. His major teaching and research interests are applied and basic reproductive physiology with an emphasis in cattle.
Dr. G. teaches courses that include topics on estrous synchronization, ultrasonography, pregnancy diagnosis, and calving. He also teaches a course on applications of biotechnology to animal agriculture as well as co-teachs Animal Reproduction with Dr. Davis. He has led two international study tours, one to Costa Rica and one to South Africa. In addition to his teaching responsibilities he also advises undergraduate students.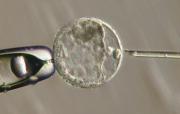 His applied research interests focus on estrous synchronization and timed artificial insemination protocols for beef heifers Dr.G.'s basic research focuses on genes important to reproductive function in livestock. Recently, his lab has worked on developing bovine stem cells for biotechnical applications. He has a 60% Teaching and 40% Research appointment in the department.
Research
Dr. Grieger's applied research emphasis is the development of estrous synchronization and artificial insemination systems for beef heifers. Specifically, we have done studies using timed-insemination to eliminate estrous detection. The objective is to fine-tune different systems that result in acceptable AI conception rates and are practical for producers to use.
Dr. Grieger's most recent basic research emphasis is a collaboration with Dr Duane Davis in the department on isolating a source of stem cells for livestock. Our lab has focused on bovine determined by expression of classic stem cell markers. Our objective is to introduce fluorescent markers to these cell lines and then follow their ability to incorporate into various tissues of a developing embryo or fetus. The picture demonstrates some bovine cells expressing green or red fluorescent proteins.
Teaching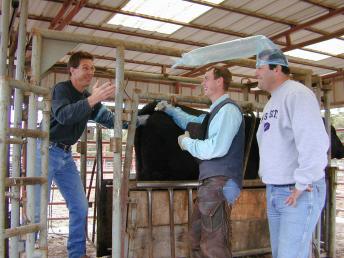 I teach ASI 512, Bovine Reproductive Technologies. You might describe it as a very "hands-in" course, as we pretty much learn how to preg check cows. As seen in the picture, some students learn quicker than others, but by the end of the semester, they all know which end of the cow is important and where the sleeve goes.
Bovine Reproductive Technologies [ASI 512]
Farm Animal Reproduction [ASI 400]
Applied Animal Biotechnology [ASI 600]
Bovine Artificial Insemination [ASI 110]
Calving [ASI 402]
Applied Animal Biotechnology [ASI 600]