Jaeger, John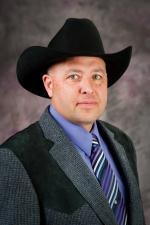 Professor/Beef Cattle Scientist
785-625-3425x211
785-623-4369 fax
jrjaeger@ksu.edu
Area of Specialization
Beef Cattle Scientist
Education
B.S. , Oregon State University, 1984
M.S. , Oregon State University, 1986
Ph.D. , Oregon State University, 2005
Bio Brief
John grew up in north central Oregon and was actively involved in 4-H for 10 years. He worked for family and area winter white wheat and cow/calf ranches until completing his bachelor's degree at Oregon State University. He then earned his master's degree at Oregon State University specializing in reproductive physiology.
John began working at K-State Research and Extension's Agricultural Research Center in Hays in 1986 as the cow/calf herdsman and assistant scientist. He returned to Oregon in 1994 and worked as the ranch manager – assistant scientist at the Eastern Oregon Agricultural Research Center – Union Station for Oregon State University until 2000. He completed his PhD. in reproductive physiology, focusing on bull fertility, from Oregon State University in 2004.
John began work at K-State Research and Extension's Agricultural Research Center in Hays in 2005 as the Beef Cattle Scientist. He is particularly interested in cow-calf production systems that will reduce production costs and result in value-added beef carcasses. His collaborative research with Range Scientist Keith Harmoney has demonstrated that early weaning of calves at 150 days of age allows for an increased stocking rate like a modified intensive early stocking rate system for beef steers. This is a low-cost sustainable system that reduces cow maintenance costs, increases the pounds of beef raised per grazed acre, enhances calf health, as well as improving cow performance and carcass quality of offspring.
John along with his wife, Elizabeth, and their children Cora, Amelia, Tygh and Levi enjoy their 4-H livestock, deer hunting, fishing and spending time on their patio and around their firepit.