O'Quinn, Travis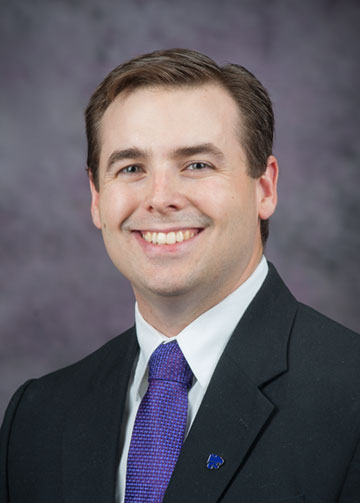 Associate Professor
244 Weber Hall
Manhattan, KS 66506
(785)532-3469
(785)532-7059 fax
travisoquinn@ksu.edu
Area of Specialization:
Fresh Meat Quality and Palatability
Education:
B.S., Texas Tech University, 2008
M.S., Texas Tech University, 2010
Ph.D., Colorado State University, 2012
Brief Bio:
Dr. Travis O'Quinn was born in League City, TX. Through his youth, Dr. O'Quinn was actively involved in 4-H and FFA, participating on numerous judging teams including meats, livestock, and land. He graduated with his B.S. (2008) and M.S. (2010) degrees from Texas Tech University and earned a Ph.D. in Meat Science from Colorado State University (2012). Upon graduation, he returned to Texas Tech to conduct a post-doctoral research project working to develop a palatability-based beef grading system for the largest beef producer in New Zealand. Travis joined the Department of Animal Sciences and Industry at Kansas State University in July of 2014 with a 60% extension and 40% research appointment.
Dr. O'Quinn's research interests center on beef palatability and the factors affecting the traits of tenderness, juiciness and flavor. He has conducted research involving more than 13,000 beef consumers from across the country. He has worked extensively to evaluate the factors affecting beef flavor and to identify the production and management practices that can modify the flavor profile of beef. He has also worked to develop a technique to quantify and predict beef juiciness. He oversees the state 4-H and FFA meat judging programs and works to help increase student involvement in the meat industry through the growth of these programs.
Travis enjoys training and mentoring students, both undergraduate and graduate. He currently serves as the faculty advisor and coach of the K-State Meat Judging Team, as well as the K-State Meat Animal Evaluation Team. He is also the faculty advisor to the Meat Science Academic Quiz Bowl team.
In his free time, Travis enjoys spending time with his wife, Megan. The two live in Wamego, KS, and are avid sports fans, keeping up with all things college football, MLB and NFL.