Smith, J. Scott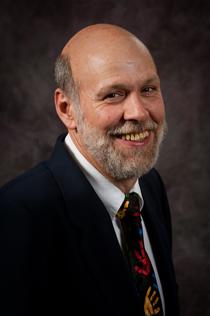 Professor
Chair, Food Science Graduate Program
208 Call Hall
Manhattan KS 66506
785-532-1219
785-532-5681 fax
jsschem@ksu.edu
Area(s) of Specialization
Food Chemistry & Toxicology
Education
B.S. , Brescia College, Kentucky, 1972
M.S. , Kansas State University, 1975
Ph.D. , Pennsylvania State University, 1981
Bio Brief
J. Scott Smith is a professor of food chemistry on the faculty of the Animal Sciences Department and Food Science Institute at Kansas State University with a 70% research and 30% teaching appointment. He is a native of Owensboro in western Kentucky with degrees from Brescia College (BS, Biology), Kansas State University (MS, Biochemistry) and the Penn State University (PhD, Food Science). He has been a faculty member at K-State since 1989. Before he was a faculty member at Penn State in the Food Science Department.

He is a member of the Institute of Food Technologists (IFT) including past chair of the Food Chemistry and Toxicology and Safety Evaluation divisions, and past chair of graduate student poster competition for the Food Chemistry divisions. He is a member of the American Chemical Society (Agricultural and Food Chemistry division), AOAC International, American Association for the Advancement of Science, and Phi Tau Sigma Honorary Society.

His research programs are in the areas of food analysis and toxicology. Major research areas are the formation and inhibition of heterocyclic amines (HCA) in cooked muscle foods products, and factors involved in the formation of advanced glycation endproducts (AGEs) in muscle and carbohydrate-rich foods. He is studying methods to evaluate irradiation dose exposure treatments in irradiated meat products and pet foods, toxicity of unique radiolytic products (the 2-ACBs), and ammonia contamination of foods from refrigeration leaks. Recent research on spice inhibition of HCA formation in muscle food products has received worldwide coverage in numerous news reports.

He currently teaches courses in Food Chemistry, and Food Analysis, and has several offered by Distance Learning.
Teaching
Chemical Methods of Food Analysis [FDSCI 727]
Advanced Food Chemistry [FDSCI 815]
Graduate Seminar/Food Science [FDSCI 850]
Food Chemistry [FDSCI 501]
Food Analysis [FDSCI 725]