Cattlemen's Day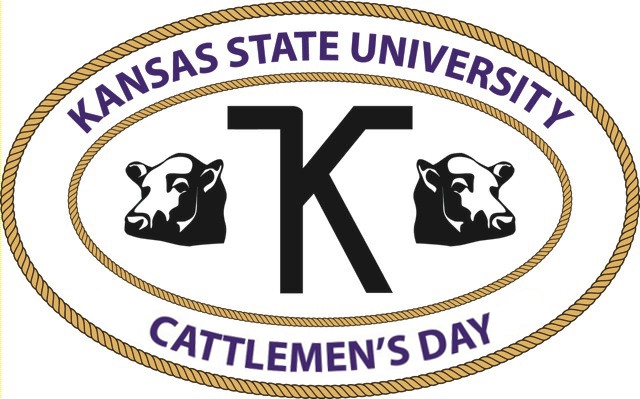 106th Cattlemen's Day
March 1, 2019 • Weber Hall
8 am — Weber Arena
Commercial Trade Show and Educational Exhibits
10 am — Weber Hall 123
Our Meatless Future: Is The $90B Global Meat Market Getting Disrupted by Plant-Sourced and Cultured "Meat" Products?
Dr. Brad Morgan, Senior Director of Protein at Performance Food Group, will discuss the potential for plant-sourced "meat" and laboratory-produced "meat" to take market share from the meat industry.
Beef Industry Outlook and Key Economic Issues Surrounding Expansion of Alternative Protein Offerings in the U.S.
International trade, migrant workers, government shutdowns, growing competition from alternative proteins, and a host of other factors that can influence the beef market outlook will be discussed by K-State Agricultural Economist Dr. Glynn Tonsor.
1-1:50 pm
Weber Hall 111
Beef Quality Grading: Recent Revisions and Relevance to Valuation of Beef
Quality Grade is a major economic driver in marketing cuts from the beef carcass. In this session, K-State Meat Scientist Terry Houser will discuss the economic significance of Quality Grades, the major variables in deriving a Quality Grade, and recent changes to the USDA Quality Grading standards.
Weber Hall 123
Alternative Methods for Pregnancy Diagnosis
Extension Livestock Production Specialist Dr. Sandy Johnson will discuss the latest in technologies designed to assist
producers with early detection of pregnancy.
Weber Hall Room 146
Factors Influencing Value of Calves Sold Through Superior Livestock Video Auction
Esther McCabe, PhD student in the Department of Animal Sciences and Industry, will share results from an analysis of 24 years of data collected representing more than 90,000 lots of calves marketed through the Superior Livestock video auction.
Management factors affecting calf value, trends in calf health, and age-and-source verification programs will be
highlighted.
2-2:50 pm
Weber Hall Room 111
Antibiotic Stewardship in Animal Agriculture
Dr. Nora Schrag, College of Veterinary Medicine/Clinical Sciences, will discuss the recent history of antibiotic use in agriculture along with future trends.
Weber Hall Room 123
CattleTrace: An Industry Initiative for Disease Traceability
Innovative Livestock Services' Brandon Depenbusch will discuss and explain the objectives of the CattleTrace project. The project's objectives are to construct, test, and evaluate economics of a disease traceability infrastructure. Efficiency, speed of commerce, and data privacy are the foundations of CattleTrace.
Weber Hall Room 146
Genetic Control of Cattle Feet and Leg Structure
There has been recent concern in the beef cattle industry about structural soundness of cattle feet and legs. Dr. Jenny Bormann, K-State beef breeding/genetics specialist, will explain that as well as being an animal welfare issue, unsoundness is a major reason for culling of both bulls and cows. Improving the soundness, and therefore longevity, of breeding stock would provide substantial savings to beef producers. Recent research projects have attempted to determine the genetic control of soundness traits and its relationship to longevity.
NOTE NEW LOCATION - KSU Sheep & Meat Goat Center, 2117 Denison Avenue
Necropsy Demonstration
Post-mortem examinations can provide valuable insight into health problems affecting the beef herd. Join Extension Beef Veterinarian Dr. A.J. Tarpoff for a real-time demonstration of major organ systems.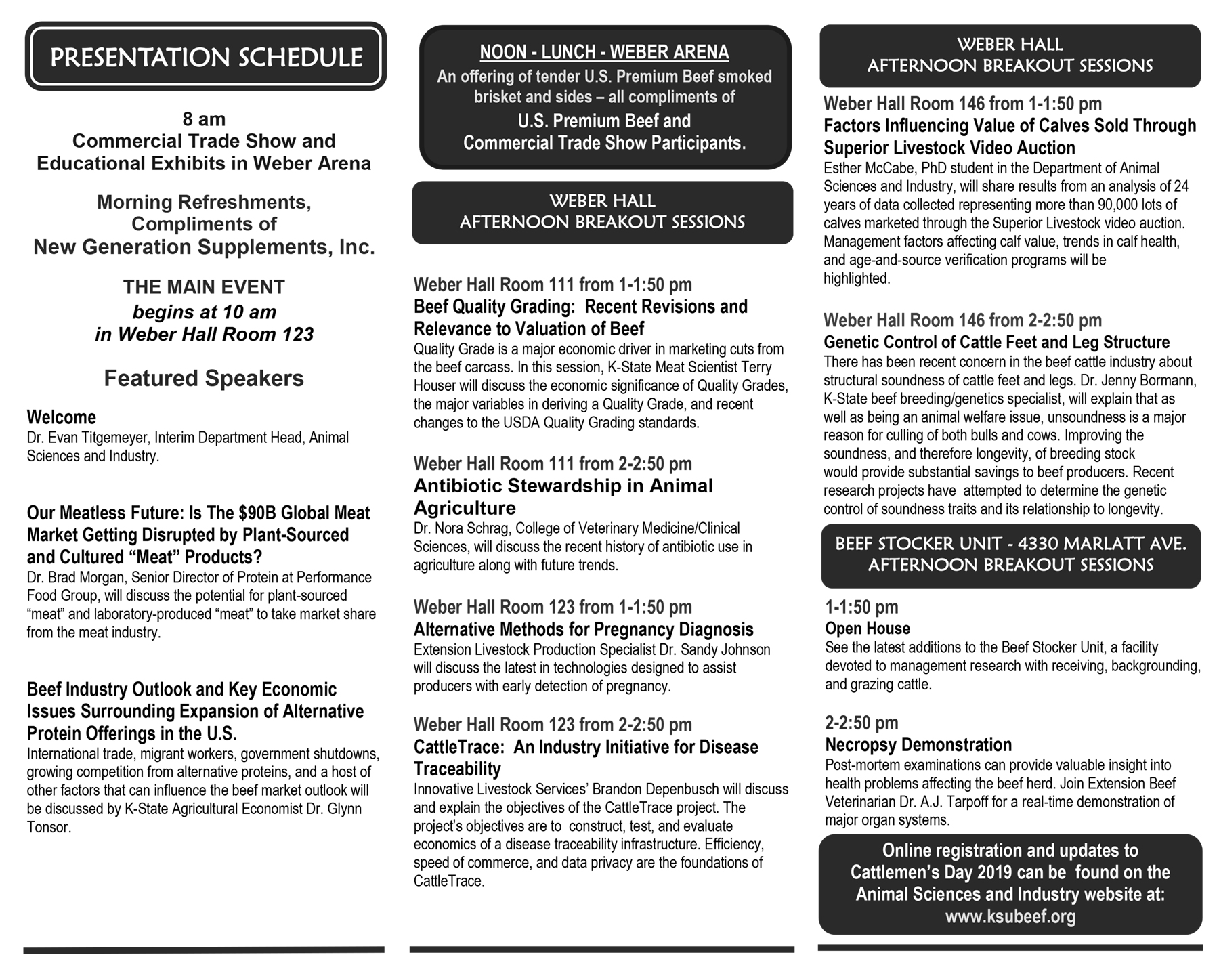 ---
Thank you to all who attended the 2018 Cattlemen's Day.
THE 105th CATTLEMEN'S DAY was hosted in Weber Hall on Friday, March 2 with a crowd of more than 800 people in attendance. A total of 80 exhibitors participated in the trade show. Gregg Doud, recently appointed Chief Agricultural Negotiator in the Office of the United States Trade Representative, presented "Trade Issues in the Beef Industry" followed by Glynn Tonsor on the "Beef Industry Outlook and International Trade as a Key Driver of Profitability." Several breakout sessions were held in the afternoon.

View 2018 Cattlemen's Day Report
Watch
Video
of Dr. Tonsor's presentation
---
---
Plan to also attend the
Legacy Sale
following Cattlemen's Day.
---